DOH in Hot Water, Rescinds Policy to Vaccinate Children vs COVID-19 Without Parents Consent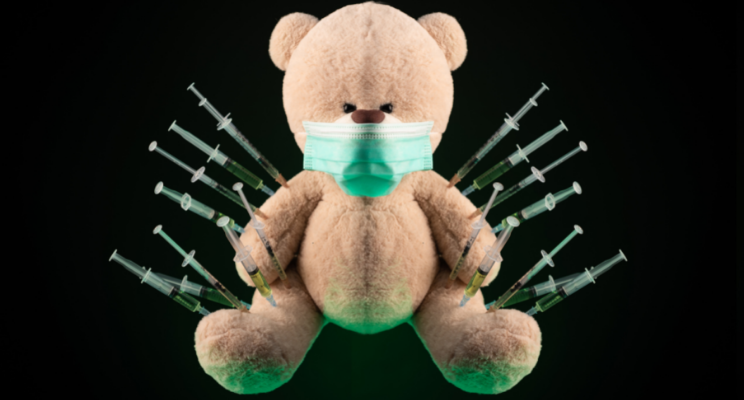 In a February 7, 2022 article published in PhilStar Global, Kristine Joy Patag reported that the Department of Health (DOH) repealed assailed policy to vaccinate kids vs. COVID-19 even if parents object.
According to the report, DOH has amended its memorandum[1]https://doh.gov.ph/sites/default/files/health-update/dm2022-0041-A.pdf to remove the contested policy that allows the State to give consent for the vaccination of children aged five to 11 years old if parents refuse inoculation.
The article added that this part of the memo was bombarded in a petition filed by two parents with children five to 11 years old before the Quezon City Regional Trial Court. [See A Parent of Dengvaxia Victim Together with a Parent Who Formerly Covered Dengvaxia Case File TRO to Stop Pediatric Rollout of COVID Vaccines].
Editor's Note: This is already a triumph for all of us fighting for the truth and autonomy. This DOH decision is another sign that authorities are just testing the water. If nothing sizzles, they will go with Plan A; if there's cacophony and opposition, go with Plan B.
Regardless of how DOH and other officials influence people to accept the experimental jabs, going after these children is repulsive.
We would like to reiterate these significant points to fully awaken half-asleep parents:
1) Children's risk of getting infected with COVID-19 is minimal, near to zero [see Updated IFR for COVID Confirms 99.9987% Survival for Under-20's; CDC updates planning scenarios, shows IFR lower than flu; German study confirms Children at VERY low risk of COVID-related severe disease and death; Deaths from COVID are "Incredibly Rare" Among Children].
2) Children infected with covid and became severe were already ill [see New Study: All children in UK who died of COVID-19 were already seriously ill; CDC Update: 75% of children who died from COVID had underlying diseases]. Those who were hospitalized WITH covid are incidental covid [see Fauci: Children Hospitalized because of COVID are Overcounted]
3) Children's immune systems are primed to fight off any coronaviruses [see Kids develop coronavirus antibodies without testing positive; No Need for Vaccines: Children's Immune Systems Primed and Ready for SARS-CoV-2; Understanding the immune system of children may be the key to understanding susceptibility to SARS-COV-2; Our immune system evolves to fight coronavirus variants; Our immune system is the biggest mystery during this coronavirus outbreak; Our immune system can fight back; Your immune system: the best defense against COVID-19].
4) The risk of taking covid shot outweighs the benefits [see COVID Vaccines Would Kill 117 Children Aged Five to 11-Year-Olds in Order to Save One Child Dying from COVID; One in 9 Children Suffered Severe Adverse Reaction from the COVID Vaccine; FDA advisory committee votes against booster shots, vaccine risks outweigh benefits especially for children; Expert: Costs of COVID Vaccines Outweigh Benefits; Covid-19 Vaccine Trials Adverse Events are Under-Reported].
5) Pfizer has concealed data to gain authorization. [See Pfizer Concealed Documents Proving that Covid Jab Will Kill Children; One in 9 Children Suffered Severe Adverse Reaction from the COVID Vaccine].
6) FDA granted emergency use authorization (EUA) despite insufficient data. Evidently, they will use the children as an experiment to obtain the safety data they need [see FDA Panel Recommends Pfizer's Low-dose Covid Jab for Young Children Ages Five to 11 Without the Safety Data].
7) Three days after the EUA, Pfizer changed the formulation without prior trial [see Pfizer Changed Formulation on Their Covid-19 Pediatric Vaccine 3 Days After FDA Approval]
8) There are snowballing adverse events of covid jabs, doses for children are as catastrophic as adults' [see COVID Vaccines for Children are as Fatal as for Adults'; W.H.O's VigiAccess Shows More than Two Million Adverse Events Following COVID Vaccination; Vaccine-injured Speak Out: DO NOT TAKE THE VACCINE; Pediatrician says heart inflammation following vaccination looked like kids were having a heart attack; 16-Year-Old Girl Develops Vulvar Ulcers After Pfizer Vaccine; Journal censors article showing high incidence of heart inflammation following Pfizer vaccination; CDC Data Suggests Nearly 35,000 Reports of COVID Vaccine Injuries, Including Death Among 5- to 17-Year-Olds; Is Prion Disease Finally Showing Up as a Vaccine Adverse Event?; Dr. Charles Hoffe: mRNA vaccines will kill most people through heart failure, 62% already have microscopic blood clots; New York Times: Some recipients of experimental COVID vaccines developing rare autoimmune disease after jab; Guillian-Barre Syndrome after COVID vaccination more common than previously reported; Thousands of eye disorders including blindness reported after vaccination; Experimental mRNA vaccines could cause long term chronic illnesses; UK Government Data: Vaccinated are Seeing their Immune Response Plummet by About 5% Each Week; Pathologist Reports 20-fold Increase of Cancer Diagnosis Among Vaccinated Patients].
9) Post-mortem reports of inoculated decedents revealed massive spike protein in every organ, blood clot, and heart attack [see Ground-breaking autopsy report shows the vaccinated had toxic spike proteins all over the body; Autopsies show irrefutable evidence of deaths due to COVID vaccine; Experts Find Inflammation, Organ Damages on Autopsies of Vaccinated Individuals; Confirms Vaccines Contain Toxic Chemicals. Also, read Embalmer Sees Massive Blood Clotting in Veins and Arteries that Caused Heart Attack and Stroke Following COVID Jabs].
10) Thousands of experts and several countries do not recommend vaccinating children [see Thousands of Physicians and Scientists Reach Consensus: Natural Immunity Works, Children Do Not Need COVID Vaccination; Oxford University Infectious Disease Experts Say NO to COVID Vaccines for Children; Head of German Vaccination Commission Says He Won't Vaccinate His Child; MIT Scientist on COVID vaccine: "Don't go near it"; A Scientist Tells US FDA: "Please Do Not Give This to Kids"; Sweden will not recommend COVID vaccines for kids aged 5 to 11 years; Norway Believes Natural Immunity is Better Protection for Children Five to 11 Years; Finland will not recommend COVID injections for healthy children aged 5 to 11 years; Danish Pediatricians Question Health Authorities On COVID Jab Recommendation for Children].
There is nothing safe and effective in this covid jab. Suppose what the DOH and authorities peddling is real; why do they have to lure you with all the rewards and entertainment? If the benefits overshadow the risks thus, that should be adequate. They don't have to resort to any spectacle just to entice you and the kids.
Your decision today is irreversible because with all the scientific data available, taking this jab is suicide [see Covid Vaccines are Bioweapons for Mass Genocide; Pfizer's Assassin Vaccine; Embalmer Sees Massive Blood Clotting in Veins and Arteries that Caused Heart Attack and Stroke Following COVID Jabs].
Read Original Article
Read Online
Click the button below if you wish to read the article on the website where it was originally published.