A Scientist Tells US FDA: "Please Do Not Give This to Kids"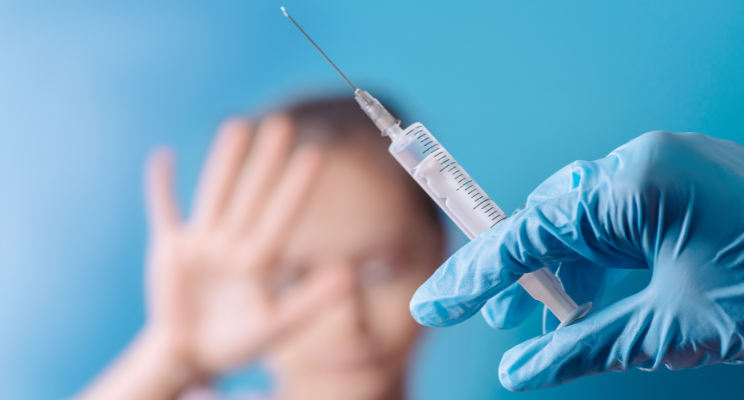 In an October 27, 2021 article published on The Defender, Megan Redshaw reported that a scientist whose wife was injured by the COVID vaccine told the FDA: "Please do not give this to kids".
Redshaw reports that on October 26, 2021, the U.S. Food and Drug Administration's (FDA) advisory committee endorsed the use of the Pfizer COVID vaccine for children ages 5 to 11, despite strong objections raised during the meeting by multiple scientists and physicians.
Dr. Brian Dressen is one of the scientists who testified during the 8-hour hearing. Dressen's wife, Brianne, developed a severe neurological injury during the Utah-based portion of the U.S. AstraZeneca COVID vaccine trial in 2020. After being injured by the first dose, Brianne withdrew from the trial.
Dressen said during the deliberation and debate: "Your decision is being rushed, based on incomplete data from underpowered trials, insufficient to predict rates of severe and long-lasting adverse reactions. I urge the committee to reject the EUA [Emergency Use Authorization] modification and direct Pfizer to perform trials that will decisively demonstrate that the benefits outweigh the risks for children. I understand firsthand the impact that you will or will not have with the decision you're going to make today."
Dressen uses some very strong words to reject the use of COVID vaccines on children. He says, "Until we appropriately care for those already injured, acknowledge the full scope of injuries that are happening to adults, please do not give this to kids. You have a very clear responsibility to appropriately assess the risks and benefits of these vaccines. It is obvious that isn't happening. The suffering of thousands continues to repeatedly fall on deaf ears at the FDA. Each of you holds a significant responsibility today, and know that without a doubt, when you approve this for the 5 to 11-year-old's, you are signing innocent kids and uninformed parents to a fate that will undoubtedly rob some of them of their life."
Editor's Note: Even if reasons fell on deaf ears, on that day, Dr. Brian Dressen was the voice of millions of parents worldwide. Dressen's wife is solid proof that the risks of these covid jabs far outweigh its benefits. The FDA continues to ignore vaccine injuries and has even disparaged the 877 cases of myocarditis.
According to the documents submitted during the FDA panel meeting, there are 1,640 cases of myocarditis among people under 30 who received the Pfizer or Moderna vaccines as of October 6, 2021. But CDC only acknowledged 877, based on a revised definition they made up. [This change in definition is not a new one, CDC has been changing definitions of various terms, depending on what meets their agenda, see CDC Lies Again, Creates a Horribly Confusing Definition of "Unvaccinated"; Another Deception from CDC: Changed 'Vaccine' and 'Vaccination' Definitions].
The Vaccine Adverse Events Reporting System (VAERS) has reported 10,956 myocarditis/pericarditis cases across all ages up to October 22, 2021. See graphs below showing incidences of myocarditis and pericarditis by age, dose and comparing this occurrence by year.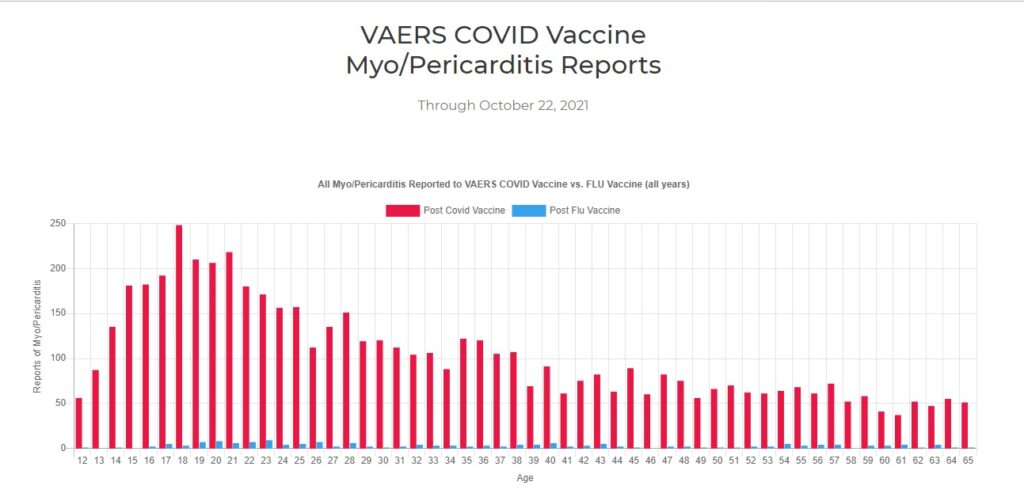 Is this something that should be taken lightly? How can young children fight this off once the serum is already inside their bodies? [See Pediatrician says heart inflammation following vaccination looked like kids were having a heart attack.]
Myocarditis and pericarditis are just two of the long list of adverse events (AEs) they may suffer from, there are many more [see FDA knew COVID vaccines would lead to severe adverse events, sanitized info was given to people to prevent vaccine-hesitancy.] Why would a government regulator approve the use of these vaccines for young children when it has already damaged the lives of countless adults?
As parents, we encourage you to assess first and read all necessary data before jumping into something you don't understand. Follow the reports on vaccine adverse events to see how dangerous these vaccines are to adults. How can we expect the small, young body of our children to deal with its intended effects? [FDA knew about the side effects, so we can call it intended or expected effects, read FDA knew COVID vaccines would lead to severe adverse events, sanitized info was given to people to prevent vaccine-hesitancy. See Covid Vaccines are Bioweapons for Mass Genocide].
Our children need our protection. They have been suffering far too long.
Fight for our freedom and the future of our kids, we have to make these criminals accountable for abusing our children, the Sovereign Being is with us. We would like end this article with a Bible verse from Luke 17:2 to serve as an inspiration to those who continue to fight for the wellbeing of all children: It were better for him that a millstone was hanged about his neck, and he cast into the sea than that he should offend one of these little ones.
Read Original Article
Read Online
Click the button below if you wish to read the article on the website where it was originally published.
Read Offline
Click the button below if you wish to read the article offline.