The Government Believes that 100% Vaccination is the Key to Getting the Philippines Back to Normal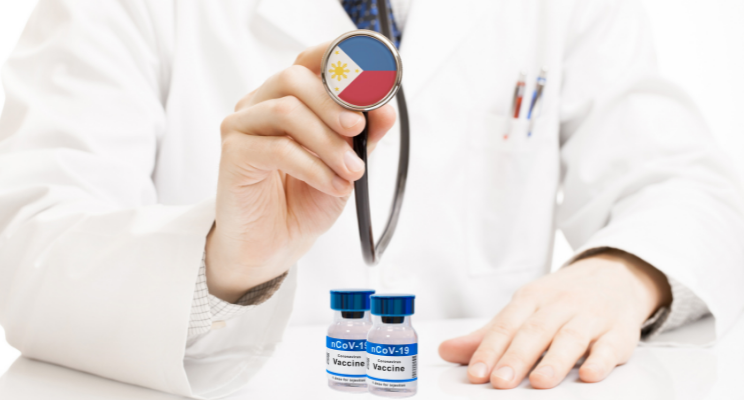 In an April 1, 2022 article published in GMA News Online, Joviland Rita reported that the Duterte administration is looking to vaccinate all the target populations against COVID-19 as it strives to place the country under the new normal amid the pandemic.
According to the report, Undersecretary Kristian Ablan remarked that the Department of Health expected the number of new COVID-19 cases a day to go down to as low as 70 by the end of April if minimum health standards were followed. "We are going to use everything under our power to achieve 100% vaccination and get back to new normal before the President steps down on June 30."
Editor's Note: The government seems to be in the trance of implausible zero-covid direction. Also, President Duterte must have been fed the wrong information that inoculating the entire nation could get us to herd immunity and recklessly trust the country is in a pandemic of the unvaccinated. [See Why can't the Philippine government give up its unscientific, illogical, and useless COVID policies?; Why Can't COVID Vaccines Create Herd Immunity?; 'Pandemic of the Unvaxxed' is a False Narrative].
It is nonetheless appropriate to reiterate the following facts to awaken these people from their stupor:
Covid jabs are not safe and effective [see Canadian health professionals release presentation detailing the dangers of Pfizer COVID injections; Pfizer's Assassin Vaccine; "Vaccines" are Premeditated Murder. MSM Snubs Massive Proof; Covid Vaccines are Bioweapons for Mass Genocide; Bayer Pharmaceuticals President Admits mRNA "Vaccines" are Cell and Gene Therapy; Study finds Pfizer jab goes into liver cells and is converted into DNA, confirms mRNA jab is gene therapy; A Previously Healthy Woman Dies From Rare Brain Disorder After Second Pfizer Shot; Peer-reviewed research shows mRNA vaccines can cause neurodegenerative diseases; EMA finds vaccine link to heart inflammation; AAPS: Blood clots happen with all COVID vaccines; Evidence: No COVID Vials Are Safe, Covid-Injection Program Should be Terminated Immediately; UK Government Data: Vaccinated are Seeing their Immune Response Plummet by About 5% Each Week; PfizerGate Scandal: The Worldwide Cover-up of Data to Hide Covid-19 Vaccines Cause VAIDS ].
Covid jabs will not lead us back to normal because there's no herd immunity through these experimental gene therapies. The government should acknowledge that natural immunity is robust and durable and our only way out from this "health crisis" [see Expert Says COVID Vaccines Not Strong Enough for Herd Immunity; Iceland: Vaccines Not Enough, as Many as Possible People Need to be Infected for herd immunity; Geert Vanden Boosche: Natural immunity, not vaccines, will create herd immunity; South Korea continues to relax COVID restrictions despite experiencing highest per-person infection rates in the world; Immune system has 27x more protective power than vaccines: Case for COVID vaccine passports demolished; Your immune system can protect you from COVID and all its future variants, anyone who says otherwise is lying].
The higher the inoculation uptake, the higher the surge of fresh cases and mortality rate [see Worldwide data from 185 nations prove that the highest death rates are in the most vaccinated countries; we are now in a pandemic of the vaccinated; Big Data Analysis of 145 Countries Shows Vaccine Deployment Led to Increase in COVID Deaths and Cases; What's Going on in Hong Kong?; UK Data Shows New Phase: Pandemic of the Boosted].
Zero-covid is an improbable aim; the solution: stop mass vaccination and test only symptomatic individuals [see Why Do Variants Keep on Emerging Despite Vaccination and Stringent Lockdowns?; How Likely Will a More Virulent COVID Variant Develop?; How COVID Testing Strategy Will Extend Pandemic Scare; Scientists: No way of stopping the virus, end mass testing; HPAAC recommends targeted testing, not mass testing].
2021 excess deaths correspond with introducing a novel agent to the public as a covid-19 cure [see 2021 Excess Deaths in the Philippines Shows Pandemic, but it is Not COVID]. This purported "cure" turned out to be deadlier than the disease [see COVID vaccination more deadly than COVID for individuals below 80 years; Taiwan has More Death from COVID Jab than COVID-19 Disease; Study: Teens with vaccine-induced myocarditis experienced persistent heart abnormalities; DOH Undersecretary Herminigildo Valle's 17-year-old Son Dies Days After the Second Dose of COVID Jab; A Previously Healthy Woman Dies From Rare Brain Disorder After Second Pfizer Shot; Meryll Nass: Pfizer and FDA documents contradict official vaccine safety narrative; Hidden Pfizer Covid-19 Vaccine Trial Data Suggests all Pregnant Vaccinated Women Miscarried; Dr. Vernon Coleman: mRNA Jabs are Causing Cardiac Disorders Resulting to Sudden Deaths and Serious Injuries; Ground-breaking autopsy report shows the vaccinated had toxic spike proteins all over the body; Autopsy confirms Michigan woman died from blood clots due to vaccine; Cytokine storm leading to myocarditis possible culprit in death of two teenage boys who received second dose of Pfizer jab; JAMA study shows 133x risk of myocarditis following COVID vaccination; CDC Data Suggests Nearly 35,000 Reports of COVID Vaccine Injuries, Including Death Among 5- to 17-Year-Olds].
COVID has a 99.9987% survival rate for healthy individuals; therefore, the government should employ focused protection instead of a one size fits all strategy and draconian measures [see Updated IFR for COVID Confirms 99.9987% Survival for Under-20's; South Korea shifts pandemic policy to focused protection; African experience proves countries "mishandled" COVID; 130+ UK doctors express "grave concerns" over government's handling of pandemic; Scotland's First Minister Admits Strict COVID Policies "Less Effective"; Kentucky judge rules governor's COVID policies unconstitutional; New Zealand High Court Quashes Vaccine Mandate, Says Mandate Infringes Bill of Rights; Spain's eminent pharmacovigilance expert comments on country's COVID vaccine policy: Mass vaccination was a global experiment; MPs will launch investigation on UK government's use of unethical tactics to scare public into COVID compliance; Canadian Health Official Clarified They Did Not Mandate Vaccination, Workplaces Did].
If death is a known adverse event, people should know they may say no and slam the doors to all those who offer covid jabs house-to-house [see FDA knew COVID vaccines would lead to severe adverse events, sanitized info was given to people to prevent vaccine-hesitancy; Vaccine Death Report: A Compilation of Vaccine Adverse Events and COVID truths Ignored By Governments and Mainstream Media, Censored by Social Media; W.H.O's VigiAccess Shows More than Two Million Adverse Events Following COVID Vaccination; What can I do if my LGU comes knocking on my door to give me a booster shot?;].
In the most recent data released by Philippine Statistics Authority[1]https://psa.gov.ph/press-releases/id/166466, as of January 31, 2022 report, there is an almost 25% increase in all-cause mortality from 2020 to 2021. Death statistics annual change varies from one to five percent, never a two-digit difference. This is one factor the government should probe and should not be slurred over because covid truth will come out no matter how the authorities conceal the facts [see The truth about COVID deaths is a coming out; CDC removes tens of thousands of deaths "accidentally" attributed to COVID; Popcom: Philippines Logs Highest Mortality Rate in 2021, Highest in a Year Post WWII]. How would the Philippines fare once the authorities achieve their target? [See Will 90% COVID Inoculation Rate Protect Filipinos from Surge of New Cases and High Mortality?; Why is the Philippine Government so Determined with its Vaccination Drive When COVID Jabs are No Longer Effective in Preventing COVID?]. Or perhaps, how would they present their numbers just to put vaccine-free under duress to get jabbed? [See This is the reason why authorities want 100% COVID vaccination; Some countries have pre-ordered enough vaccines to immunize over 100% of their population.]
Undoubtedly, this goalpost shows us once more that this is not about health, but about power, greed and politics.
Read Original Article
Read Online
Click the button below if you wish to read the article on the website where it was originally published.
Read Offline
Click the button below if you wish to read the article offline