UK Data Shows New Phase: Pandemic of the Boosted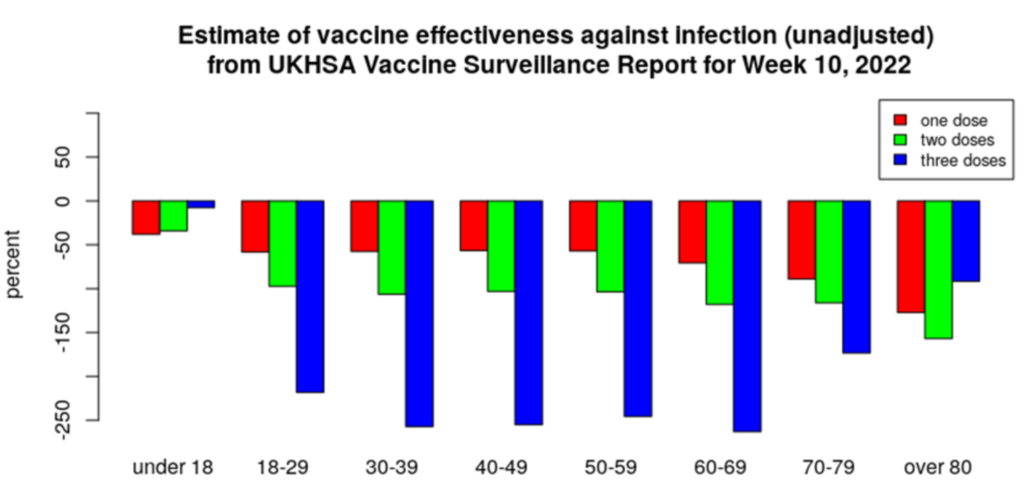 The following article was published by The Daily Sceptic last March 13, 2022. It is an analysis of the week 19 data from the UK Health Security Agency (UKHSA) which clearly indicates that vaccine efficacy has declined even further.
Here are some of the most important points raised in the article:
COVID cases are declining, but this reduction is barely noticeable among the triple vaxxed.
Vaccine efficacy (VE) has dipped below zero for the third those for all age groups. This is expected to cause an increase in infection cases for the following week.
Vaccines offer little protection against hospitalization for the younger age groups.
Three vaccine doses appears to offer some protection against hospitalization for those aged over 60. But one and two doses of the vaccine also appears to increase the risk of hospitalization.
Deaths are failing but among those aged 40 and above. Mortality rates are higher among those who have received one or two doses of the vaccine.
Deaths are very low in those aged below 60, regardless of vaccination status
With Omicron, the death rate among the unvaccinated is close to that of the vaccinated. There is strong suggestive evidence showing that vaccines now offer little protection against death for the Omicron variant.
There appears to be a 215 increase in hospital activity regarding strokes in the post-vaccine period.
Editor's Note: Even if these vaccines were safe (which they aren't), the current performance of the vaccine should be enough for governments to suspend the Emergency Use Authorization (EUA) issued to vaccine companies.
We must remember that the minimum efficacy required for the EUA is 50% compared to placebo.[1]https://www.fda.gov/media/144329/download If the VE of the COVID vaccines for all age groups is below this threshold, how are they still in circulation?
It is also clear that for the unvaccinated, the "pandemic" is over. It is just starting for those who have opted to take their booster shots.
Read Original Article
Read Online
Click the button below if you wish to read the article on the website where it was originally published.
Read Offline
Click the button below if you wish to read the article offline.