Bishop to Catholics: Vaccines "Morally Acceptable." Not Aware Vaccines are Bioweapons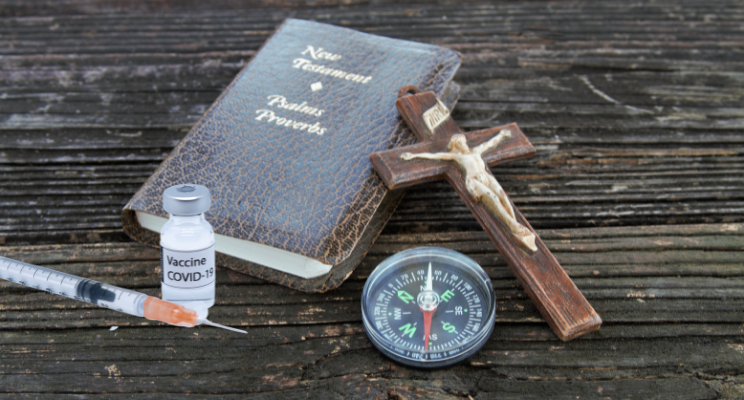 In an August 25, 2021 article published in the Philippine Daily Inquirer, Jigger J. Jerusalem reported that Archbishop Jose Cabantan, head of the Archdiocese of Cagayan de Oro, assured the faithful that vaccines are "morally acceptable."
Bishop Cabantan issued a letter to ease doubts among church members about the 'vaccines' after the differing opinions within the local Roman Catholic communities caused some confusion. The Bishop said, "All vaccinations recognized as clinically safe and effective can be used in good conscience."
Cabantan quoted the pope who said, "that vaccination is a simple but profound way of promoting the common good and of caring for each other, especially for the most vulnerable." He also added that "it is an act of love for oneself, for one's family and friends, and for all people." [See Pope Francis releases new ad, calls receiving toxic COVID bioweapons "an act of love"]
Editor's Note: We live in a society where we can express viewpoints we deem proper. Being in the higher hierarchy of a sectarian congregation, Bishops, pastors, and ministers possess the authority and influence over their faithful constituents.
Therefore, we think that Bishop Cabantan's statements were naïve and irresponsible. He will lead his people to death or permanent disability. [We are sure that if you have been following our website, you know what we mean by this. If you are new and would like to learn more about this, visit our Vaccines page.]
First, he claimed that the 'vaccines' are 'morally acceptable'; how can it be so when the inoculation procedures strip you of your right to informed consent? When no one reveals the alteration in your body once you take the jab? That 'vaccines' are a toxic bioweapon and placed society at grave health risk. [See Covid Vaccines are Bioweapons for Mass Genocide; Dr. David Martin: Experimental mRNA "vaccines" are not vaccines, they are a medical device; COVID vaccines kill two people for every three lives it saves; AAPS: Blood clots happen with all COVID vaccines; EMA finds vaccine link to heart inflammation; Guillian-Barre Syndrome after COVID vaccination more common than previously reported; COVID vaccine researcher admits says spike protein is a dangerous toxin; Thousands of eye disorders including blindness reported after vaccination]
Second, the Bishop asserts that 'all vaccinations are recognized as clinically safe and effective can be used in good conscience." Has he seen all the reports of adverse events and deaths? If he hasn't, then he must be relying heavily on mainstream media for all his information. Mainstream media is biased and is a pawn in the vaccine agenda. [Read Trusted News Initiative or Corrupted News Initiative? Mission: Systematic censorship of the world's top public health experts; How the media is pushing vaccine misinformation; Another media insider reveals how network uses corrupt practices to promote COVID vaccines and fake news; Facebook whistleblowers reveal to Project Veritas how the company plans to curb vaccine hesitancy]. Vaccines have nothing to do with the public's interest and health. Vaccines are about control, profit, and gain. That's why the truth is being obscured.
Third, these covid jabs have already caused thousands of deaths and millions injured globally. [For country data, see Philippine FDA reports 79,166 adverse events, 91 deaths following COVID vaccination; Vaccine injuries reach 56,869 – VAERS; More than 5,000 people who received mRNA vaccine experienced adverse effects; Expert analysis shows COVID vaccines lead to new infections and deaths; 55 people have died in the US after receiving COVID-19 vaccines; Scientists Sound Alarm: Vaccines Will Kill Millions; EMA: 10,570 dead, 405,259 injured following COVID injections; Highly cited COVID doctor comes to a stunning conclusion: Gov't scrubbing unprecedented numbers' of injection-related deaths; DOH records 978 adverse effects following vaccination; 59,614 adverse reactions, including 143 deaths following Pfizer jab in the UK]
Fourth, the good bishop is basically following this outrageous and ignorant message of the Pope: "it is an act of love for oneself, for one's family and friends, and for all people." These covid doses are harming individuals and will continue to present a health hazard to oneself, family and friends, and humanity, both short and long term. [See Decon-2: Bishops Commit Mortal Sin. DOH Super Liars. Both Killing Filipinos with Killer Bioweapons; COVID vaccines not as effective as you think; Study: Public misled about the efficacy reports of mRNA vaccines; Philippine FDA says less than 1% of vaccine recipients experienced side effects of COVID-19 vaccination. Most likely FDA is lying.; Doctors: No global pandemic, COVID-19 vaccines not safe; FDA knew COVID vaccines would lead to severe adverse events, sanitized info was given to people to prevent vaccine-hesitancy; Experimental mRNA vaccines could cause long term chronic illnesses; New York Times: Some recipients of experimental COVID vaccines developing rare autoimmune disease after jab; Vaccinated are the Superspreaders]
Fifth, let's talk about the common good. Do you really think this massive inoculation will open up everything? [See THE VACCINE DELUSION, PART 1: CBCP Pro-Vaccine Decision Huge Mistake. Vaccines will Not Remove Lockdowns. Ignores Reports of Thousands of COVID-19 Vaccine Serious Injuries Including Death]
Sixth, that we will reach herd immunity? [Read Iceland and Denmark: No herd immunity from vaccines; Israel, once the model for beating COVID, now has one of the highest infections in the world; New York Times: Herd immunity will not be achieved with vaccines]
Seventh, countries with high inoculation rates are now experiencing a surge of infections, hospitalizations, and adverse events, such as death. [See 75% of new COVID cases in Singapore are vaccinated; Israel, once the model for beating COVID, now has one of the highest infections in the world; COVID spiking in states with high vaccination rate; World's most vaccinated nation activates new lockdowns as cases rise; New COVID surge in 4 out of 5 top vaccinated countries in the world]

Lastly, how can these vaccines be the best way out of the pandemic? [See Vaccine passports prolong lockdowns; Delta and Other Variants: Fear Appeal for Permanent Lockdowns, Killer Vaccines. Strengthening Natural Immunity the Way Out.; Total tyranny: This is our future if we do not stop lockdowns] Maybe, there was great concealment of the truth and have not picked up by Bishop Cabantan's radar, or perhaps, he is really misinformed about the pitfalls these vaccines posed to the faithful. May God forgive his ignorance.
Read Original Article
Read Online
Click the button below if you wish to read the article on the website where it was originally published.
Read Offline
Click the button below if you wish to read the article offline.