New York Times: Herd immunity will not be achieved with vaccines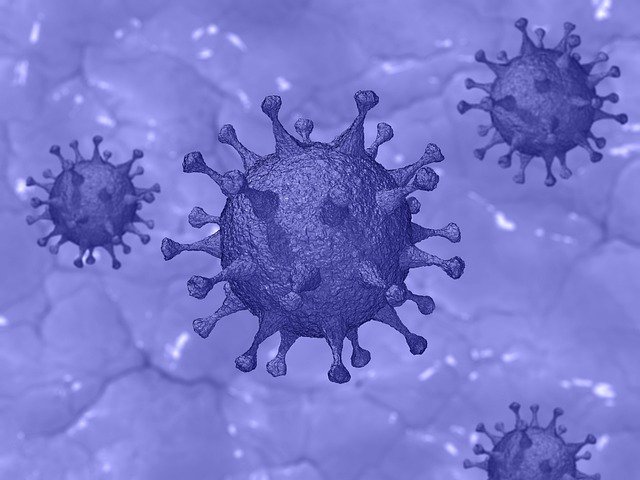 The following article was written by Andres R. Martinez and was published by The New York Times last May 9, 2021.
In this article, Martinez says that the hope for herd immunity is slowly fading as experts say that the SARS-CoV-2 is "changing too quickly, new more contagious variants are spreading too easily, and vaccinations are happening too slowly".
Martinez blames the hoarding of vaccine doses in rich countries and the rampant vaccine hesitancy. He then goes on to discuss some disappointing statistics relating to vaccination. Here are a few of them:
Only two countries have fully vaccinated more than half of their populations. (Israel and Seychelles).
Less than 10% of India is at least partially vaccinated.
Less than 1% is vaccinated in Africa.
New Zealand, despite high trust in government, has only partially vaccinated 4.4% of its population. Dr. Michael Baker, an epidemiologist at the University of Otago says, "All of the surveys show there is a degree of vaccine hesitancy in New Zealand".
Martinez, however, offers hope to his readers, saying that that the virus is well on its way to becoming endemic. He quotes Dr. David Heymann, professor of infectious disease epidemiology at the London School of Hygiene and Tropical Medicine, and former member of the Epidemiology Intelligence Service at the US Centers for Disease Prevention (CDC). Heymann is also a former senior official at the World Health Organization (WHO). Dr. Heymann said, "As more people contract the virus, developing some level of immunity, and the pace of vaccinations accelerates, future outbreaks won't be on the scale of devastating India and Brazil…Smaller outbreaks that are less deadly but a constant thread should be expected". He adds, "This is the natural progression of many infections we have in humans…They have become endemic and we have learned to live with them and we learn how to do risk assessments and how to protect those we want to protect".
Dr. Heymann's statements were corroborated by Dr. Michael Merson, professor of global health at Duke University and New York University, and a former director of the World Health Organization's Global Program on AIDS. Dr. Merson said, "It may be endemic, but not in a life-threatening way…It may be more like what we see with young kids, a common cold-like disease". [New research supports Merson's insights, read New study shows the path towards endemic COVID].
Editor's Note: This article is so important because it raises so many important points. On one hand, it is an acceptance that vaccines-as-last-resort is a false belief and that in the end, it is the human immune system that will bring us out of this crisis. On the other hand, it is an attempt at salvaging the reputation of vaccines. Martinez seems to believe that vaccines can bring about herd immunity and that inequitable access and widespread vaccine hesitancy have prevented vaccines from fulfilling their intended purpose.
First, we want to thank Martinez for confirming our previous assessment that vaccine rollouts around the world are failing [see Mass vaccination programs are failing, mainstream media attempt to misinform people]. His is the first article in the mainstream media to accept this, though we already have an inkling of this reality. The failure, however, is not due to the lack of supply, but rather, people who are refusing to line up to get their shots.
For example, last May 11, 2021, Makati Mayor Abby Binay said that she had a "good" problem. The city had a lot more vaccines than people who are willing to receive them. She said, "I need to vaccinate 2,500 for Pfizer. Almost 10,000 for AstraZeneca. The city's backlog is not even at 2,000".[1]https://mb.com.ph/2021/05/11/mayor-binay-says-makati-has-more-jabs-than-vaccinees-urges-residents-to-register-for-vaccination/ This, despite the fact that the city has already started giving its residents the second dose of COVID injections. This oversupply will soon become a huge headache for many local government units (LGUs) as more vaccines are expected to arrive around June to August 2021.
Meanwhile, last May 12, 2021, Dr. Tony Leachon posted the following tweet: "We are still at 40-60k vaccination per day. At this rate we can never finish the ASTRA ZENECA 1.5M stocks that will expire in June. LGUs still loaded with sinovac stocks. We have not yet finished the 3M doses of Sinovac. We're just halfway through them. Sayang…super sayang!" [Sayang is a one-word expression among Filipinos, particularly Tagalog speakers which refers to the feeling you get when something has been wasted].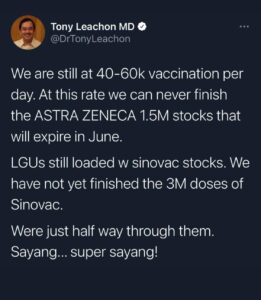 We know for a fact that vaccination centers in the Philippines are open most days of the week, from 8 AM to 5 PM. Lines are very short, and in some areas, vaccination efforts already being brought to the barangays because people do not want to line up at the "mega vaccination" sites.
These facts tell us that despite the lack of huge movements for freedom such as those happening in Europe and some areas around the world, Filipinos have not bought the propaganda. Unless vaccines become mandatory for work or accessing services, then most Filipinos will tend to avoid medical interventions they know that they don't need. Apparently, people in other countries think the same way. No wonder governments participating in the fear propaganda are the same ones pushing for vaccine passports.
The spread of vaccine hesitancy despite all the censorship and disinformation coming from mainstream media and governments fills us with hope. It means that people have learned to take charge of their health. We hope that this will carry over to the future.
Now let's discuss the first point we raised above: in the end, it is the human immune system that will bring us out of this crisis. We already have a number of articles on this website showing us that natural infection is still the way to go. Not only will recovering from COVID develops protection from future infection [see Study of 10-million person-identifiable PCR-test in Denmark shows young people protected from SARS-CoV-2 reinfection, Public Health England: Past COVID-19 infection gives vaccine-like immunity for months, and New York Times: Immunity to coronavirus may last for years]. It will also protect us from future variants [see Our immune system evolves to fight coronavirus variants and New study: T-cells induced by COVID infection can respond to new SARS-CoV-2 variants]. If this is not enough to convince people that vaccines do not work, then we encourage people to look at the top 5 most vaccinated countries in the world and see how they are faring [see New COVID surge in 4 out of 5 vaccinated countries in the world].
Faced with the reality of failing vaccine rollouts, and the hopeful fact that natural immunity is superior to vaccine-induced immunity, our governments must now grapple with the truth. What were the 14 months of lockdowns and coronavirus restrictions for, when we knew from the very beginning that these restrictions do not work? As more citizens awaken to the fact that their governments have been playing them, we expect that the day of reckoning is fast approaching. We hope they have fast escape horses, for everyone who participated in the lie, and those who have turned a blind eye are all liable for supporting this crime against humanity.
Read Online
Click the button below if you wish to read the article on the website where it was originally published.
Read Offline
Click the button below if you wish to read the article offline.