Sinovac Jab Can Only Be Administered to Healthy Children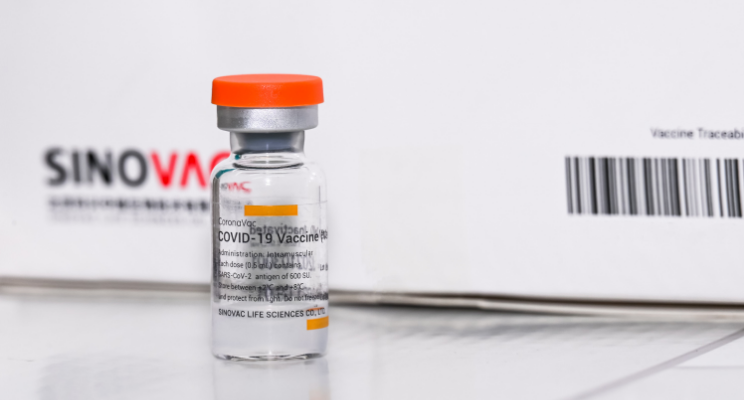 CoronaVac, the Covid-19 vaccine of Sinovac Biotech, will only be administered to children under six years old who have no comorbidities, a Department of Health (DoH) official said on March 15. Red Mendoza authored this report published in Manila Times on March 16, 2022.
During a briefing, Health Undersecretary and National Vaccination Operations Center chief Myrna Cabotaje said the modified EUA limits the use of CoronaVac to healthy children, "Administering the vaccine is no different from the procedure for other vaccines for children ages five years and above. But it needs a closer look because the EUA notes Sinovac is for healthy individuals and children, so those with comorbidities are not included."
Also, Cabotaje added, "Sinovac will also provide additional quantities for the children and their parents who may not want to use the Pfizer, and they use the Sinovac. So, we are not cutting down because we only ordered few million doses; we didn't order for the entire 15.5 million children."
Editor's Note: Health authorities, with the help of mainstream media, have told us that children are in significant danger for covid and can also put vulnerable family members at risk [see Global Study: No child known has passed coronavirus to adults]. However, science has shown us that children are generally protected from the complications of COVID-19. Pediatric immune systems are prepared and fit to react to viruses [see Understanding the immune system of children may be the key to understanding susceptibility to SARS-COV-2; Why is the coronavirus sparing kids?; Overcome the fear: Sign the petition to end lockdowns of children and the youth to read some of the resources pointing to this fact].
Why do health authorities ignore science? Why are they so determined to inoculate children when kids are never at risk of covid? [See No Need for Vaccines: Children's Immune Systems Primed and Ready for SARS-CoV-2; Peer-reviewed research shows immunocompromised children at no increased risk of severe COVID; Should you vaccinate your children?; Norway Believes Natural Immunity is Better Protection for Children Five to 11 Years; Oxford University Infectious Disease Experts Say NO to COVID Vaccines for Children; Florida breaks with CDC: No COVID vaccine for healthy children; Finland will not recommend COVID injections for healthy children aged 5 to 11 years; German study confirms Children at VERY low risk of COVID-related severe disease and death; Australian Senator Calls for Immediate Suspension of Vaccine Rollouts for Children].
Thousands of experts have been warning us that vaccinating the children can put the latter at grave risks [see Thousands of Physicians and Scientists Reach Consensus: Natural Immunity Works, Children Do Not Need COVID Vaccination; Network of Philippine Doctors, Parents, Teachers, and Other Professionals Launch Petition to Prevent Mandatory COVID Vaccination for Children; Group of Senior Doctors and Scientists Call on JCVI to Pause Roll out of COVID Vaccines to Children 5 to 11 years; Doctors Demand an Urgent Investigation on Deaths Among Children and Young Adults in the UK; Recent VAERS Data Shows COVID Vaccines Harm Children; Pfizer Concealed Documents Proving that Covid Jab Will Kill Children; COVID Vaccines Would Kill 117 Children Aged Five to 11-Year-Olds in Order to Save One Child Dying from COVID].
Is Sinovac safer than Pfizer mRNA shot? Mounting evidence illustrates that Sinovac is equally unsafe to children as Pfizer [see a comprehensive report in this FAQ Are the Chinese COVID Vaccines Safer for Children?. Also read, New data show Pfizer not effective for kids 5 to 11 years old; New Pfizer data confirms: Clinical trial data was compromised; Pfizer's Assassin Vaccine].
Quoting Dr. Ryan Cole, a board-certified pathologist who is dealing with post-covid jab injuries and fatality: "This is about the generation that should not be harmed by something they do not need." See the video below:
Dear parents, your compliance today will shape the irreversible future of your kid. Think a hundred times before enlisting your child to an experiment [see Canadian health professionals release presentation detailing the dangers of Pfizer COVID injections; Will Vaccinating Our Children Make Our Society COVID-Safe?; COVID Vaccines for Children are as Fatal as for Adults'].
Read Original Article
Read Online
Click the button below if you wish to read the article on the website where it was originally published.
Read Online
Click the button below if you wish to read the article on the website offline.