Psychiatric Disorder Following Pfizer COVID Jab, Not a Rare Case, VigiAccess Has Recorded Thousands of Cases
A February 10, 2022 program of 103.1 Brigada News FM – Palawan featured Joel Corpuz, the father of a 17-year old who suffered from a psychiatric disorder a day after receiving her first dose of Pfizer covid injection. The video has gone viral on social media [see https://www.facebook.com/milk.tea.182940/posts/1253940468428190].
According to the interview, Corpuz's daughter scurried to take the jab because her classmates were already inoculated in preparation for face-to-face classes. Corpuz said that his daughter decided to take the jab and even took care of the birth certificate and QR code requirements.
In addition, Corpuz detailed that it was his second dose of Pfizer, and they both went to the injection site to take the jab, believing the government that the covid doses were safe and effective. Corpuz lamented that he would have refused if he knew this would happen to his daughter.
Editor's Note:  This incident is just one of the thousands of adverse events stories found on social media. What is heartbreaking is that these people who take their stories to Facebook and Tiktok seem to be unaware that they can report the adverse events to the Philippine Food and Drug Authority (FDA) [see Philippine FDA says less than 1% of vaccine recipients experienced side effects of COVID-19 vaccination. Most likely FDA is lying. Also, read this article to see where to report on covid jab adverse events in the Philippines, CDC Data Suggests Nearly 35,000 Reports of COVID Vaccine Injuries, Including Death Among 5- to 17-Year-Olds]. This kind of outcome should be recorded so that physicians do not downplay it, and the government can launch a proper investigation. Social media can warn unsuspecting parents, but reports to pharmacovigilance sites could lead to the end of the inoculation program.
The VigiAccess, World Health Organizations' adverse events reporting system, recorded 147,891 psychiatric disorders, which include hallucination. This is how Corpuz's relatives described the adverse effect she experienced. They said the teenager couldn't sleep the night after the vaccination, and insomnia and sleep disorder were also listed as reported side effects. [See WHO's VigiAccess Shows More than Two Million Adverse Events Following COVID Vaccination; VigiAccess Data Shows COVID Vaccines More Dangerous than Ivermectin, Hydroxychloroquine. Also, view image 1 below.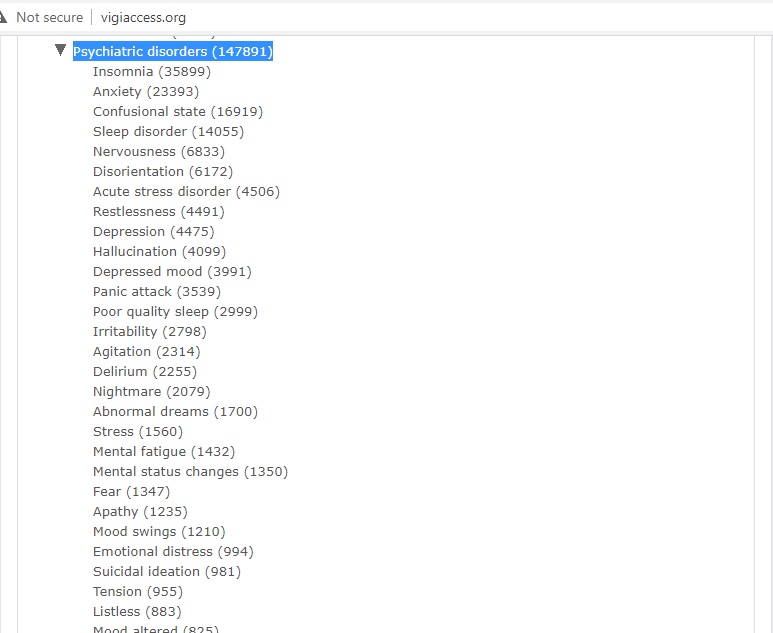 Corpuz maybe was the first to share this kind of episode on social media, but as far as adverse events following vaccination are concerned, there are already more than 70,000 cases among individuals aged 17 years old and below who suffered from covid-19 vaccine injuries, including death. See image 2 below.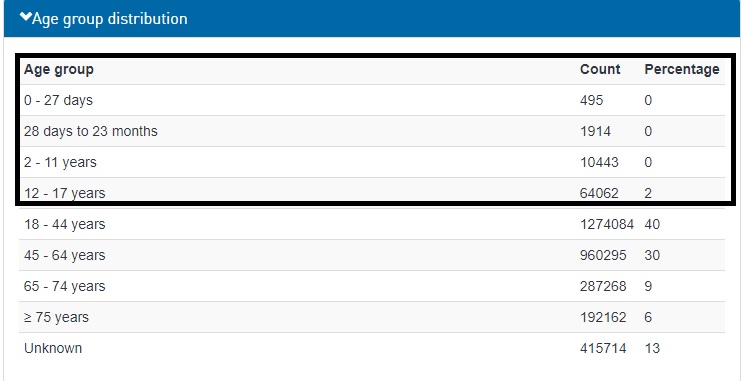 How do health authorities handle these kinds of adverse events? The teenager has no previous illness was normal and active; what happened to her is alarming that the authorities should investigate. Will she return to normal, or will this have a long-term impact on her well-being?
Pfizer is the culprit until they can prove they are not. Here are some pieces of evidence of safety signals relating to Pfizer covid jabs [see Leaked Pfizer contracts show they knew of adverse effects and lack of long-term efficacy of vaccines; Research suggests Pfizer-BioNTech COVID-19 vaccine reprograms innate immune responses; 15-year old dies after Pfizer COVID injection; Expert evidence regarding the use of Pfizer COVID-19 mRNA Vaccine for children; Pfizer Manipulated Study Data to Get Emergency Use Authorization 12-to-15 Year-olds; Pfizer Concealed Documents Proving that Covid Jab Will Kill Children; FDA Panel Recommends Pfizer's Low-dose Covid Jab for Young Children Ages Five to 11 Without the Safety Data; Pfizer Changed Formulation on Their Covid-19 Pediatric Vaccine 3 Days After FDA Approval. Canadian health professionals release presentation detailing the dangers of Pfizer COVID injections].
Can you imagine your previously healthy child suffering from vaccine adverse events? [See CDC Data Suggests Nearly 35,000 Reports of COVID Vaccine Injuries, Including Death Among 5- to 17-Year-Olds; Recent VAERS Data Shows COVID Vaccines Harm Children; COVID Vaccines Would Kill 117 Children Aged Five to 11-Year-Olds in Order to Save One Child Dying from COVID;  One in 9 Children Suffered Severe Adverse Reaction from the COVID Vaccine.]
Do you know that aside from the small amount from PhilHealth's vaccine injury compensation fund, no one else will help you get your children if they experience severe side effects due to the vaccine? We know that no matter how much preparation we make, parents will never be ready when it comes to our children getting harmed.
Before you choose to vaccinate your children, please take the time to review the resources we have carefully curated on this website.
First, we encourage you to understand that children are not at risk of covid; thus, vaccinating them is useless [see Should you vaccinate your children?; Expert evaluation on adverse effects of the Pfizer-COVID-19 vaccination; Updated IFR for COVID Confirms 99.9987% Survival for Under-20's; Peer-reviewed research shows immunocompromised children at no increased risk of severe COVID; Fauci: Children Hospitalized because of COVID are Overcounted; German study confirms Children at VERY low risk of COVID-related severe disease and death; Deaths from COVID are "Incredibly Rare" Among Children; No Need for Vaccines: Children's Immune Systems Primed and Ready for SARS-CoV-2; Oxford University Infectious Disease Experts Say NO to COVID Vaccines for Children; Thousands of Physicians and Scientists Reach Consensus: Natural Immunity Works, Children Do Not Need COVID Vaccination].
Here are a few more readings you might want to delve into: A Parent of Dengvaxia Victim Together with a Parent Who Formerly Covered Dengvaxia Case File TRO to Stop Pediatric Rollout of COVID Vaccines; Pediatricians show ignorance and complicity in recommending vaccination of young children; Pfizer's Assassin Vaccine; "Vaccines" are Premeditated Murder. MSM Snubs Massive Proof .
View Video Below