Restricting Mobility of Vax-Free Individuals is an Assault on Constitutionally-Protected Rights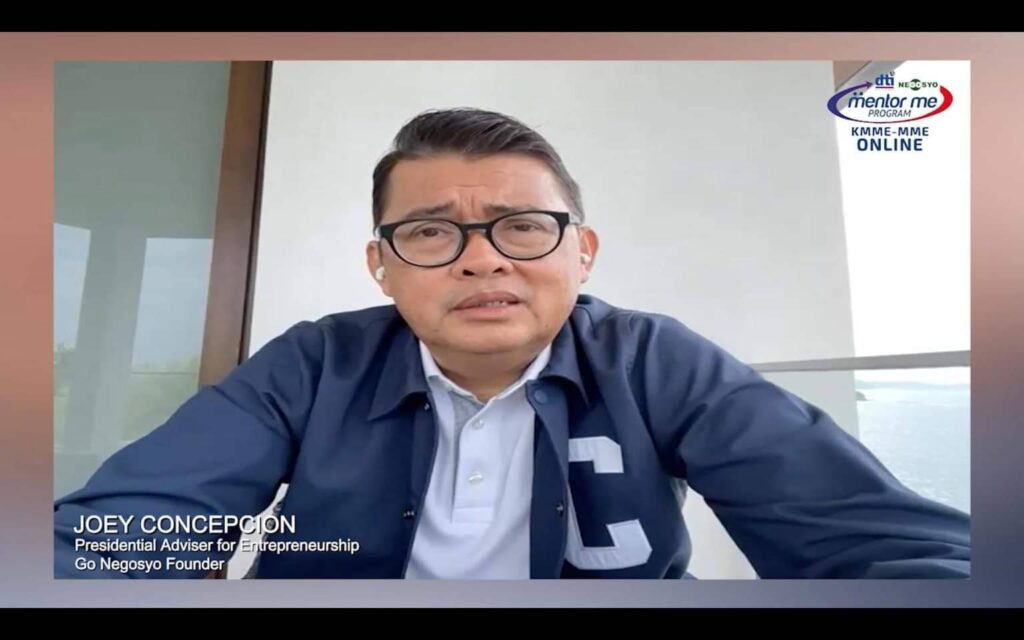 In this January 4, 2022, article written for Manila Bulletin, Bernie Cahiles-Magkilat reports on the latest statements from Presidential Adviser on Entrepreneurship Jose "Joey" Ma. Concepcion III.
According to Concepcion, other areas in the Philippines restrict the movement of the unvaccinated, following the recent pronouncements of the Mayors of Metro Manila. He said, "This is the way forward…We are trying to move from pandemic stage to endemic stage".
Concepcion adds that this is not a deprivation of the rights of movement of the unvaccinated, but is a way of protecting them from getting infected. He warned that this is the best way to protect the health care system as the unvaccinated are "vulnerable…if they get infected there is a strong possibility that their health situation can get severe. If those vaccinated are the ones being infected, they are aready have the protection and their situation is not likely to get serious…they can just stay home and get well. This will prevent the hospital system from getting overwhelmed".
Editor's Note: To show you how absurd these pronouncements from Concepcion are, let us trace for you the timeline of COVID policies and the rationale given by the government for enacting such policies:
Lockdown for two weeks to flatten the curve. This was a way to prevent people from getting infected and to protect the health care system from getting overwhelmed.[1]

https://news.abs-cbn.com/news/03/25/20/draconian-measures-philippines-rolls-out-pandemic-fighting-plan-coronavirus

Cases increase despite the lockdowns so the government decides to extend the lockdown.[2]

https://news.abs-cbn.com/news/04/07/20/philippines-extends-lockdown-of-millions-in-luzon-to-april-30

Lockdowns continue despite low cases and hospital systems not being overwhelmed.[3]

https://cnnphilippines.com/news/2020/6/11/Metro-Manila-Cebu-City-community-quarantine-announcement.html

Slight reopening of economies because people are going hungry and the government can no longer afford to give out support for citizens' needs.[4]https://www.cnnphilippines.com/news/2020/7/8/Duterte-wants-a-cautious-reopening-of-Philippine-economy-amid-rising-COVID-19-cases-in-the-country-.html, …

Continue reading

Due to the reopening, cases increase, so the government lockdowns again. To prevent full lockdowns, local government units institute testing before entry to their borders.[5]

https://www.cnn.ph/regional/2020/9/18/Baguio-City-COVID-19-tourism.html

,

https://primer.com.ph/blog/2020/10/13/dot-reopens-ilocos-norte-to-luzon-tourist-starting-oct-15/

This led to even more cases as even asymptomatic people are being tested [which we know could lead to increase false positive cases, see Sweden: PCR cannot be used for diagnosis, Manitoba Government Chief Microbiologist: 56% of positive "cases" are not infectious, but products of misleading RT-PCR tests, HPAAC recommends targeted testing, not mass testing, WHO finally admits the problem of PCR tests, The danger of over-reliance on RT-PCR tests, BBC: Coronavirus tests could be picking up dead virus, CDC changes guidelines for testing: No more test for asymptomatics, New York Times: More experts questioning RT-PCR testing, Why COVID-19 is guaranteed to never end].
Government decides that it will keep all its faulty coronavirus policies until the vaccines arrive.[6]https://www.theguardian.com/world/2020/jun/09/global-report-philippines-says-schools-wont-reopen-until-there-is-a-covid-19-vaccine, …

Continue reading

. Vaccines, they say will stop the virus from spreading [this, despite the early statements from Anthony Fauci himself, that the vaccines will not stop transmission, see Fauci: Early COVID-19 vaccines will only prevent symptoms, not block infection]. The government says, the vaccines will allow us to reach herd immunity safely.
Vaccination is rolled out and cases increase.[7]https://www.philstar.com/headlines/2021/03/19/2085528/philippines-reports-7103-covid-19-cases-highest-daily-increase-ever, …

Continue reading

Government denies the connection despite early evidences [see World's most vaccinated nation activates new lockdowns as cases rise, New COVID surge in 4 out of 5 top vaccinated countries in the world]. Governments continue to believe that vaccines are our ultimate savior. Governments, try to gas light the unvaccinated by blaming them for the spread of the disease. In the Philippines, Duterte even tries to normalize government intervention in private life [read Philippines' Duterte floats idea of forced vaccination].
To prevent the spread of the virus, governments institute the use of vaccine cards, and a first attempt at restricting the mobility of the vax-free is introduced [read Duterte to vaccine-hesitant Filipinos: Don't leave your house if you don't want the vaccine]. Concepcion tries to introduce the idea of using vaccine passports.
Unfortunately, it is now becoming apparent that vaccines will not create herd immunity as was previously promised by these COVID vaccines [see Iceland and Denmark: No herd immunity from vaccines, Iceland epidemiologist says herd immunity cannot be achieved by vaccines, New York Times: Herd immunity will not be achieved with vaccines, DOH Admitted: Fully-Vaccinated People Can Still Get COVID-19].
Data from various countries are also showing that the vaccinated are the ones who are getting infected and are now driving transmission [see Botswana Government Says Omicron Variant Detected in Vaccinated People, Vaccinated Individuals More Prone to COVID Infection with Beta, Gamma, and Delta Variants, Lancet: Vaccinated are significant sources of COVID transmission, Gibraltar, the World's Most Vaccinated Country has Canceled Christmas Celebrations Amid COVID Spike, Mandaluyong City Covid-19 Cases are Driven by Vaccinated, Singapore Overtakes 2020 Record Despite High Vaccination Rate, Experts Admit Surge due to Waning Protection from Vaccine, Study confirms jabs make no difference in spread of COVID, double-jabbed more prone to Delta infection, Vaccinated are the Superspreaders, Research shows fully vaccinated individuals infected with COVID have become presymptomatic superspreaders, Vaccinated people more vulnerable to Omicron infection].
Now we must remember that Concepcion's recommendations were crucial in the implementation of vaccine cards in indoor venues in Metro Manila. In June 2021, Concepcion said that the vaccinated "deserve" greater mobility.[8]https://mb.com.ph/2021/06/01/vaccine-recipients-deserve-greater-mobility-says-concepcion/In August 2021, he said that only fully vaccinated people should be allowed in malls to "create 'safer bubbles' that could control the spread of the highly contagious Delta variant…For example, dining areas with fully vaccinated restaurant crew serving fully vaccinated dine-in customers".[9]https://www.cnnphilippines.com/news/2021/8/17/fully-vaccinated-in-NCR-malls.html Concepcion's earlier pronouncements were based on a faulty assumption that the vaccines will bring about herd immunity, that those who "do their part" should be rewarded, and those who choose not to get vaccinated should be punished.
But Concepcion's latest statements are a contradiction to his previous position. Now he is saying that locking down the unvaccinated will prevent us from getting sick! Realizing that the herd immunity and vaccine immunity narrative will no longer fly in the face of new data from various governments, he has changed his tune, as if he now cares for the unvaccinated.
This new recommendation is nothing more than a revised ploy to manipulate governments into introducing mobility restrictions on populations in the hopes of creating an entry point for the widespread use of vaccine passports, which has been his motive all along.[10]https://mb.com.ph/2021/09/13/vaccine-passports-key-to-economic-recovery-duterte-advisers-say/, https://philippineslifestyle.com/vaccine-pass-enter-establishments-urged/, … Continue reading
Now just to debunk Concepcion's claims that the new lockdowns are going to protect the vax-free from vaccinated who are turning out to be spreaders of COVID, we have here several articles showing that these vaccines offer no protection at all. Evidence is showing that we are now in a pandemic of the vaccinated, where those who took the jab are more prone to severe disease [Read Majority of Covid-19 Deaths and Hospitalizations in Scotland are Fully Vaccinated, Norway Study Finds ZERO Vaccine Effectiveness Against Death for Covid Hospital Patients, Worldwide data from 185 nations prove that the highest death rates are in the most vaccinated countries; we are now in a pandemic of the vaccinated, Study confirms possibility that vaccine recipients will face ADE injuries and deaths, Vaccines do not fully control Delta variant: Majority of COVID deaths are from vaccinated. Evidence of dangerous ADE at work, UK Government Data: Vaccinated are Seeing their Immune Response Plummet by About 5% Each Week, Covid-Injection Lowers Natural Immunity by five- to six-fold].
In reality, all these mobility restrictions for the unvaccinated are nothing more than attempts at making life difficult for us so that we all end up taking the vaccines. They are not outright stating that vaccines are mandatory, because they know it is illegal, but they are creating environments that exert coercive pressure on individuals to take the vaccine. Isn't that the same thing as mandatory vaccination? Even a stupid person will catch up to these mind games.
The right to life and liberty has been assured to us by the constitution. No one can take it away from us, unless we decide to surrender it willingly.
For the double-jabbed, we want to let you know that you are not safe from coercion. Next, they will try to make boosters mandatory, and then you will lose your "priority" status [see France Says Boosters Will be Required for Health Pass, Australian Health Chief: COVID will be with us "forever", people must "get used to" endless booster shots, Fauci: "Full vaccination" will likely mean getting a booster shot, Israel's vaccine pass will expire 6 months after second dose, people will need booster shots to enter non-essential businesses].
The unboosted will be treated like the unvaccinated, and by then, it will be much harder to stop the government from dictating our medical decisions. [To get an idea of what the future has in store for us if we do not pushback now, read Vaccines: Trojan Horses for Global Sterilization and Surveillance, Total tyranny: This is our future if we do not stop lockdowns].
This is the reason why we are fighting now. Not for our own freedoms alone, but for the freedoms of future generations.
"The freedoms you surrender today are the freedoms your grandchildren will never know existed."
Read Original Article
Read Online
Click the button below if you wish to read the article on the website where it was originally published.
Read Offline
Click the button below if you wish to read the article offline.