Majority of Covid-19 Deaths and Hospitalizations in Scotland are Fully Vaccinated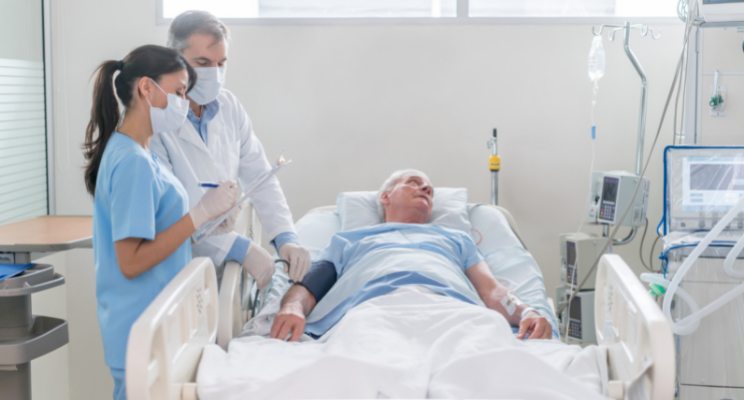 A November 4, 2021 article published in The Expose stated that in the past months, Covid-19 deaths and hospitalizations in Scotland were mostly among the fully vaccinated. This statement was based on the latest data released by Public Health Scotland (PHS).
According to the report, from October 2 to October 29, the latest official PHS data shows that 88% of Covid-19 deaths in the past four weeks, 77% of Covid-19 hospitalizations, and 64% of alleged Covid-19 cases are among the fully vaccinated.
Editor's Note: This is another indication that some parts of Europe are really hit-hard by this "pandemic of the vaccinated." [See UK Data shows more people died due to COVID injections in 8 months than people who died of COVID-19 in 18 months; Waterford, Ireland: Vaccinated Patients in ICU as High as Total Number of COVID Patients in ICU Last Year; Taiwan has More Death from COVID Jab than COVID-19 Disease; Israel, once the model for beating COVID, now has one of the highest infections in the world.]
There's a global pattern happening among highly vaccinated countries or states where infections are far from being mitigated, vaccinated group drives the covid statistics [see Worldwide data from 185 nations prove that the highest death rates are in the most vaccinated countries; we are now in a pandemic of the vaccinated]. This phenomenon has been apparent since the early stage of vaccine rollouts, see Countries with the highest vaccination rates also facing surge in COVID cases and deaths; New COVID surge in 4 out of 5 top vaccinated countries in the world; Vaccines may turn out to be deadlier than COVID; World's most vaccinated nation activates new lockdowns as cases rise.]
Despite that, what was only shown are patients who tested positive with covid, how about those who were negative but vaccine-injured, how are they categorized? Regardless, one thing is crystal clear: antibodies-dependent enhancement is at work MOST PEOPLE DO NOT UNDERSTAND ADE [see Health experts review some possible unintended consequences of mRNA COVID vaccines; What is pathogenic priming? to understand what ADE is. Also, read Vaccines do not fully control Delta variant: Majority of COVID deaths are from vaccinated. Evidence of dangerous ADE at work; Study confirms possibility that vaccine recipients will face ADE injuries and deaths]. However, unvaccinated individuals are still being blamed for the surge of infection, nevertheless, statistics speak volumes.
Many experts predicted and warned this upsurge, but health authorities dismissed and ignored it [see Pro-Vaccine expert warns: Stop mass vaccinations; Pro-vaccine expert on"immune escape", mass vaccination, and the creation of "uncontrollable monster" viruses; Study shows vaccinated people play role in creating more dangerous COVID variants, Briefing document on Pfizer-BioNTech vaccine shows evidence of pathogenic priming among older adults].
People who took the jab are now faced with a health dilemma. Many took the vaccine because they thought it would prevent infection. Now it is apparent that the vaccine has no capacity to neutralize the virus [see DOH Admitted: Fully-Vaccinated People Can Still Get COVID-19; CDC Head declares COVID 'vaccines' don't prevent infections or transmissions; COVID Vaccines Do Not Prevent Transmission, Will Lead to a Variant Killing 35% of People it Infects; Dr. Harvey Risch: 60% of new COVID patients have received vaccines; Vaccinated people can still get infected with COVID-19].
Many good people who trusted their governments and Big Pharma are now permanently injured [see Vaccine-injured Speak Out: DO NOT TAKE THE VACCINE; Athletes Pushback, Risking Million-dollar Careers to Refuse Vaccine Mandates].
Some are unfortunate enough to succumb to untimely death [see Experts Find Inflammation, Organ Damages on Autopsies of Vaccinated Individuals; Confirms Vaccines Contain Toxic Chemicals; It's official: BBC presenter Lisa Shaw died of COVID vaccine complications; Autopsy confirms Michigan woman died from blood clots due to vaccine; Ground-breaking autopsy report shows the vaccinated had toxic spike proteins all over the body; 15-year old dies after Pfizer COVID injection; Perfectly healthy doctor dies weeks after getting Pfizer COVID vaccine].
Governments want you to believe that these vaccines are safe and effective, but the data does not lie. Many are suffering due to the lies promoted by the very authorities they have trusted [see W.H.O's VigiAccess Shows More than Two Million Adverse Events Following COVID Vaccination; FDA advisory committee votes against booster shots, vaccine risks outweigh benefits especially for children; Journal censors article showing high incidence of heart inflammation following Pfizer vaccination; Journal article confirms younger males at higher risk of myocarditis following COVID vaccination, VAERS cases, "just the tip of the iceberg"].
Read Original Article
Read Online
Click the button below if you wish to read the article on the website where it was originally published.
Read Offline
Click the button below if you wish to read the article offline.