Fauci Admits Vaccines are Failing to Protect Vaccinated from COVID Hospitalization and Death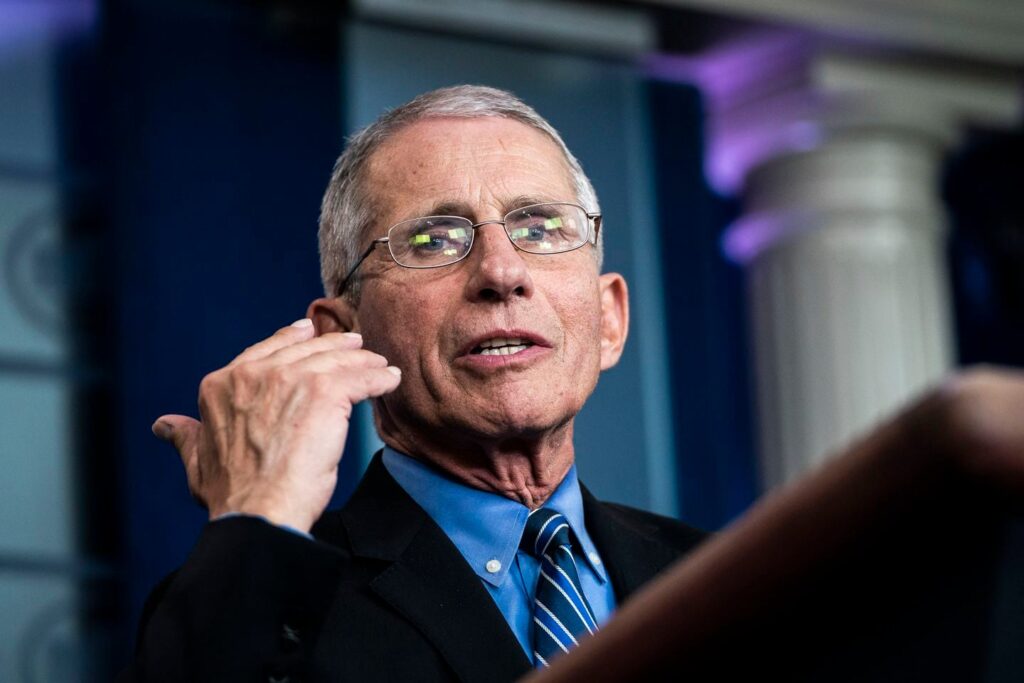 The following features a podcast and a transcript of an interview between Michael Barbaro and Anthony Fauci. It was published last November 12, 2021, by The New York Times.
In this interview, Fauci and Barbaro talk about the current state of the pandemic, and how taking the booster shots will be essential in ending COVID.
Here are the more important statements relayed by Fauci during the interview (cited verbatim):
We are starting to see waning immunity against infection and waning immunity in the beginning aspect against hospitalization. And if you look at Israel…They are seeing a waning of immunity, not only against infection, but against hospitalizations and to some extent, death, which is starting to now involve all age groups.
…the boosting is going to be an absolutely essential component of our response. Not a bonus, not a luxury, but an absolute essential part of the program.
We didn't have the time to do an extensive phase 2a, phase 2b study to see whether two doses were better than three, whether six months was better than eight months. We just did with what we had, and quite frankly, it was life saving for millions of people.
…if you have a population of individuals who are vulnerable to infection, with no protection from a vaccine, you give the virus ample opportunity to circulate, to infect even through breakthrough infections vaccinated people. And you give it the opportunity to mutate to possibly develop into a new problematic variant.
I would absolutely prefer that we do not have to do mandates, because I think we should get people to do things on their own accord. However, one thing we do know, that mandates work.
…sometimes, when you're dealing with a situation, in which you have a very unusual situation, you have to go to unusual measures. And sometimes, unusual measures mean you have to sacrifice your own feeling that you have absolute control over what happens to you with what the good of society is. I think mandates fall under that category.
…ultimately all pandemics burn themselves out. In the modern age of biomedical research and public health interventions, you can mitigate the ultimate negative impact of outbreaks…this is going to end one way or another. The preferable way, if you just think about it for a moment, is to do whatever we can to minimize the suffering and the death.
…the best way to protect unvaccinated grandchildren is to surround them with vaccinated people…Who are very unlikely to spread it to them.
Editor's Note: All throughout this interview, Fauci has been adamant that his words not be taken out of context, hence our decision to just copy his words verbatim so you can clearly see what we mean when we say that Fauci is the number one purveyor of fake news during this "pandemic". Several of his statements have already been proven to be incorrect.
First, vaccinated people are not "unlikely" to spread the virus. There are already many studies and real-world experiences debunking this myth. [see Fauci: Early COVID-19 vaccines will only prevent symptoms, not block infection, CDC Head declares COVID 'vaccines' don't prevent infections or transmissions, Iceland epidemiologist says herd immunity cannot be achieved by vaccines, Iceland and Denmark: No herd immunity from vaccines, Harvard Study: Vaccines will not end the pandemic, Swedish study: Antibodies in fully vaxxed with Pfizer, Astrazeneca decline steeply after only a few months].
Second, there is no proof showing that the unvaccinated are more likely to spread COVID compared to the unvaccinated. In fact, the evidence is suggesting that it is the vaccinated who are posing dangers to the unvaccinated [see Study confirms jabs make no difference in spread of COVID, double-jabbed more prone to Delta infection, Health Care Workers Speak Out on Why They Would Rather Lose Their Jobs Than Take a COVID-19 Vaccine, Vaccinated are the Superspreaders, Research shows fully vaccinated individuals infected with COVID have become presymptomatic superspreaders, Study shows vaccinated people play role in creating more dangerous COVID variants, Dr. Robert Malone: COVID vaccines are causing the virus to become more infectious, Pro-Vaccine expert warns: Stop mass vaccinations, COVID Vaccines Do Not Prevent Transmission, Will Lead to a Variant Killing 35% of People it Infects, Inventor of mRNA vaccine technology confirms immune escape and dangers of spike proteins, Pro-vaccine expert on "immune escape", mass vaccination, and the creation of "uncontrollable monster" viruses].
Third, where evidence shows that vaccines have failed to protect the people who are most vulnerable to COVID. [see AI Analysis from US Department of Defense shows vaccines lead to more severe disease for fully vaccinated elderly, Study: Risk of death following vaccination higher than COVID-19 among the most vulnerable groups, 60% of those older than 50 who die from COVID are double vaxxed, Study shows COVID vaccines unable to protect vulnerable groups, Swedish study: Antibodies in fully vaxxed with Pfizer, Astrazeneca decline steeply after only a few months].
Fourth, Fauci has just admitted that the government has been experimenting when it comes to vaccines. He says, "We did what we had" in an attempt to rationalize the many mistakes that the CDC and FDA made. The reason why Fauci is speaking up this time regarding vaccine failures is that he can no longer hide the data [see Majority of Covid-19 Deaths and Hospitalizations in Scotland are Fully Vaccinated, Waterford, Ireland: Vaccinated Patients in ICU as High as Total Number of COVID Patients in ICU Last Year, Israel, once the model for beating COVID, now has one of the highest infections in the world, Worldwide data from 185 nations prove that the highest death rates are in the most vaccinated countries; we are now in a pandemic of the vaccinated, No justification for vaccine passports: UK data shows fully vaccinated more prone to COVID infection than unvaccinated, Former CDC Director: COVID deaths among fully vaccinated more common than we think, More Studies Question Vaccine Efficacy, Raises Doubts on Vaccine Mandates. Also read FDA advisory committee votes against booster shots, vaccine risks outweigh benefits especially for children, Top FDA virologists, WHO scientists: No credible evidence for COVID booster shots, Top FDA officials resign over booster plan, says White House announced policy before agency approved it, Stop Booster Jabs, WHO Urges Wealthy Nations].
He is trying to salvage his reputation, and he is trying to sell boosters [just like other health "experts" from other countries Australian Health Chief: COVID will be with us "forever", people must "get used to" endless booster shots, Israel vaccine czar warns citizens they need to prepare for fourth injections, says, "This is our life from now on"].
Fifth, where did Fauci base his statement when he said that the vaccines were "life-saving for millions of people"? Based on real-world studies, the vaccines offer no effectiveness against death for COVID patients [see Norway Study Finds ZERO Vaccine Effectiveness Against Death for Covid Hospital Patients ]. Moreover, most people who contract COVID actually recover from it [see CDC updates planning scenarios, shows IFR lower than flu, New estimates put COVID infection fatality rate at 0.15%]. So if the vaccine cannot protect the most vulnerable from the virus, and most people recover from the infection, who is being saved by these vaccines?
Sixth, children have nothing to worry about when it comes to COVID. From day 1, it was clear that they were not going to be severely affected [read No Need for Vaccines: Children's Immune Systems Primed and Ready for SARS-CoV-2, Understanding the immune system of children may be the key to understanding susceptibility to SARS-COV-2, Why is the coronavirus sparing kids?] In fact, allowing them to function normally would have developed herd immunity which could protect the vulnerable [see The Great Barrington Declaration: Life must return to normal for the healthy, the vulnerable must be protected, COVID-19 PANDEMIC: THE PHILIPPINE EXPERIENCE, New study shows the path towards endemic COVID, The scientist behind Sweden's controversial coronavirus strategy weighs in on the effectiveness of the approach].
Seventh, Fauci admits that this "pandemic" will ultimately burn itself out. In fact, before the vaccines, it was clear that the "pandemic" was already on its way out [see COVID Case fatality rate has been stagnant since November 2020]. Vaccination created pressure and caused new surges in infection [see Gibraltar, Almost 50% infected with Delta variant in Israel are fully vaccinated, New COVID surge in 4 out of 5 top vaccinated countries in the world, Countries with the highest vaccination rates also facing surge in COVID cases and deaths, World's most vaccinated nation activates new lockdowns as cases rise].
So yes, we would all want to do our best to prevent deaths from COVID, using the most advanced tools we can. But are vaccines the best tool for this situation?
Based on the evidence, it is not. The science shows that recovery from natural infection and a healthy immune system is all we need to get through this almost-2-year-long ordeal [see Geert Vanden Boosche: Natural immunity, not vaccines, will create herd immunity, Pfizer Scientists Caught on Camera: Natural Immunity Better than Covid Injection, Largest scientific study: COVID-recovered individuals better protected from Delta compared to the vaccinated, Immune system has 27x more protective power than vaccines: Case for COVID vaccine passports demolished, Hundreds of Researches Confirm Natural Immunity is Complete and Longer-lasting, More Powerful than COVID Vaccines, New study: T-cells induced by COVID infection can respond to new SARS-CoV-2 variants, Our immune system evolves to fight coronavirus variants].
Given all of these facts, what then is the purpose of vaccine mandates? What is the point of vaccinating every single individual here on earth?
Read Original Article
Read Online
Click the button below if you wish to read the article on the website where it was originally published.
Read Offline
Click the button below if you wish to read the article offline.