Dr. Michael Yeadon Demands Integrity from Vaccine Manufacturers and Regulatory Agencies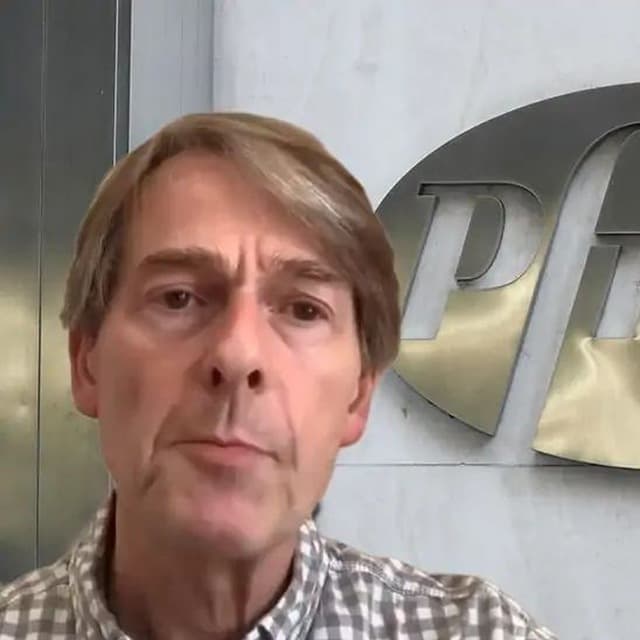 In this November 1, 2021 article published in The Expose, Dr. Michael Yeadon comments on the results of the study reported in the article VAERS Reveals 100% of Covid-19 Vaccine Deaths were Caused by Specific Lot Numbers. He says, "The findings that 100% of Covid-19 Vaccine Deaths have been caused by just 5% of the batches produced are unprecedented."
The report detailed Dr. Yeadon's thoughts on this investigation. He says, "I just cannot imagine the kind of mistakes that could produce such radically different clinical profiles… What I do know, and this is a test of whether there's the slightest sign of integrity from these companies and the regulatory agencies, is that all use of the affected product must immediately cease, all batches of drug substance & lots of drug products should cease. The materials should be recalled to a place of stable storage & an intense analytical investigation should be initiated.
Editor's Note: If we legitimately have a health emergency, this kind of fatality involving a supposed treatment should be abolished and ceased abruptly. Also connected with this investigation is the disclosure that dangerous lots appear to be intentionally released to some states while others have mild effects. Is it coincidence or highly political? [See this article https://theexpose.uk/2021/11/03/majority-deadliest-batches-of-covid-19-vaccine-were-sent-to-red-republican-states/]
See the graph below for the 26 most harmful lot numbers shipped to 13 US States.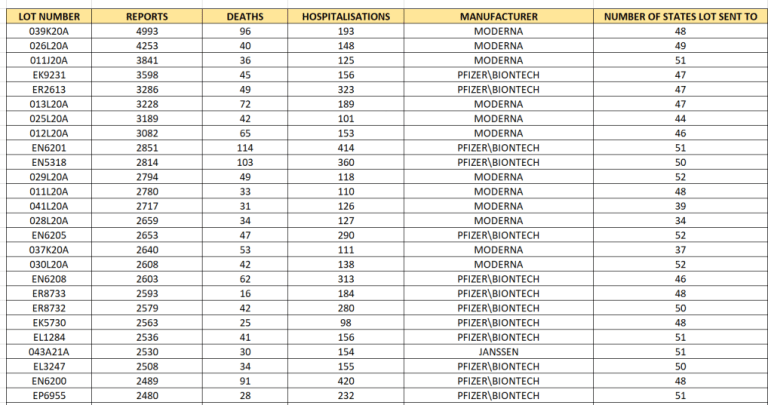 The US Vaccine Adverse Events Reporting System (VAERS) itself is sufficient evidence to show the damage these doses bring to those who have received the jabs. Yet, the authorities underestimate the numbers by comparing these damages to the considerable proportion of the inoculated population. Should we simply ignore the lives damaged by the vaccine simply because there are more people reporting that they have not been injured by the vaccine? Is one life damaged not so worrisome now? [Now, you need to remember that these vaccines have damaged not one, but millions of lives, read W.H.O's VigiAccess Shows More than Two Million Adverse Events Following COVID Vaccination].

Previous vaccines that caused harm with 25 to 50 reported fatalities led to a product recall. [Read this related article for vaccines that were halted and recalled and to fully understand the extent of this covid-19 vaccine fiasco https://edition.cnn.com/2020/09/01/health/eua-coronavirus-vaccine-history/index.html.]
We do not have that kind of regulatory rigor nowadays. What we have is the indoctrination that these injections are safe and effective. [See Fauci: Safe and effective vaccine could be ready by end of November; Philippine FDA says less than 1% of vaccine recipients experienced side effects of COVID-19 vaccination. Most likely FDA is lying.; Thousands of Upset Filipinos Blast DOH for Fake News, Support Release of CCH FOI Bombshell, Dispute Claims Vaccines are "Safe and Effective".]
This kind of article is easy to verify through VAERS. Why isn't the government doing anything to check on this issue? Are regulatory agencies still doing their jobs or are they now advocates for Big Pharma? [FDA history shows that they have been actively covering up for these vaccines, FDA knew COVID vaccines would lead to severe adverse events, sanitized info was given to people to prevent vaccine-hesitancy; Four Pfizer trial volunteers developed Bell's palsy but FDA denies it was caused by the shot; FDA Panel Recommends Pfizer's Low-dose Covid Jab for Young Children Ages Five to 11 Without the Safety Data.]
The longer governments deny the damages caused by vaccines, the more data is being scrubbed clean. It will become harder and harder for true health advocates to find proof that the vaccines are causing adverse effects and deaths. This is the reason why it is important for people to ensure that adverse events, no matter how mild they are, are recorded through something like VAERS. In the Philippines, we recommend that you utilize an affidavit to tell your story [see ADVERSE VACCINE INJURIES: HOW TO SHARE YOUR STORY IN AFFIDAVIT FORM (Part 1); ADVERSE VACCINE INJURIES: HOW TO SHARE YOUR STORY IN AFFIDAVIT FORM (Part 2). Also, see AFFIDAVIT OF VACCINE ADVERSE EFFECT and Philippine FDA reports 79,166 adverse events, 91 deaths following COVID vaccination for the forms].
Read Original Article
Read Online
Click the button below if you wish to read the article on the website where it was originally published.
Read Offline
Click the button below if you wish to read the article offline.