The Great Barrington Declaration: Life must return to normal for the healthy, the vulnerable must be protected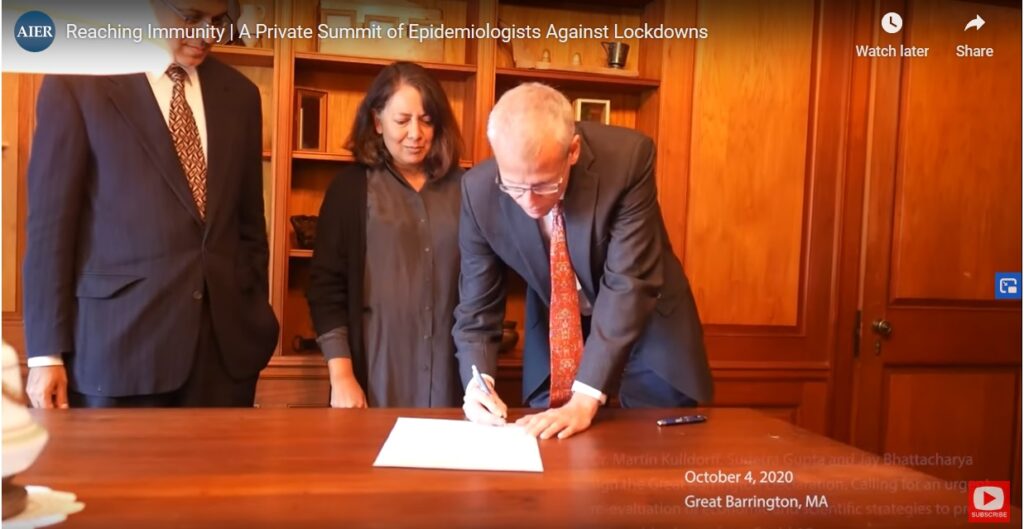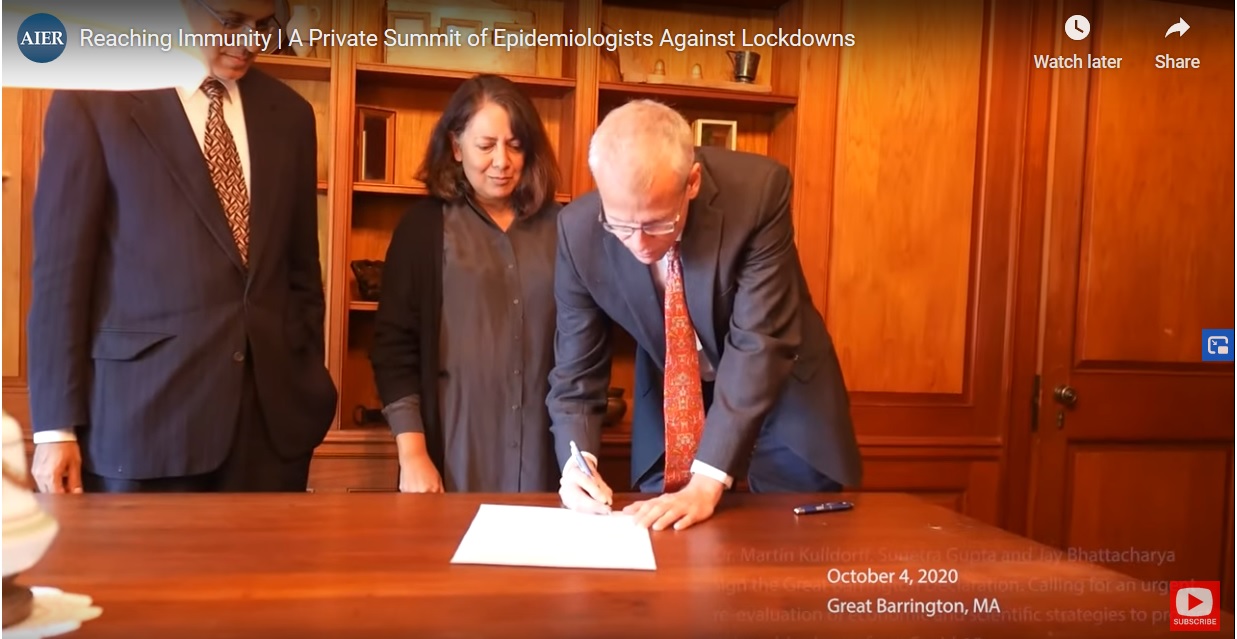 The following declaration was published last October 4, 2020. It was originally authored and signed by Dr. Martin Kulldorf, an epidemiologist with expertise in detecting and monitoring of infectious disease outbreaks and vaccine safety evaluations, Dr. Sunetra Gupta, an epidemiologist with expertise in immunology, vaccine development, and mathematical modeling of infectious diseases, and Dr. Jay Bhattacharya, a physician, epidemiologist, health economist, and public health policy expert. Dr. Gupta may be remembered as the epidemiologist who provided an alternative model on the behavior and extent of infection of SARS-CoV-2 [the other model developed by Prof. Neil Ferguson was used by governments to rationalize the imposition of lockdowns. Prof. Ferguson's model has long been proven to be false, see Experts: The code that led to lockdowns was a "buggy mess", More data gathered, more proof that early fatality estimates were massively exaggerated, The Imperial College model for reopening has failed yet again].
Today, the declaration has been co-signed by more than 11,000 medical practitioners and public health scientists, and over 101,000 citizens from various countries. Some of the more notable names of scientists and experts include Nobel Prize Winner Dr. Michael Levitt, Prof. Sucharit Bhakdi, Dr. Helen Colhourn, Dr. Matthew Strauss, and Dr. Simon Thornley.
The Great Barrington Declaration asserts that the strategy of maintaining current coronavirus measures until a vaccine has been developed will lead to devastating effects on short and long term public health. Some of these impacts are already being experienced today: "lower childhood vaccination rates, worsening cardiovascular disease outcomes, fewer cancer screenings and deteriorating mental health – leading to greater excess mortality in years to come, with the working class and younger members of society carrying the heaviest burden".
The declaration calls for governments to allow those who are not vulnerable (the young and healthy) to resume life as normal, while also adopting measures to protect the vulnerable. Some of their recommendations for what they call Focused Protection include measures for rotecting those who live in elderly care homes, resumption of normal activities for the young, low-risk adults, and the reopening of schools for in-person learning.
A supporting video of The Great Barrington Declaration has been added below. Watch it to understand the rationale behind the declaration.
Editor's Note: For weeks, numerous medical professionals have started calling for the end of all coronavirus restrictions, especially as new information about SARS-CoV-2 and COVID-19 has come to light. Here are some petitions initiated medical professionals : Canadian doctors back localized approach, not sweeping lockdowns to control COVID-19, Medical doctors and lawyers band together to reclaim professional autonomy, human identity and sovereignty, Belgian doctors call for the end of all lockdowns, Filipino doctors: Lift all lockdowns and allow our people to begin to rebuild their lives, Medical doctor tells premier of Victoria: We need an alternative medical response to SARS-CoV-2, Health professionals around the world call for the end of lockdowns and other COVID restrictions.
The Great Barrington Declaration is the culmination of all these public petitions initiated by medical experts from various countries. It tells us succinctly how we can move on with our lives without sacrificing the vulnerable.
The time for sweeping lockdowns is over. Protecting those who are vulnerable from SARS-CoV-2 does not need to come at the cost of the lives of the young and healthy. We no longer need to choose between life and the economy.
Read Online
Click the button below if you wish to read the article on the website where it was originally published.
Read Offline
Click the button below if you wish to read the article offline.
Watch Original Video