Vaccine Efficacy: Pfizer and Moderna CEOs Have Differing Claims
This article delves into two write-ups featuring the two CEOs from two vaccine companies, each with differing opinions regarding vaccine efficacy.
In a November 30, 2021 article published in Financial Times, Stephane Bancel, chief executive of Moderna, predicted that existing covid jabs will be much less effective at tackling Omicron compared to earlier coronavirus variants. He warned that it would take months before pharmaceutical companies could manufacture new variant-specific jabs at scale.
Also, Bancel added: "I think it's going to be a material drop. I just don't know how much because we need to wait for the data. But all the scientists I've talked to . . . are like, 'This is not going to be good."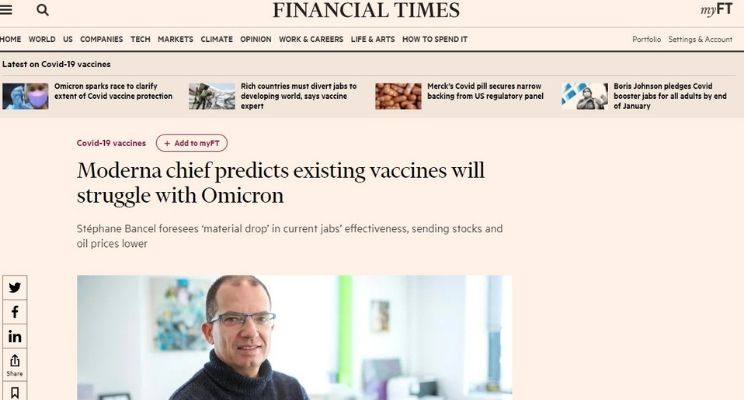 You can access the full article here. Or, if you cannot access the former, you can read the same article reported here.
Meanwhile, a December 1, 2021 article published by the Philippine Daily Inquirer, reported that BioNTech and Pfizer's COVID-19 vaccine will likely offer strong protection against any severe disease from the new Omicron virus variant.
In contradiction to Moderna CEO's declaration, Ugur Sahin, BioNTech CEO and Co-founder said: "We think it's likely that people will have substantial protection against severe disease caused by Omicron."
The report cited Sahin saying: "The advantage is that we have been practicing this pit stop for months, and if we change tires for real, we will be able to say we've demonstrated this before for one variant and for two variants."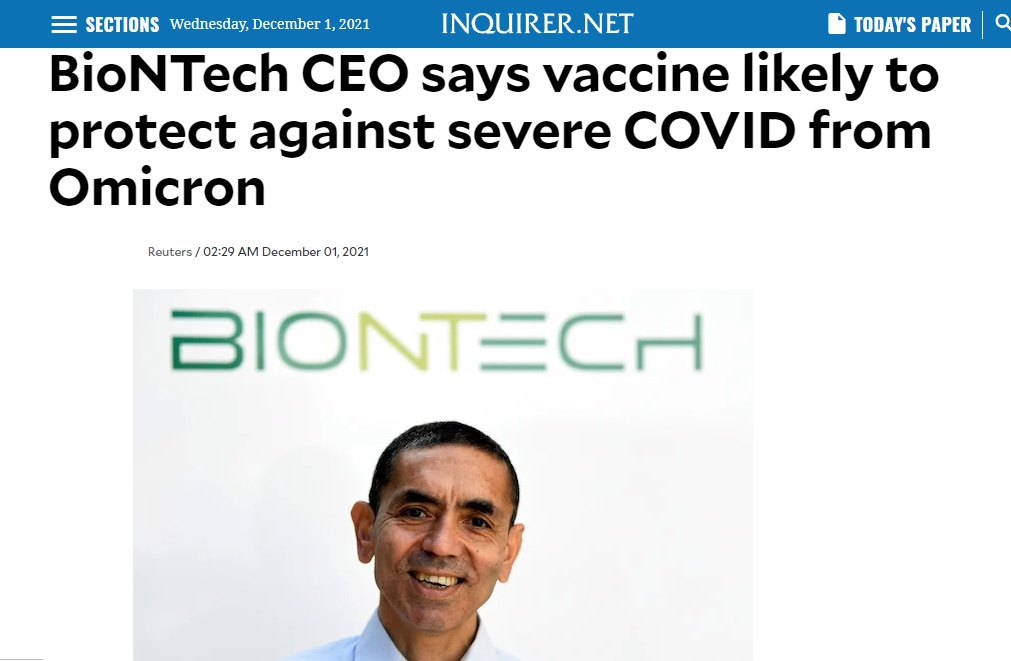 You can access the Philippine Daily Inquirer article attached below.
Editor's Note: With these two covid jab major players contradicting each other regarding the highly sensationalized Omicron variant, we can clearly see that they rattle only about the market and not how to fully mitigate the putative virus.
Moderna is pushing for booster shots because the current formulation does not protect you from the new variant, whereas, Pfizer said their jab is still effective. Who do you believe then?
We think that this Omicron variant is nothing more than a distraction for highly stressed individuals who are starting to question the confusing narratives surrounding these vaccines. For one, both CEOs fail to look at the fact that these vaccines are failing [See Gibraltar, the World's Most Vaccinated Country has Canceled Christmas Celebrations Amid COVID Spike; Waterford, Ireland: Vaccinated Patients in ICU as High as Total Number of COVID Patients in ICU Last Year; Israel, once the model for beating COVID, now has one of the highest infections in the world; Majority of Covid-19 Deaths and Hospitalizations in Scotland are Fully Vaccinated; UK report shows COVID hospitalization among children unaffected by schools policy; Singapore Overtakes 2020 Record Despite High Vaccination Rate, Experts Admit Surge due to Waning Protection from Vaccine; Taiwan has More Death from COVID Jab than COVID-19 Disease].
They are ignoring the fact that these vaccines are not delivering the promised results [see COVID vaccines not as effective as you think and Study: Public misled about the efficacy reports of mRNA vaccines].
They talk about Omicron without dealing with the reality that just like the Delta, it is the vaccinated who are typically affected [see Vaccines do not fully control Delta variant: Majority of COVID deaths are from vaccinated. Evidence of dangerous ADE at work; Delta not causing increase in COVID hospitalizations; Pfizer's efficacy drops in Israel, cannot prevent people from getting COVID Delta variant; Document from Public Health England shows Delta less deadly than original strain, vaccinated more vulnerable to Delta variant, Vaccinated people more vulnerable to Omicron infection].
With the emergence of the new variant, some of the leaders are already labeling Omicron as exponentially transmissible, so where are we heading from here? Hard lockdowns? Limited movements? Panic?
Clearly, all these measures have never flattened the curve, and the jabs are sheer delusional saving grace [see The evidence is in: Vaccines have failed, more dangerous than the virus; Study confirms possibility that vaccine recipients will face ADE injuries and deaths, COVID vaccines are bioweapons. Here are the many ways they can injure you., Scientists Sound Alarm: Vaccines Will Kill Millions, FDA knew COVID vaccines would lead to severe adverse events, sanitized info was given to people to prevent vaccine-hesitancy. Also, read Stanford's Dr. John Ioannidis destroys the Covid lockdown narrative; THE VACCINE DELUSION, PART 1: CBCP Pro-Vaccine Decision Huge Mistake. Vaccines will Not Remove Lockdowns. Ignores Reports of Thousands of COVID-19 Vaccine Serious Injuries Including Death; Norway Study Finds ZERO Vaccine Effectiveness Against Death for Covid Hospital Patients].
Despite all the scientific evidence and the numbers of injuries and fatalities following vaccination, governments are still pushing for covid jabs, boosters, and unscientific non-pharmaceutical interventions, ask yourself, who benefits?
Read Original Article
Read Online
Click the button below if you wish to read the article on the website where it was originally published.
Read Offline
Click the button below if you wish to read the article offline.