The Philippines Sees Steady Decline in Vaccination Rate Despite COVID Jab Campaign Drive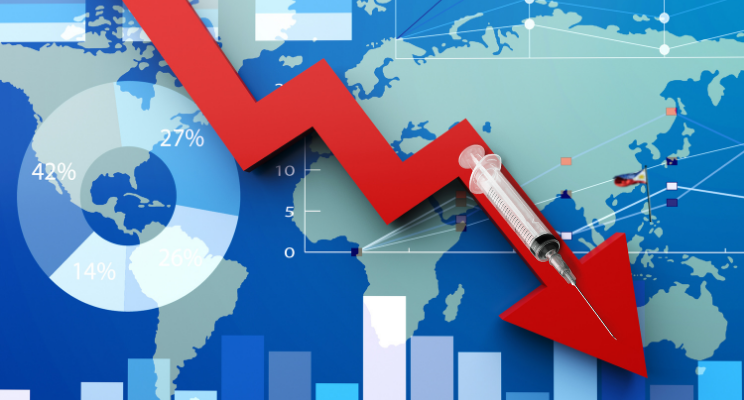 In a March 16, 2022 article published in Manila Bulletin, Martin Sadongdong reported the Philippines is experiencing a continuous decrease in the number of people vaccinated against Covid-19 despite the high level of willingness of the public to get inoculated.
According to the article, vaccine czar Carlito Galvez Jr. revealed this observation as he cited two plausible reasons for the puzzling situation: complacency and improving the Covid-19 situation in the country. Galvez said during the pre-recorded Talk to the People public address of President Duterte aired on Wednesday, March 16, "there is a continuous decline in the vaccination program especially in the administration of booster shots despite the high vaccine willingness at 80 percent."
In addition, seven regions have already reached their vaccination target of fully vaccinating at least 70 percent of their population, namely National Capital Region (NCR), Cordillera Administrative Region (CAR), Regions 1, 2, 3, Calabarzon (Region 4A), and Region 6. And eight regions have also fully vaccinated at least 60 percent of their target population, including Mimaropa (Region 4B), Regions 5, 7, 8, 9, 10, 11, and Caraga.
Also, the report stated this complacency could spell disaster as the threat of the highly contagious and super stealthy Omicron variant resurfaces in other countries such as China, Hong Kong, the United States, and some European countries are now dealing with multiple outbreaks and re-imposing strict lockdowns.
Editor's Note: Something has to be addressed in this article. First, the report that Filipinos' vaccine hesitancy has dropped to 8%[1]https://www.philstar.com/headlines/2022/01/21/2155418/sws-vaccine-hesitancy-among-filipinos-continues-drop contradicts the reluctance shown during the third and fourth vaccination drive [see Government Fails to Meet 5M Goal of 3rd Mass Vaccination Drive, Says Filipinos Don't See the Urgency in Taking Boosters; Philippines: Fourth Wave of National Vaccination Drive for COVID Has Low Senior Citizens Turnout].
Second, the health authorities and vaccine proponents are all dialing the fear of the misleading reemerging of Omicron. South Africa, where the omicron variant was first discovered and with only 35% vaccination uptake, is not afraid to lift covid restrictions and acknowledged natural immunity [see South Africa eases most COVID restrictions, citing high population immunity; Why are Other Countries Now Acknowledging Natural Immunity in the Absence of Vaccination?].
Also, despite high fresh covid cases, some European countries, several US States, and Canadian provinces have scrapped covid policies. Eleven countries have opened their borders for foreign travelers with no proof of vaccination and testing [see Canadian Health Official Clarified They Did Not Mandate Vaccination, Workplaces Did; UK the 11th Country to Remove COVID-19 Travel Restrictions; DOH Endemic Definition: Cases are Manageable and More Vaccinated Individuals; Denmark Ends All Covid-related Restrictions Despite High Covid Cases; More European countries roll back COVID restrictions; Finland Follows Other European Countries, Eases COVID Restrictions].
Third, the Philippine authorities continue peddling scare propaganda to coax people to take the jab. However, are they playing deaf and blind with the global data pointing to the pandemic of the vaccinated and boosted? Evidence shows the higher the vaccination uptake, the more persistent the rise of covid cases is [see Worldwide data from 185 nations prove that the highest death rates are in the most vaccinated countries; we are now in a pandemic of the vaccinated; Big Data Analysis of 145 Countries Shows Vaccine Deployment Led to Increase in COVID Deaths and Cases; UK Data Shows New Phase: Pandemic of the Boosted; Will 90% COVID Inoculation Rate Protect Filipinos from Surge of New Cases and High Mortality?].
The following are the latest statistics from Our World in Data.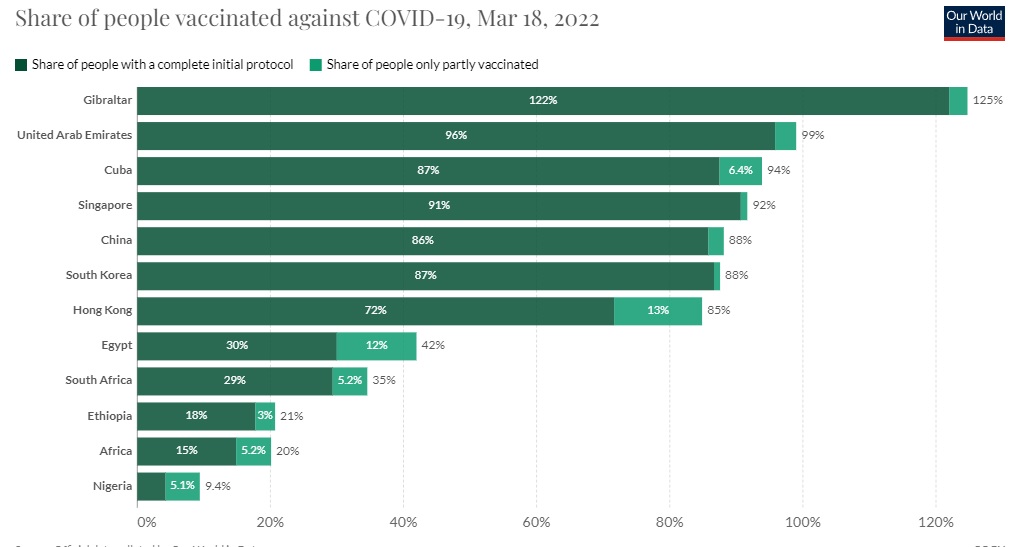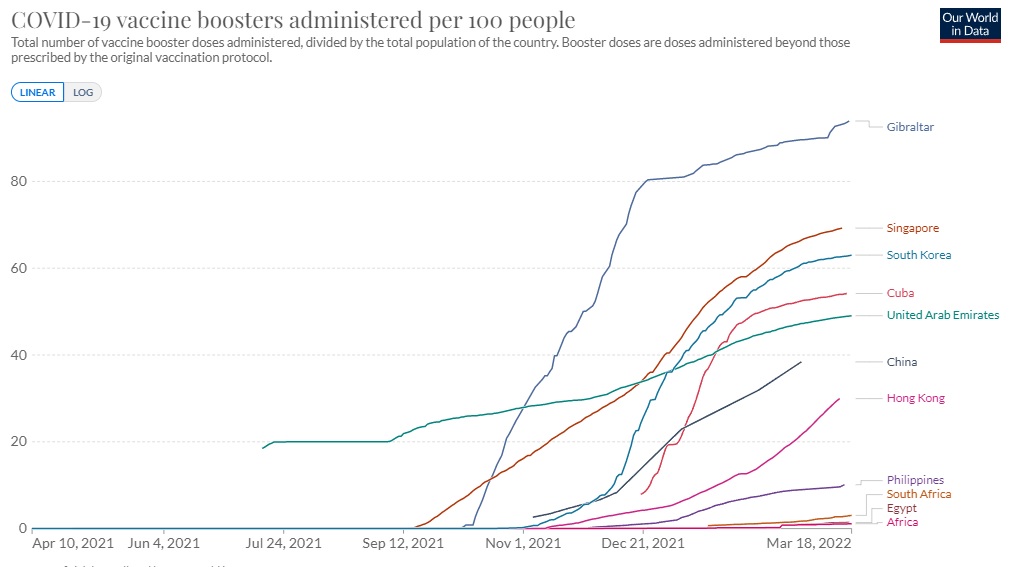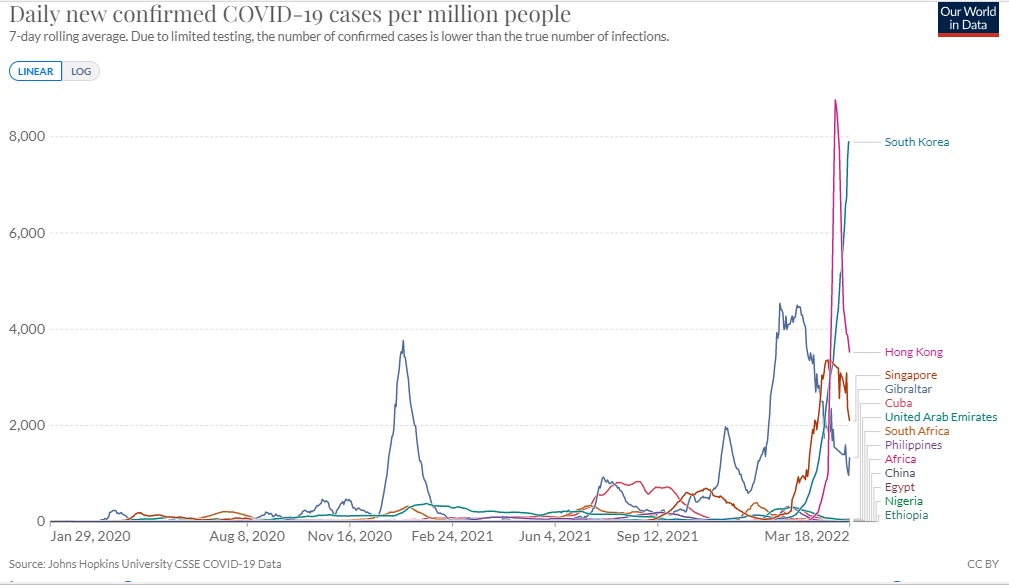 Similar to Philippine data below. Areas with high inoculation uptake have significant covid statistics.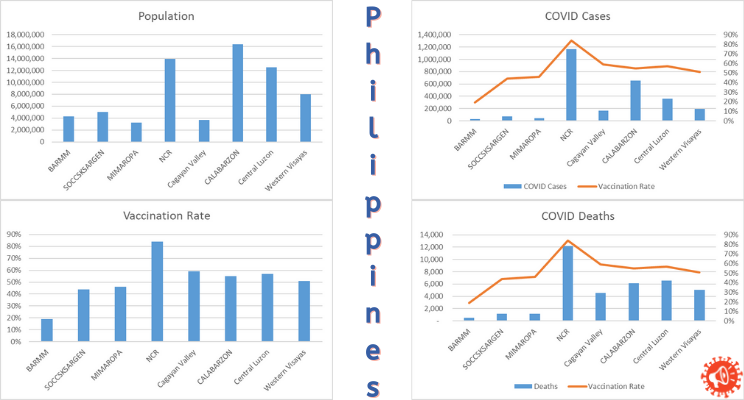 Finally, we don't know what data Galvez and his cohorts are looking at, but we have all the proof that covid vaccination will not lead to zero-covid [see Why Can't COVID Vaccines Create Herd Immunity?; Will Vaccinating Our Children Make Our Society COVID-Safe?; Will the Philippines' State of Emergency end if the country reaches 70% vaccination rate?; Will 90% COVID Inoculation Rate Protect Filipinos from Surge of New Cases and High Mortality?; Why can't the Philippine government give up its unscientific, illogical, and useless COVID policies?].
Read Original Article
Read Online
Click the button below if you wish to read the article on the website where it was originally published.
Read Offline
Click the button below if you wish to read the article offline.