Israeli Study Shows Fourth COVID Shot Offers Little Protection Against Infection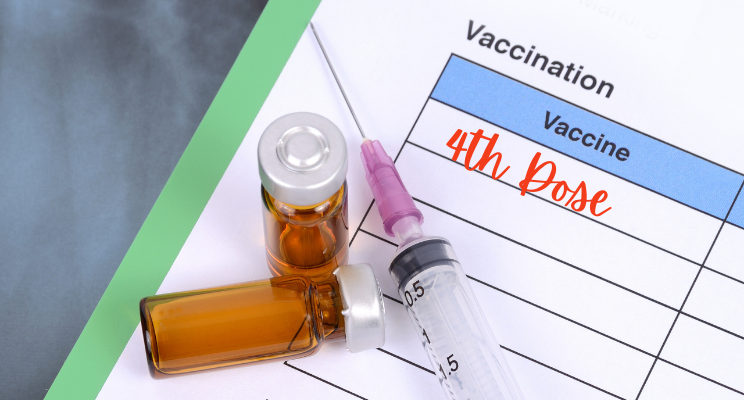 In a March 21, 2022 article published in The Defender, Nolan E. Bowman reported that researchers at Sheba Medical Center, Israel conducted a small study that found the efficacy of a fourth dose of the Pfizer and Moderna COVID-19 mRNA vaccines resulted in only marginal protection from SARS-CoV-2 infection.
According to the study, the fourth Pfizer dose showed 30% efficacy in preventing infection, and Moderna's fourth dose showed 11%. Investigators concluded that a second booster did not result in an immune response any more significant than the first booster did: "Along with previous data showing the superiority of a third dose to a second dose, our results suggest that maximal immunogenicity of mRNA vaccines is achieved after three doses …Thus, the fourth vaccination of healthy, young health care workers may have only marginal benefits."
Bowman also cited Dr. Joseph Mercola saying: "Artificially inflated antibodies signal to your body that you're always infected, and the resulting immune response could be detrimental to your health…Keeping the immune system in a heightened state of alert can accelerate the development of auto-immune disorders." [See Endless boosters can lead to increased autoimmune disease].
Find the study here: https://www.nejm.org/doi/full/10.1056/NEJMc2202542.
Editor's Note: Doctors relied heavily on peer-reviewed studies. However, some oncologists ask pharmaceutical allies to find studies, even how small, to give the medicine they favored for their patients; they are evidence-based, nonetheless.
The study cited in this article is categorized as a small study, but in our current society today, it doesn't matter. This is still a smoking gun that these are all experimental, and you are the test objects. Evidently, this fourth dose is not beneficial to any recipient, thus may even result in unwarranted adverse events.
Again, this leads us to our unwavering recommendations: do not take the covid jabs; evidence shows it is far from safe and effective [see W.H.O's VigiAccess Shows More than Two Million Adverse Events Following COVID Vaccination;  FDA adds heart inflammation warning to Pfizer, Moderna experimental vaccines; CDC finds "likely" link between heart inflammation and mRNA vaccination; EU Lists Transverse Myelitis as Side Effect of J&J COVID-19 Shot; EMA lists spinal condition as side effect of Astra Zeneca COVID shot; Dr. Charles Hoffe: mRNA vaccines will kill most people through heart failure, 62% already have microscopic blood clots; Peer-reviewed research shows mRNA vaccines can cause neurodegenerative diseases; Study finds Pfizer jab goes into liver cells and is converted into DNA, confirms mRNA jab is gene therapy]. If you have taken the first dose, do not take the second. If you have two doses, do not take the third dose because you will be bent to take the fourth and succeeding doses. What will probably hinder is your body's capacity to recover from the spike proteins replicating inside you, that may cause irreversible effects [see Salk Institute: The spike protein damages cells and causes vascular disease even without a virus; WHO: Boosters Using Original COVID Vaccines not Appropriate or Sustainable; Do European Union Drug Regulators Finally See Booster Shots as Unnecessary?; EMA Warns Against Frequent Booster Shots; COVID Boosters May Compromise Immune System Ability to Fight Virus; Is it safe to take COVID booster shots annually?].
Our body has an innate healing capacity thus, natural immunity works [see Study: Natural immunity still robust and persistent after one and a half year of recovery from COVID infection; Natural Immunity Protects Against Omicron Variant: Study; Why are Other Countries Now Acknowledging Natural Immunity in the Absence of Vaccination?; Hundreds of Researches Confirm Natural Immunity is Complete and Longer-lasting, More Powerful than COVID Vaccines]. We do not need any experimental doses with known adverse events hidden from the public. [See video below for the FDA-released adverse events from Pfizer documents.]
Read Original Article
Read Online
Click the button below if you wish to read the article on the website where it was originally published.
Read Offline
Click the button below if you wish to read the article offline.