Philippine President Signs National Vaccination Days Following Resolution from COVID Commission Mandating Vaccination for Employees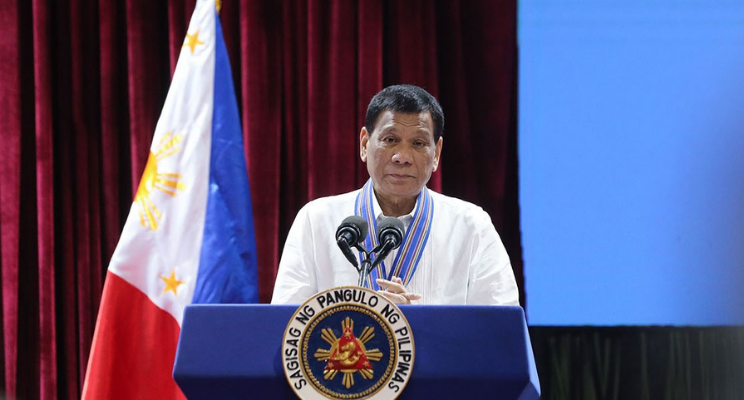 Duterte declares November 29 to December 1 'national Covid-19 vaccination days,' this article is written by Catherine S. Valente published on November 25, 2021, in The Manila Times.
According to the report, Philippine President Rodrigo Duterte declared November 29 to December 1 as the "Bayanihan, Bakunahan National Covid-19 Vaccination Days" as the government moves to boost the country's inoculation rate against the coronavirus disease 2019 (Covid-19). Pres. Duterte signed Proclamation 1253 on Thursday, November 25, to conduct the three-day national vaccination drive, Departments of Health and the Interior, and Local Government to spearhead.
Valente added that the "Bayanihan, Bakunahan" program aims to inoculate 15 million Filipinos across 16 regions outside Metro Manila. In the proclamation, the President has ordered all government agencies and instrumentalities to extend all possible support to the "Bayanihan, Bakunahan" program.
Also, the government targets to fully vaccinate at least 54 million Filipinos by the end of the year and up to 77 million by the end of the first quarter next year, about 20 million more during the second quarter, and the remaining unvaccinated Filipinos by the third quarter.
Editor's Note: The vaccination days cannot be considered as mandatory vaccination. However, it is an indication that our president is not learning from the lessons of other countries that are highly vaccinated.
The goal of this three-day vaccination campaign is to achieve the alleged herd immunity threshold, but different agencies and countries have already debunked this idea. We can not reach herd immunity by merely covid-19 vaccines because these vaccines cannot prevent infection and transmission, and their efficacy wanes [see New York Times: Herd immunity will not be achieved with vaccines; Iceland and Denmark: No herd immunity from vaccines. Also, read More Studies Question Vaccine Efficacy, Raises Doubts on Vaccine Mandates].
Data clearly shows that highly vaccinated countries are currently experiencing an upsurge in covid infection [see Worldwide data from 185 nations prove that the highest death rates are in the most vaccinated countries; we are now in a pandemic of the vaccinated]. Some countries show congested hospitals and ICUs driven by vaccinated individuals [see Waterford, Ireland: Vaccinated Patients in ICU as High as Total Number of COVID Patients in ICU Last Year; Majority of Covid-19 Deaths and Hospitalizations in Scotland are Fully Vaccinated; UK Data shows more people died due to COVID injections in 8 months than people who died of COVID-19 in 18 months]. And alarmingly, Taiwan has More Death from COVID Jab than COVID-19 Disease, see also follow up report on this https://dailyexpose.uk/2021/11/18/taiwan-post-vaccination-deaths-in-3-days-exceed-covid-deaths-over-14-months/] Shouldn't we be learning the lessons of other countries that have vaccinated before us so that we don't repeat their mistakes?
Aside from these vaccines' failure to inhibit infection and transmission, there are massive adverse reports and deaths following inoculation [see W.H.O's VigiAccess Shows More than Two Million Adverse Events Following COVID Vaccination; VigiAccess Data Shows COVID Vaccines More Dangerous than Ivermectin, Hydroxychloroquine; Vaccine-injured Speak Out: DO NOT TAKE THE VACCINE; The Pandemic of Heart Attacks Caused by Blood Clots; UK Government Data: Vaccinated are Seeing their Immune Response Plummet by About 5% Each Week; Pathologist Reports 20-fold Increase of Cancer Diagnosis Among Vaccinated Patients; Guillian-Barre Syndrome after COVID vaccination more common than previously reported; Dr. Charles Hoffe: mRNA vaccines will kill most people through heart failure, 62% already have microscopic blood clots; EMA finds vaccine link to heart inflammation; Expert Asks FDA: Why are kids "Dropping like Flies" after COVID Vaccine?; EU Lists Transverse Myelitis as Side Effect of J&J COVID-19 Shot].
The rush to inoculate people despite the apparent failure of COVID vaccines signals that the government is trying to meet a quota. They are simply trying to inject as many people as possible without considering the risks of these experimental injections [see This is the reason why authorities want 100% COVID vaccination]. Are you really going to allow the government to dictate to you what you should and shouldn't put inside your bodies?
Read Original Article
Read Online
Click the button below if you wish to read the article on the website where it was originally published.
Read Offline
Click the button below if you wish to read the article offline.