WHO, EU announce partnership creating 'global system' of digital vaccine passports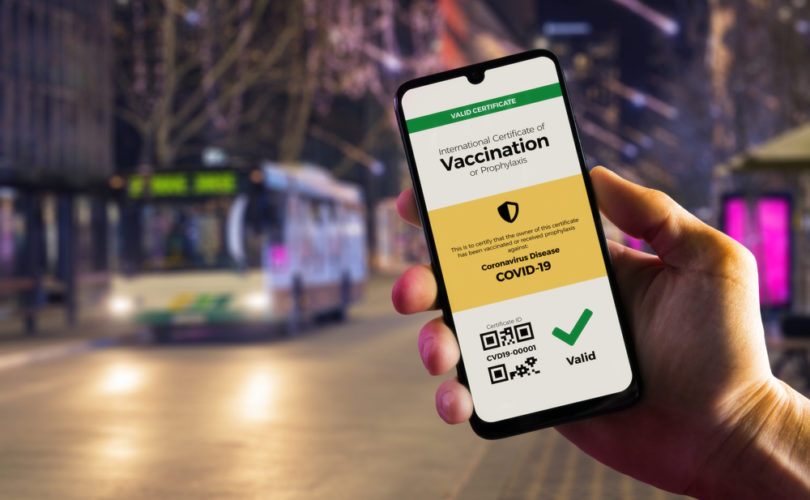 The World Health Organization (WHO) and the European Union (EU) have teamed up to establish a global system of digital vaccine passports that will "help facilitate global mobility and protect citizens across the world from ongoing and future health threats".
The WHO says that these digital passports are the "first building block of the WHO Global Digital Health Certification Network (GDHCN) that will develop a wide range of digital products to deliver better health for all".
Editor's Note: Where is the data showing that a digital health passport is effective at controlling pandemics? We have all been through this draconian social experiment – where is the proof that vaccination passports made a difference with COVID? [See Austria U-Turns on Vaccine Passports, Israel will end COVID vaccine passports for most places, Florida has Lowest COVID Cases in the US, Proving No-Lockdown, No-Mask, and No-Vaccine Passport Approach Works, Immune system has 27x more protective power than vaccines: Case for COVID vaccine passports demolished, Professors: Israel's vaccine passport backfired, irreconcilable with basic principles of the medical profession, Doctors around the world say vaccine passports unnecessary, ineffective, and unsafe].
If governments are going to implement policies that will effectively segregate societies and create new marginalized groups, people must ask: what rationalizes the initiative? If people are truly "liberated", and "awake", then they understand that this is just another way of coercing us into submission. Vaccine passports became a tool of oppression during the COVID scamdemic, do you really think that it will not happen again? [Read Neo-Fascism in Public Health, 'Let them die': Canada's largest newspaper promotes hostility toward the unvaccinated, Germany is Excluding the Unvaccinated from Democracy, The war on the 'unvaccinated' is a desperate attempt to destroy the control group, Austria Has Fallen to Tyranny, Orders Lockdown for Unvaccinated, Mainstream Media Creates Unethical Narrative Urging Doctors to Withhold Treatment for Unvaccinated].
It worked before, they think it might work again, now. We hope people can now see the implications of instituting health passports, not just on health, but also on our freedoms, and social cohesion [see Vaccine passports are the key to digital tyranny, Vaccine Passports Are Conditioning Us To Accept The Great Reset, Laura Dodsworth: Vaccine passports will not contain a virus, they will contain people, Vaccine passports prolong lockdowns, After vaccine passports comes biometric surveillance].
Read Original Article
Read Online
Click the button below if you wish to read the article on the website where it was originally published.
Read Offline
Click the button below if you wish to read the article offline.