Austria Has Fallen to Tyranny, Orders Lockdown for Unvaccinated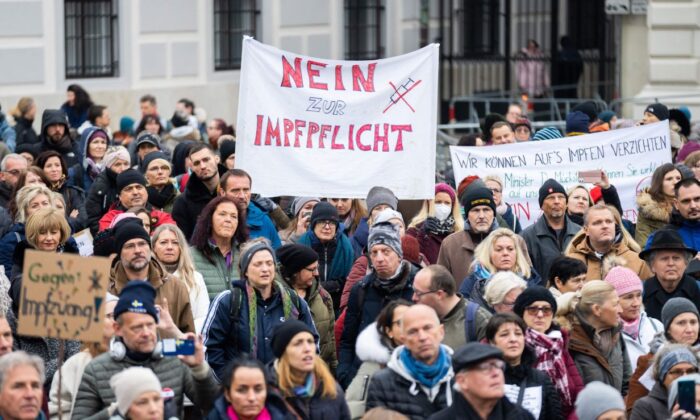 The Austrian government has announced that starting November 15, 2021, all unvaccinated people who have not recently recovered from COVID-19 will be locked down [the Austrian Chancellor has hinted at this earlier, see Austrian chancellor mulls lockdown for unvaccinated]. Jack Philips reports in this November 14, 2021 article for Epoch Times.
According to the government, unvaccinated will not only be refused entry to restaurants, hairdressing, and large events. They will also be barred from leaving their homes. Austrian Chancellor Alexander Schallenberg said, "you will not leave your apartment anymore apart for certain reasons."
This lockdown for the unvaccinated is expected to last until Christmas and New Year's Eve.
Editor's Note: In another news article published by EuroNews, Austrian Chancellor Alexander Schallenberg was quoted saying, "We have to raise the vaccination rate. We will therefore have to tighten the leash on the unvaccinated".[1]https://www.euronews.com/2021/11/08/austria-introduces-tougher-covid-19-measures-for-the-unvaccinated
This for us means only two things. First, he is blaming the unvaccinated for the recent surge in cases in the country. We all know that this is nothing more than an attempt at gaslighting. Science has repeatedly shown us that when it comes to infection and transmission, there is no difference between the vaccinated and the unvaccinated. [There is evidence showing that the vaccinated can actually cause the new surges in infection, see Worldwide data from 185 nations prove that the highest death rates are in the most vaccinated countries; we are now in a pandemic of the vaccinated, No justification for vaccine passports: UK data shows fully vaccinated more prone to COVID infection than unvaccinated, Vaccinated are the Superspreaders, Research shows fully vaccinated individuals infected with COVID have become presymptomatic superspreaders].
Moreover, the data is already showing: highly vaccinated countries have failed in controlling the spread of COVID because vaccines do not offer herd immunity [see Iceland and Denmark: No herd immunity from vaccines, Iceland epidemiologist says herd immunity cannot be achieved by vaccines, New York Times: Herd immunity will not be achieved with vaccines. Also see DOH Admitted: Fully-Vaccinated People Can Still Get COVID-19, Singapore: No Free Health Care for Unvaccinated, Waterford, Ireland: Vaccinated Patients in ICU as High as Total Number of COVID Patients in ICU Last Year, Mandaluyong City uses new reporting strategy: Shows more vaccinated people getting symptomatic COVID, 75% of new COVID cases in Singapore are vaccinated, Israel, once the model for beating COVID, now has one of the highest infections in the world, Majority of hospitalized COVID-19 patients in Israel are fully vaccinated].
What then is fueling this "hatred" for the unvaccinated?
Second, using the term, "tightening the leash" is an indication of how the Austrian looks at the unvaccinated. He is essentially saying that the unvaccinated are not human beings with inalienable rights to freedom, but are dogs that must be corralled and controlled.
Make no mistake: all these coercive vaccine mandates and lockdowns for unvaccinated are nothing more than instruments of control. Do you think that this disregard for human and constitutional rights end when everyone has been vaccinated? If they can create "stories" to alienate human beings on the basis of vaccination, what can prevent them from creating new ways to categorize people?
Read Original Article
Read Online
Click the button below if you wish to read the article on the website where it was originally published.
Read Offline
Click the button below if you wish to read the article offline.