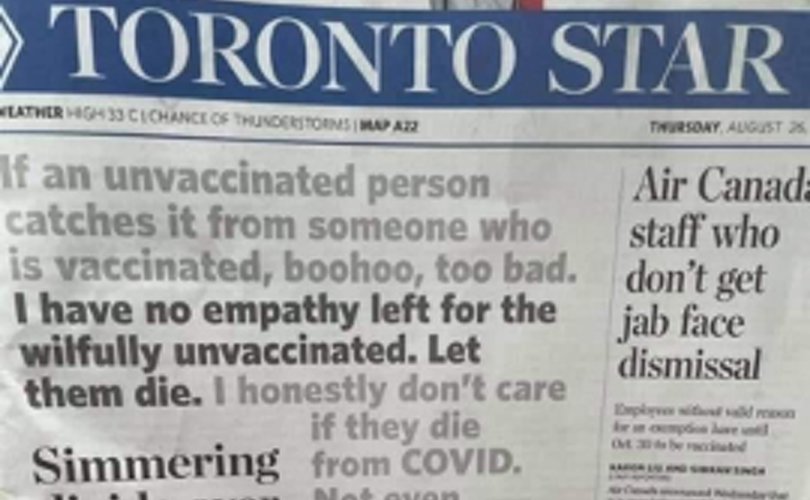 This September 1, 2021 article published by Life Site News features the front page of Toronto Star which printed a collection of social media comments against the unvaccinated. These comments were made in response to another inflammatory article published by the newspaper entitled "When It Comes to Empathy For The Unvaccinated, Many of Us Aren't Feeling It".[1]https://www.thestar.com/news/gta/2021/08/26/when-it-comes-to-empathy-for-the-unvaccinated-many-of-us-arent-feeling-it.html
According to the Life Site News article, what was lacking in the Star report is the fact that "skepticism of the so-called vaccine-hesitant towards the push to vaccinate the majority of the world's population is due to the fact that the vast majority of people are not at risk of serious disease, to begin with". Instead, the Star article focused on statements that were hostile against the unvaccinated.
Editor's Note: We cannot help but think of the following quote from social media: "It didn't start with gas chambers. It started with one party controlling the media. One party controlling the message. One party deciding what is truth. One party censoring speech and silencing opposition. One party dividing citizens into "us" and "them" and calling on their supporters to harass "them". It started when good people turned a blind eye and let it happen".
After brainwashing people into thinking that there is a pandemic and that vaccines are the only solution, we are now in the second phase of the "pandemic". People who have opposing views are being "othered" and disregarded. Can we imagine how much worse this can get? Is this the kind of future we want to bequeath our children?
In this article, we are choosing not to debunk the various statements printed by the Toronto Star as we have been doing so for the past year. There are already a number of articles on this website you can use to understand our position [visit our dedicated Vaccines page].
We are all human beings who deserve to be treated with respect and dignity. We have come to this situation because people thought that they needed to be affirmed that they are right. As long as we argue amongst ourselves, we lose as a society. Perhaps now is the time to overcome our differences and to recognize the human in each one of us.
We would like to end this article with this quote:
"I have come to the frightening conclusion that I am the decisive element.It is my personal approach that creates the climate. It is my daily mood that makes the weather. I possess tremendous power to make a life miserable or joyous.I can be a tool of torture or an instrument of inspiration. I can humiliate or humor, hurt or heal.In all situations, it is my response that decides whether a crisis will be escalated or de-escalated, and a person humanized or de-humanized. If we treat people as they ought to be…we help them become what they are capable of becoming."

Johann Wolfgang von Goethe
Read Original Article
Read Online
Click the button below if you wish to read the article on the website where it was originally published.
Read Offline
Click the button below if you wish to read the article offline.