France shows vaccine mandates, health passes, do not work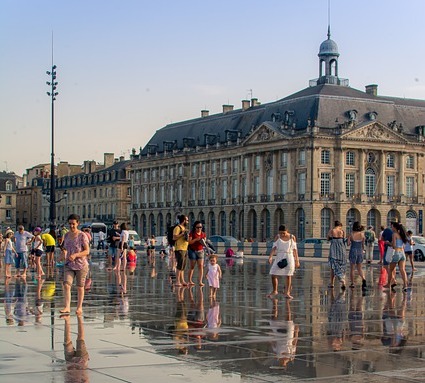 In this December 8, 2021 article for The Manila Times, Catherine S. Valente reports on the recent resolution issued by the Inter-Agency Task Force for the Management of Emerging Infectious Diseases (IATF) which listed France as a "red list" country. This means that starting December 10, 2021, until December 15, 2021, travelers from France will not be allowed to enter the Philippines.
Filipinos returning from France to the Philippines through a government-initiated or non-government-initiated repatriation may be allowed to enter, subject to 14 days of quarantine and testing protocols for Red List countries.
Editor's Note: Remember how in August 2021 France implemented a strict vaccine passport scheme to "control" COVID infection? [Read France has Toppled Liberty, French stores deny food and water to unvaccinated]. To ensure high vaccination takeup, the country also implemented mandatory vaccination for all health workers [France suspends 3,000 unvaccinated health workers]. All these efforts have made France one of the most vaccinated countries in Europe.[1]https://www.usnews.com/news/world/articles/2021-12-07/france-registers-surge-in-covid-19-hospitalisations As of December 6, 2021, 77% of France has already been vaccinated, with 70.38% fully vaccinated.[2]https://ourworldindata.org/covid-vaccinations
Just a few weeks ago, France also made booster shots available for everyone. Boosters are a requirement to extend the validity of the French health pass, which in turn is necessary for accessing food and other services [see France Says Boosters Will be Required for Health Pass]. The country has also reimplemented mandatory masking. Let's see how these coercive policies have panned out for France.
As of December 5, 2021, 50,000 people in France tested positive for COVID.[3]https://newsinfo.inquirer.net/1524056/france-records-more-than-50000-daily-covid-19-cases The country also recorded an average of 41,000 new cases a day compared to 28,000 the week prior. This, despite the millions already receiving booster shots.
On December 7, 2021, reports show that there is a new surge of COVID hospitalizations in the country. New case tallies are now at over 60,000 per day.[4]https://www.usnews.com/news/world/articles/2021-12-07/france-registers-surge-in-covid-19-hospitalisations
Let's see how France fares compared to a less vaccinated country such as South Africa.
Official reports show that France's 7-day rolling average as of December 6, 2021, is at 636.99 cases per million while South Africa, which has a much smaller vaccination rate and which has an active Omicron infection has a case rate of 167.24 per million. The 7-day rolling average of COVID deaths in France is also higher at 1.51 per million, while South Africa is at 0.38.
Meanwhile, the entire African region, which only has 7.7% of people who are fully vaccinated has the lowest 7-day rolling average of cases (10.93 per million) and deaths (0.09) in the world. Compared to highly vaccinated countries, Africa is doing so well, even with the "dreaded" Omicron variant "ravaging" its shores.
To give you an idea of the difference between Africa and the rest of the world, let us cite a few statistics.
The US, which has a full vaccination rate of 59.68% has a 7-day rolling average of 361.94 per million COVID cases and 4.70 per million deaths. Europe, which has a bit lower full vaccination rate of 58.89% has a 7-day rolling average of 498.70 cases per million and 5.13 deaths per million.
As you can see from these data, it is clear that France's strict COVID policies, and the US and Europe's high vaccination rates have not stopped COVID. At face value, high vaccination rates have not prevented COVID deaths.[While we currently have no data on who is being hospitalized for COVID in France, data from other countries are showing that hospitalizations are composed by a significant number of vaccinated individuals. See Worldwide data from 185 nations prove that the highest death rates are in the most vaccinated countries; we are now in a pandemic of the vaccinated, Vaccinated Individuals More Prone to COVID Infection with Beta, Gamma, and Delta Variants, Lancet: Vaccinated are significant sources of COVID transmission, Fauci Admits Vaccines are Failing to Protect Vaccinated from COVID Hospitalization and Death, Majority of Covid-19 Deaths and Hospitalizations in Scotland are Fully Vaccinated, No justification for vaccine passports: UK data shows fully vaccinated more prone to COVID infection than unvaccinated, Waterford, Ireland: Vaccinated Patients in ICU as High as Total Number of COVID Patients in ICU Last Year, Former CDC Director: COVID deaths among fully vaccinated more common than we think. This same trend could be happening in France, read France's long-time vaccine policy chief: covid policy is "completely stupid" and "unethical"].
Worst of all, these vaccines, vaccine mandates, and vaccine passports have not brought us the end of the "pandemic" as was promised. Based on these data and the panic that is apparent in these regions, the highly vaccinated countries are in danger of imploding from their own illogical policies [see Despite High Vaccination rates, Europe is Returning to Lockdowns, Austria Has Fallen to Tyranny, Orders Lockdown for Unvaccinated, Gibraltar, the World's Most Vaccinated Country has Canceled Christmas Celebrations Amid COVID Spike].
These facts reinforce one truth that governments are trying so hard to ignore: these vaccines will not create herd immunity, and hence, are not appropriate as a public health policy [see Iceland and Denmark: No herd immunity from vaccines, New York Times: Herd immunity will not be achieved with vaccines, CDC Head declares COVID 'vaccines' don't prevent infections or transmissions, Fauci: Early COVID-19 vaccines will only prevent symptoms, not block infection].
It means that there is no scientific basis to the segregation happening within our societies today and that all these division between the vaccinated and unvaccinated is an attempt at "othering" if discriminating against those who do not subscribe to the lies told by mainstream media and governments [see The war on the 'unvaccinated' is a desperate attempt to destroy the control group, Los Angeles Implements Vaccine Passports, Creates Divisive, Discriminatory, Two-tiered Society, Vaccine passports are the key to digital tyranny, Laura Dodsworth: Vaccine passports will not contain a virus, they will contain people, How Digital ID Will Segregate People Around the World].
What of South Africa and Africa in general? Well, it is clear that vaccination is not the reason that their cases and deaths are very low. They do not deserve the travel ban they received from countries in the US and Europe [we hope that you see how stupid these travel bans are based on the data we presented above].
If all the coercive COVID policies were truly about health, then governments would already be scampering trying to figure out how South Africa and Africa are succeeding in their "COVID" fight.
But the COVID blindness continues in many countries, including that of the Philippines, and we are all the worse because of it.
Read Original Article
Read Online
Click the button below if you wish to read the article on the website where it was originally published.
Read Offline
Click the button below if you wish to read the article offline.