Philippine Infectious Disease Expert Says Second Booster Shot Only Recommended for Senior citizens, Immunocompromised, For Now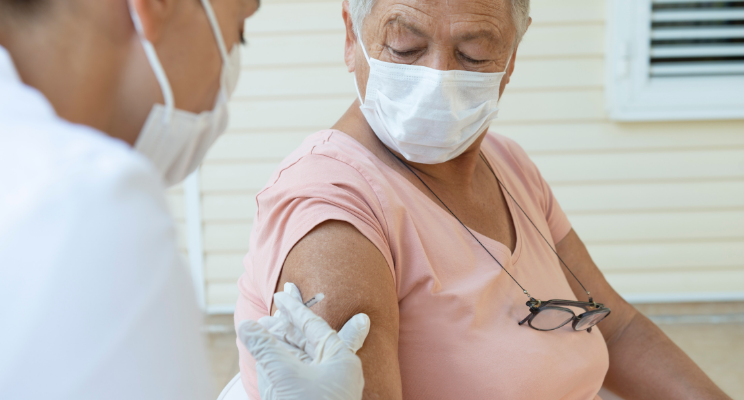 In a March 7, 2022 article published in GMA News Online, Giselle Ombay reported that Dr. Rontgene Solante, an Infectious disease expert, said on March 7 the second booster shot is not yet recommended for the younger or the general population.
According to the report, the fourth dose or the second booster shot is endorsed only for senior citizens and immunocompromised, for now. Solante said in a radio interview, "For the more vulnerable population, the 60 years old and above, and immunocompromised, we prioritize these groups for a second booster shot, so they could get protected against the severe form of COVID-19." (Translated from Filipino)
Also, Solante added, "For the younger population, those immunocompetent, I don't think we need an additional booster. With the ability of this vaccine to protect us against severe infection, we know we can still be infected, but the important thing is that it's not severe."
Editor's Note: This report and the initiative from the health authorities to protect the vulnerable against covid-19 through 2nd booster shot. This seems to heed public interest but based on scientific data, giving recurrent booster shots can be more damaging than the disease they are treating [see Fully vaccinated and boosted: Should you take the 4th vaccine dose if you are immunocompromised?;  FDA advisory committee votes against booster shots, vaccine risks outweigh benefits, especially for children]. And what data do these people look at when they say immunocompromised and senior citizens can benefit from the booster shots? [See Salvana: Do Not Get a Second Booster, Efficacy, and Safety Not Yet Certain; COVID Boosters May Compromise Immune System Ability to Fight Virus].
World Health Organizations and experts from other nations have warned us against repeated booster shots [see WHO: Boosters Using Original COVID Vaccines not Appropriate or Sustainable; EMA Warns Against Frequent Booster Shots; Do European Union Drug Regulators Finally See Booster Shots as Unnecessary?; Israeli Prime Minister Says Second Booster Safe, Experts Say Otherwise; UK Vaccine Taskforce Chair: Booster Strategy Makes Little Sense].
Why does the government insist on inoculating the vulnerable population when this segment of society gets zero benefits from the all experimental covid jabs [see Norway Study Finds ZERO Vaccine Effectiveness Against Death for Covid Hospital Patients;  Study shows COVID vaccines unable to protect vulnerable groups; Study: Risk of death following vaccination higher than COVID-19 among the most vulnerable groups].
Are we really protecting the senior citizens when they already have three to five comorbidities? [See CDC Director Says Study of Vaccinated People Show 75% of COVID-19 Fatality Had Four or More Comorbidities]. Or those immunocompromised that is originally not part of the vaccine trial[1]https://www.bmj.com/content/bmj/371/bmj.m4037.full.pdf. [See CDC Says Immunocompromised Needs Fourth COVID Shot; Covid-Recovered Man Forced to Take COVID Shot to Remain in Transplant Waitlist Dies After Second Shot; Despite THREE Pfizer COVID Shots Teacher Hospitalized With COVID.]
What evidence are we looking at here? Are we only focused on protecting these people from covid fatality? How about the onslaught of vaccine adverse events; is the government and healthcare system prepared to deal with these occurrences, or will comorbidities be the best alibi for the high mortality rate? [See 2021 Excess Deaths in the Philippines Shows Pandemic, but it is Not COVID; Popcom: Philippines Logs Highest Mortality Rate in 2021, Highest in a Year Post WWII; Will 90% COVID Inoculation Rate Protect Filipinos from Surge of New Cases and High Mortality?; W.H.O's VigiAccess Shows More than Two Million Adverse Events Following COVID Vaccination; Philippines: Fourth Wave of National Vaccination Drive for COVID Has Low Senior Citizens Turnout.]
Read Original Article
Read Online
Click the button below if you wish to read the article on the website where it was originally published.
Read Offline
Click the button below if you wish to read the article offline.