Despite THREE Pfizer COVID Shots Teacher Hospitalized With COVID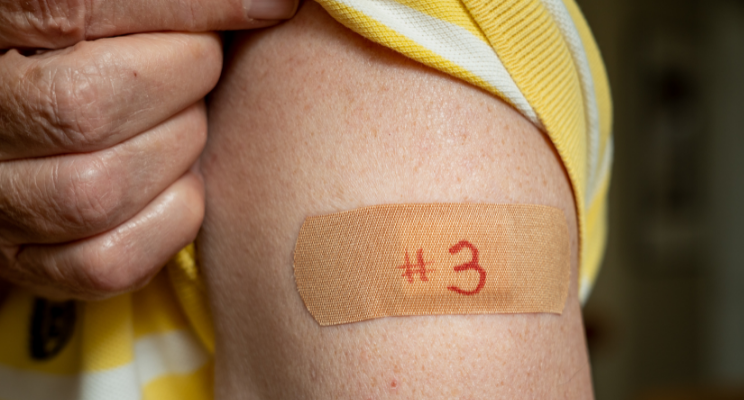 In a September 28, 2021 article published in National File, Jack Hadfield reports on an Oklahoma teacher who was hospitalized and who tested positive with COVID despite receiving three Pfizer covid shots.
According to the report, Ted Hartley is a kidney transplant recipient which puts him at high risk for infection. Hartley's wife said, "We just felt gutted that after 18 months of focusing on staying well and not catching this that he still caught it. The chest X-ray showed double pneumonia, and the COVID test turned out positive."
Hartley is fully vaccinated with the Pfizer vaccine. He has also received a booster shot. Despite this, however, Hartley still caught COVID-19, was hospitalized and needed oxygen.
Editor's Note: This story represents one of MANY stories of vaccine failure. Whereas the immunocompromised bought the myth that these vaccines are their ultimate savior, we are now seeing proof that it was all propaganda. It drives home the reality that the vaccine is useless because it cannot protect the very people who stand to benefit the most. Instead of allowing the elderly and people with comorbidities to go back to their lives knowing that they are protected from the disease (as was promised by the vaccines), they are now terrified for their own lives.
As a transplant patient, Hartley was expected to have vaccine failure [See COVID 'vaccine failure' more likely if you have a weakened immune system]. His doctor should have explained to him that the covid injection will not work with him since he is using an immunosuppressant. Moreover, the clinical trials for the vaccines did not involve transplant patients and have not been proven to be safe nor effective for someone with his condition [See Physicians For Informed Consent release new documents discussing efficacy and risk of COVID vaccines vs. COVID infection].
Why then do authorities put immunocompromised and high-risk individuals as the first receivers of the toxic covid doses? [See FDA knew there would be many COVID cases among the fully vaccinated]. Why are governments rolling out booster shots when all evidence shows no benefit for the third jab and increased possibility for illness? [See FDA advisory committee votes against booster shots, vaccine risks outweigh benefits especially for children; What happens to your body after injection with a gene-based COVID vaccine?; COVID Vaccines Do Not Prevent Transmission, Will Lead to a Variant Killing 35% of People it Infects; Majority of hospitalized COVID-19 patients in Israel are fully vaccinated]. Also [Read COVID Data from Israel: 'Alarming and Shocking'].
Let's seek the truth behind all this propaganda. If the covid jabs are our ticket to freedom, why are we still in lockdown amidst the inoculation roll-out? Why do the countries with high vaccination rates still battle with the surge of covid cases? Why do they need boosters and still get infected? How about the adverse events? [See Israel, once the model for beating COVID, now has one of the highest infections in the world; Vaccines may turn out to be deadlier than COVID; Countries with the highest vaccination rates also facing surge in COVID cases and deaths]
With the growing stories of vaccine failures, why are governments suddenly implementing vaccine mandates and vaccine passports? [Read Italy Makes "Green Pass" Mandatory for All Workers, French stores deny food and water to unvaccinated, Biden vaccine mandates and passports stirs hornet's nest, inspires massive pushback].
The sad truth is, we are not getting out of this pandemic unless we stand our ground and say no to the government mandates. If we allow governments to overstep their boundaries, it will only be a matter of time until they fully control our lives [See Covid Vaccines are Bioweapons for Mass Genocide; Survivors of Holocaust to international regulatory agencies: Stop this medical experiment on humankind].
Read Online
Click the button below if you wish to read the article on the website where it was originally published.
Read Offline
Click the button below if you wish to read the article offline.