Mainstream media stresses on lifting of masks, ignores death data showing death due to COVID much lower than previously reported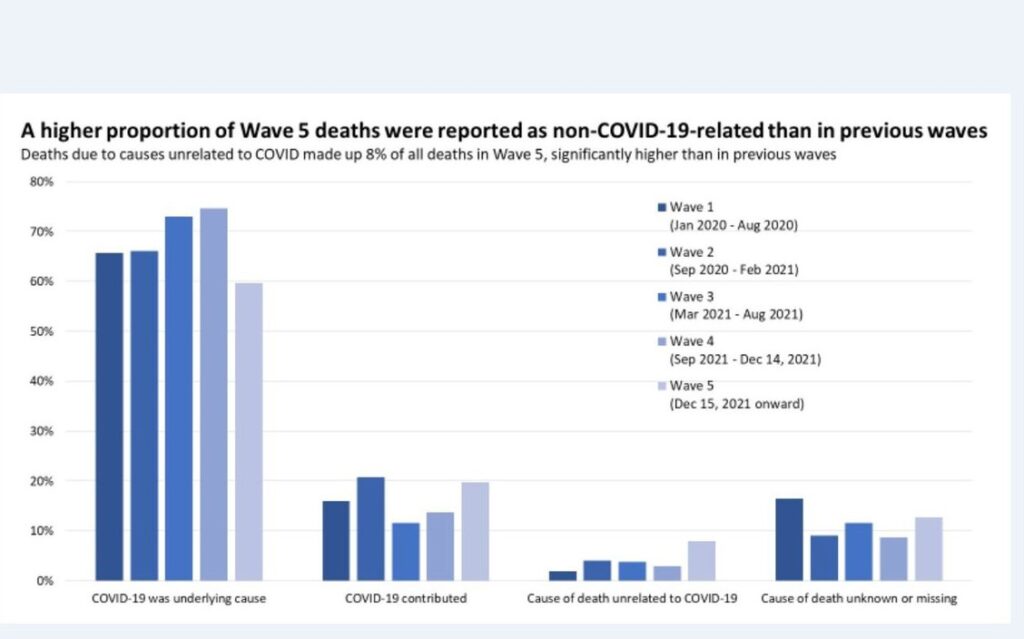 In this March 9, 2022 opinion piece for Toronto Sun, Anthony Furey slams mainstream media for stressing out over the fact that masks will soon become optional in Ontario while at the same time ignoring the data showing that the number of persons in the province whose death was caused by COVID was much lower than the statistics released previously.
According to Furey, "What the data reveals is that…the number of reported deaths where COVID-19 was actually the underlying cause of death ranged from about 75% to just under 60% of the previously disclosed numbers".
Furey notes other issues relating to the COVID death data. For example, he says that 10-20% of Ontario's COVID deaths were "due to chronic or other pre-existing conditions that were exacerbated by COVID-19". He adds that some of those who died with COVID as the cause of death may have been suffering from multiple comorbidities.
Editor's Note: Truly the issue of COVID death reporting is starting to unravel. Why it took a long time, and why it is happening at this point in time still remains a mystery, but there is one fact that must not be forgotten following these revelations: Many doctors have already been speaking about this since the very beginning and they have been systematically smeared by the media for daring to do so. Remember Dr. Dan Erickson and Dr. Artin Massihi who called for the end of the COVID hysteria back in April 2020?[1]https://www.bakersfield.com/news/two-bakersfield-doctors-cite-their-testing-data-to-urge-reopening/article_eb1959e0-84fa-11ea-9a07-2f2bea880bf9.html
Furey's article ended with the following words. "It's disappointing that all of this data is only now being confirmed. It could have gone a long way in helping us agree to a more targeted response to the virus rather than the blunt, one-size-fits-all approach used in the past two years". Unfortunately, this is where we diverge from Furey.
The data on this has been available for a very long time [see CDC's new COVID-19 planning document shows death rate much lower than WHO estimates, 99% of coronavirus deaths in Italy had other illnesses, CDC finds patients with underlying conditions 12 times more likely to die of COVID-19, 95% of deaths in UK have pre-existing condition, New Study: All children in UK who died of COVID-19 were already seriously ill, CDC update shows only 6% of deaths was caused by COVID-19 alone, New Study: All children in UK who died of COVID-19 were already seriously ill].
In fact, based on 2020 findings, we were able to provide a recommendation for a targeted approach that could have prevented the devastation caused by the government's chosen approach [See Briefing Paper. Also, read The Great Barrington Declaration: Life must return to normal for the healthy, the vulnerable must be protected].
That the media refused to even consider what we were saying means that either they were a part of the COVID conspiracy, or they simply were too stupid to know that they were being lied to. Either way, mainstream media must admit that they have made a mistake and they must promise to rectify the damages they have caused.
Read Original Article
Read Online
Click the button below if you wish to read the article on the website where it was originally published.
Read Offline
Click the button below if you wish to read the article offline.