Governor Gwen Garcia Upholds RA 11525 Against No Vaccine, No Entry Policy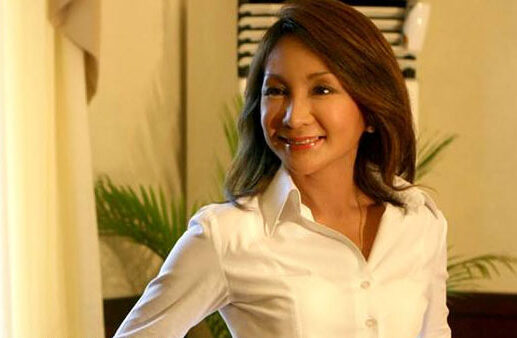 The following article was published by Sunstar last January 19, 2022. According to the report, Cebu Governor Gwendolyn Garcia has issued a memorandum on Wednesday, January 19, 2022, reminding all mayors in Cebu Province to refrain from "requiring the presentation of a vaccination card for any educational, employment, and other similar government transaction purposes."
Gov. Garcia says that requiring vaccine cards is a violation of RA 11525. The memo comes a day after Garcia's press briefing wherein she questioned the state-sponsored discrimination of the unvaccinated.
Editor's Note: Gov. Garcia's stand in relation to covid policies has been pretty solid since the very beginning. She has pushed the boundaries to ensure that the welfare of her constituents always comes first [some of the policies instituted by Gov. Gwen have been reported on this website, read Cebu Governor calls on national health authorities to go beyond authoritarian, draconian policies, see what Cebu is doing; Cebu Governor to abolish penalties for not wearing masks; Cebu province to continue protocols for arriving OFWs despite pressure from national advisers; Cebu Province leads the way, conquers ECQs; Cebu Governor: COVID-19 not as deadly as projected].
The memorandum cited in the Sunstar article has been making the rounds online but has not yet been published on the Cebu Province official Facebook page [this is the reason why it took us this long to publish this story]. We hope that this was only oversight and does not point to possible contentions within the Provincial Government. See the copy of memorandum 3 – 2022 below.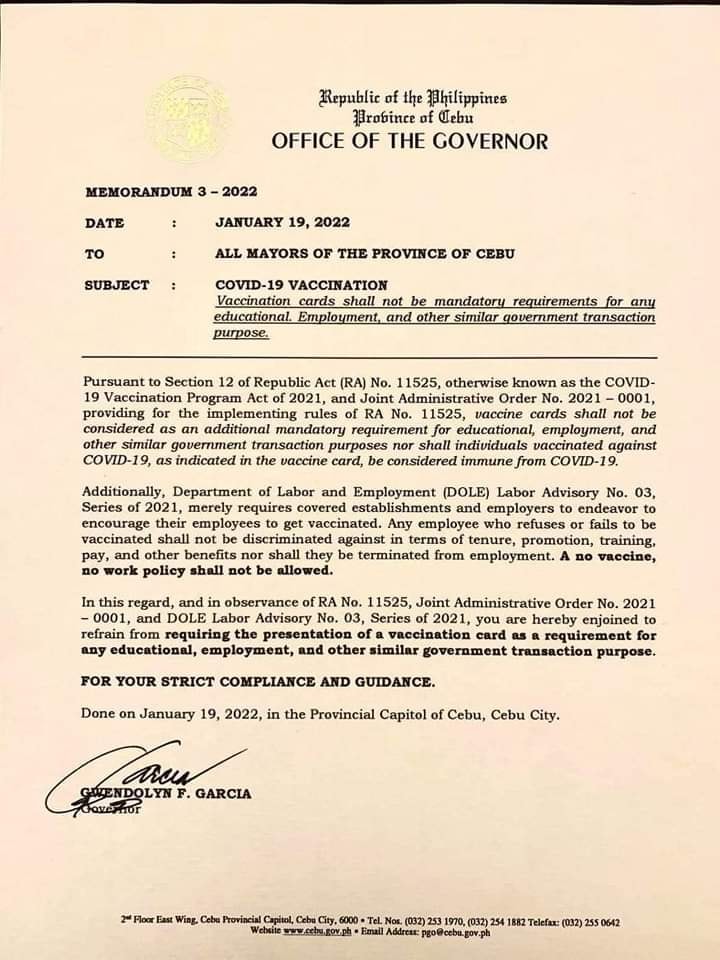 Nevertheless, we are happy to see an increasing number of leaders speaking up for people who choose not to take the vaccine. We hope that this is the beginning of a much bigger inquiry into the anomalies that characterize this "pandemic", and later on, into policies that will prohibit systemic coercion in the guise of medical crises [read Manny Pacquiao: Vaccination Should Continue to be a Personal Choice; Senator Koko Pimentel Says Listing Down Unvaccinated is Violation of Constitutional Rights; Senate President Vicente Sotto Denounces Discrimination Against the Vaccine-Free; PAO Chief Atty Persida Acosta Calls for the LGUs Not to Discriminate Against the Vaccine-Free].
Despite this, the challenge is not over. We must remember that there are still almost 50% of Filipinos who have not been vaccinated. We have to secure them through information drive, empower them about their rights, and understand RA 11525 thoroughly.
As Public Attorney's Office (PAO) Chief Atty. Persida Acosta reiterated, according to our very own law, the covid jab is experimental and can cause adverse events. Therefore, people have the right to informed consent, and vaccine cards should not be used for discrimination.
We should never forget the law protects us.
Read Original Article
Read Online
Click the button below if you wish to read the article on the website where it was originally published.
Read Offline
Click the button below if you wish to read the article offline.