Shanghai continues to push for "societal zero Covid"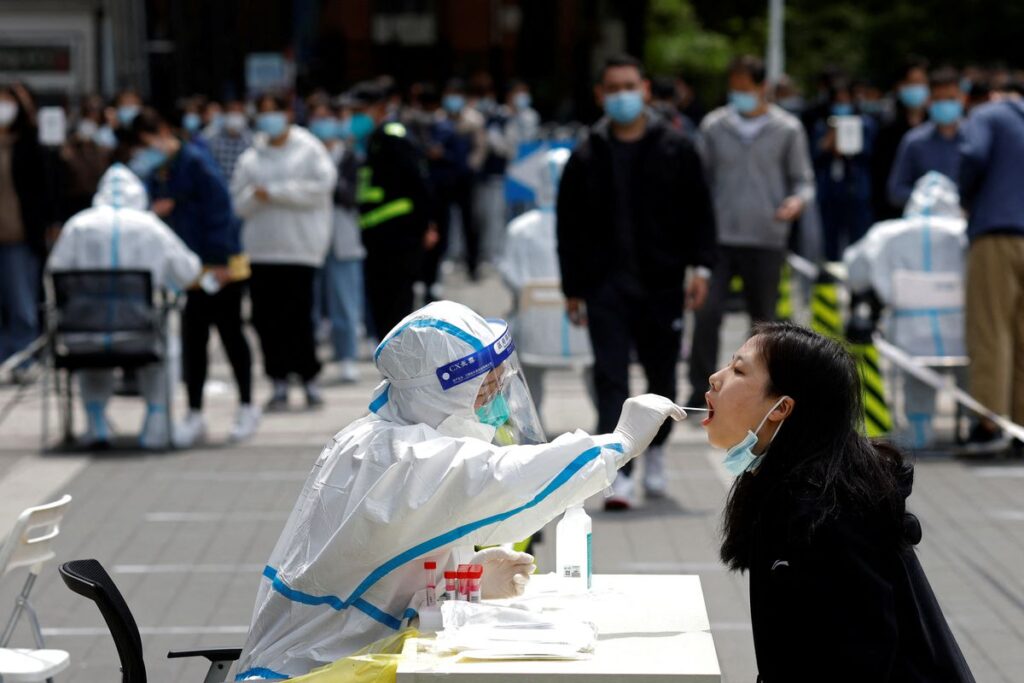 This April 28, 2022 article from The Manila Times, reports on the latest developments from Shanghai's weeks long lockdown.
According to Zhao Dandan, vice head of Shanghai's health committee, the city would begin testing to determine which areas were at lower risk of Covid outbreak. Areas that have achieved "societal zero Covid" could achieve some limited freedom.
Editor's Note: It is unclear why Shanghai's officials continue to put the city on lockdown when a majority of its "Covid cases" are asymptomatic [Data showing that asymptomatic people do not spread COVID-19 came from China and this information has been available to Chinese officials since 2020, read Asymptomatic people do not spread COVID-19].
It is also a well-accepted fact that testing of asymptomatic people is a terrible public health intervention because the tests cannot determine who is infectious and who is not [see New study shows one in three who are forced to quarantine were never contagious, New study shows how recovered COVID patients can repeatedly test positive, shows varying implications to RT-PCR testing, New study proves that RT-PCR positivity should not be used as a measure of infectiousness, Sweden: PCR cannot be used for diagnosis, Manitoba Government Chief Microbiologist: 56% of positive "cases" are not infectious, but products of misleading RT-PCR tests].
Moreover, mass testing of people who are not sick only undermines the credibility of the testing protocols for Covid as it increases false positives [read Scientists: No way of stopping the virus, end mass testing, W.H.O no evidence to support widespread asymptomatic testing, CDC changes guidelines for testing: No more test for asymptomatics, Why PCR testing should not be used for public policy making, New York Times: More experts questioning RT-PCR testing].
It is even more surprising that the city would opt for such a draconian policy when two years of the "pandemic" has already shown that lockdowns are harmful, that they cannot prevent the spread of the virus, and that there are other, less invasive strategies to deal with Covid outbreaks [Read Stanford's Dr. John Ioannidis destroys the Covid lockdown narrative, It's time to rethink COVID restrictions].
If the World Health Organization (WHO) thought in 2020[1]https://www.euro.who.int/en/health-topics/health-emergencies/coronavirus-covid-19/news/news/2020/4/china-shows-covid-19-responses-must-be-tailored-to-the-local-context that China did an exemplary job at responding to COVID, does the organization still think that China is doing the right thing with its universal testing and lockdown regime? It is important for us to know because this will also tell us whether WHO has been fully captured by the agenda that has brought our world into the clutches of authoritarianism.
Given the recent statements coming from the WHO, we think that they are once again, using the situation in China to push for the signing of the global pandemic treaty that will give the organization unprecedented power over our countries [see WHO Warns of New COVID Surge in Two Months, Urges PH Authorities for a House-to-house Vaccination, WHO Africa: Fewer cases does not signal end of COVID, India slams WHO for erroneously reporting 4 million COVID deaths in country, Testing cuts leave world 'increasingly blind' to COVID spread, WHO fears. Also read World Council for Health Sounds Alarms on WHO's pandemic treaty initiative].
The developments in Shanghai are also a litmus test for our own governments and local mainstream media. Will they once again utilize a fear-based approach to manipulate their populations? Or will they finally utilize the science available to them? [Read Dr. Jay Bhattacharya: Test and tracing only creates panic, How COVID Testing Strategy Will Extend Pandemic Scare, Why COVID-19 is guaranteed to never end].
For the sake of our mental health, and the well-being of our children, we sincerely hope that our government has learned from its "mistakes" in the past two years of this "pandemic".
Read Original Article
Read Online
Click the button below if you wish to read the article on the website where it was originally published.
Read Offline
Click the button below if you wish to read the article offline.