Public Attorney's Office Welcomes Complainants Who are Victims of Mandatory Vaccination and Discrimination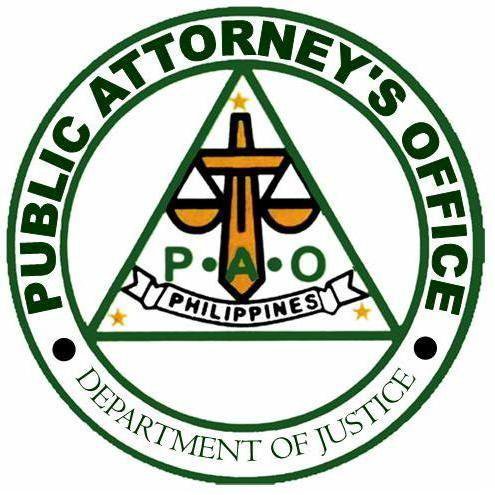 This is the mission of the Philippines' Public Attorney's Office (PAO) and why it exists: to provide the indigent complainants, the oppressed, marginalized, and underprivileged members of the society free access to courts judicial and quasi-judicial agencies by rendering legal services and counseling. This is in consonance with the Constitutional mandate that "free access to courts shall not be denied to any person by reason of poverty." Through this mandate, PAO ensures that the rule of law, truth, and social justice are components of the country's sustainable development.
We had heard more of PAO when the agency defended Dengvaxia victims and filed criminal charges against former Health Secretary Janette Garin and other former officials[1] https://www.manilatimes.net/2018/04/05/latest-stories/breakingnews/garin-other-health-execs-charged-over-dengvaxia-deaths/390637.
PAO's Role in Ensuring Rule of Law has Become Even More Significant with COVID Mass Inoculation
With what is currently transpiring in line with the covid inoculation program, there is the misinterpretation of the law and misrepresentation of jurisdiction.
We received numerous stories, notably enforcing the no vaccine, no ride policy incorrectly.
Last Monday, January 17, 2022, was the first day of no vax, no ride, and there were a lot of displaced workers who could not go to work because there were no explicit protocols of what to do. Some employees couldn't ride, and only "fully vaccinated' were allowed. Here is a classic illustration of a two-tiered society.
REAL-LIFE STORIES OF VACCINE COERCION AND DISCRIMINATION
Filipinos are not keen on their constitutional rights and how to defend themselves from abuse of those given temporary power in this time of touted health emergency.
We have received stories about abuse and despotism in Novaliches, Quezon City (QC). According to our source, yesterday, January 20, 2022, Police and Barangay Officials combed the market searching for the vaccination cards of the market vendors. Those who failed to show proof of vaccination were apprehended and threatened with fines, while others were transferred to the QC City Hall. Other peddlers scooted to hide like they had perpetrated a crime.
See a few of the stories that witnessed and know what happened in Nova Bayan.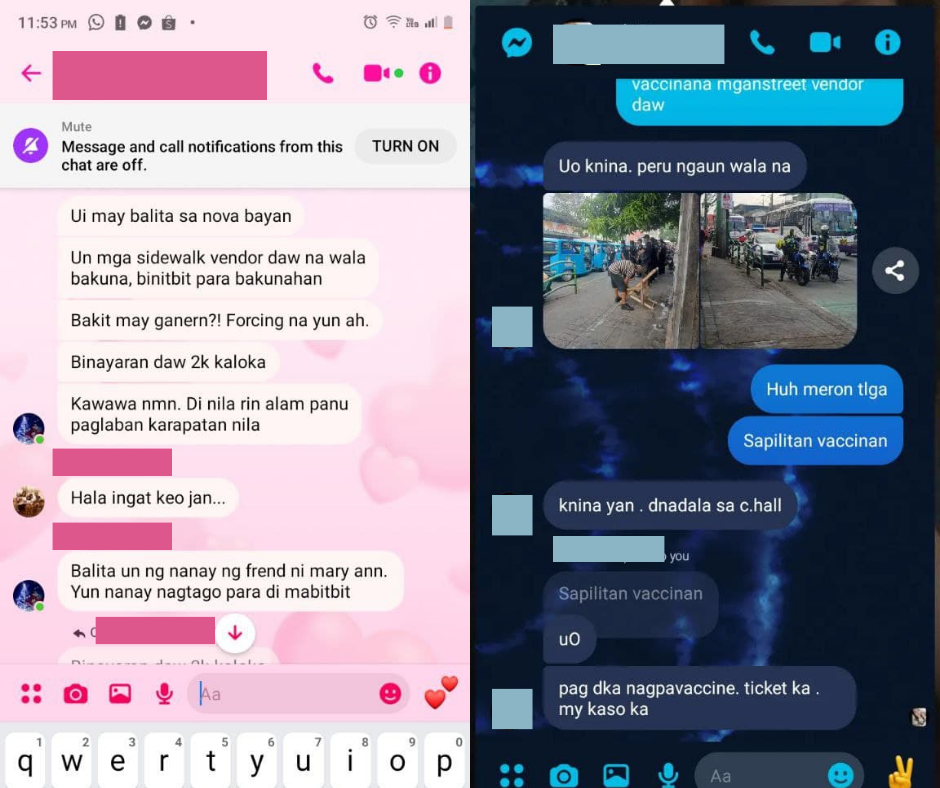 Vendors are workers too, and that is their way of living; thus, they are essential workers and exempt from the policy unless the city authorities have their jargon in translating their guidelines.
Here is another story of a distressed citizen from Paco, Manila, who was denied riding the tricycle to the marketplace because she didn't have the vaccine card, so she walked instead. However, she was restricted from entering when she reached the market because a vaccine card was required to get inside the public market. Again, buying food is an essential activity, which means that the "no vax" policy cannot apply—[Also see https://mb.com.ph/2022/01/19/bello-sorry-over-confusion-on-no-vax-no-ride-exemptions/].
Watch the viral video here https://www.youtube.com/watch?v=OnXfI9cJlY4.
PROVISIONS OF POLICY REGARDING THE UNVACCINATED IN NCR
Let's review the current guidelines the LGU follows: https://mmda.gov.ph/images/pdf/resolution/2022/22-01-Esigned-re-Unvax-individuals.pdf
Unvaccinated individuals in the National Capital Region shall:
Remain in their residences at all times except for the procurement of essential goods and services such as, but not limited to, food, water, medicine, medical devices, public utilities and energy, work, and medical and dental necessities
Be prohibited in indoor and outdoor/al fresco dining in restaurants and other food establishments and shall likewise be prohibited from leisure or social trips to malls, hotels, event venues, sports, and country clubs, and similar facilities in accordance with the guidelines of the Metro Manila Local Government Units and the concerned establishments;
Be prohibited in domestic travel via public transportation by land, sea, and air except for the procurement of essential goods and services such as, but not limited to, food, water, medicine, medical devices, public utilities, and energy, work, and medical and dental necessities subject to the production of proof to support and justify such travel
Looking at the rules, why then are those innocently walking down the streets to buy essential stuff being held up and reprimanded to show the vaccine card? Aren't these barangay officials and police going overboard?
Do they understand the law, or are they merely following orders like androids without reading the actual policy? Did LGUs publish implementing rules and regulations for this new policy regulating the movement of the unvaccinated?
POLITICIANS REACTING AGAINST THE POLICY CONTROLLING THE MOVEMENT OF UNVACCINATED
Several legislators deemed the restrictions unconstitutional. [See Manny Pacquiao: Vaccination Should Continue to be a Personal Choice; Senator Koko Pimentel Says Listing Down Unvaccinated is Violation of Constitutional Rights; Senate President Vicente Sotto Denounces Discrimination Against the Vaccine-Free].
But another persistent voice was PAO Chief Persida Acosta, who declared the no vax, no ride policy as anti-poor. She also said that this discrimination against the vaccine-free is against human rights [see PAO Chief Atty Persida Acosta Calls for the LGUs Not to Discriminate Against the Vaccine-Free].
PAO CHIEF IN THE NEWS
She is now constantly in the news because of her opposition to mandatory vaccination.
Watch Atty. Acosta's plea here to LGU:
Also, watch Atty. Acosta interviewed with the ANC and how she articulated the importance of RA 11525 and how other people in authority are misconstruing it.
https://news.abs-cbn.com/video/news/01/17/22/unvaccinated-pao-chief-says-no-vax-no-ride-policy-unconstitutional
PAO OPENS DOORS FOR THOSE READY TO FILE CASES OF DISCRIMINATION AND ABUSE OF AUTHORITY
After hearing stories of abuse and coercion, Atty. Acosta has opened her office to accommodate complaints of discrimination. She also offered the service of her agency in persecuting violators of the law.
We encourage those who were harassed, and terrorized to take the jab, to kindly report and pursue the help of the PAO office at this contact information:
PAO Chief Persida Acosta office:
Phone Number: 0289299436
Email Address: pao_executive@yahoo.com
Facebook Page: https://www.facebook.com/chiefpersidaacosta
As we have explained above, PAO possesses the constitutional mandate that "free access to courts shall not be denied to any person by reason of poverty." If you want to file a case of harassment and unjustifiable restrictions, check out the contact info stated above. They can assist you without a fee.