2021 Excess Deaths in the Philippines Shows Pandemic, but it is Not COVID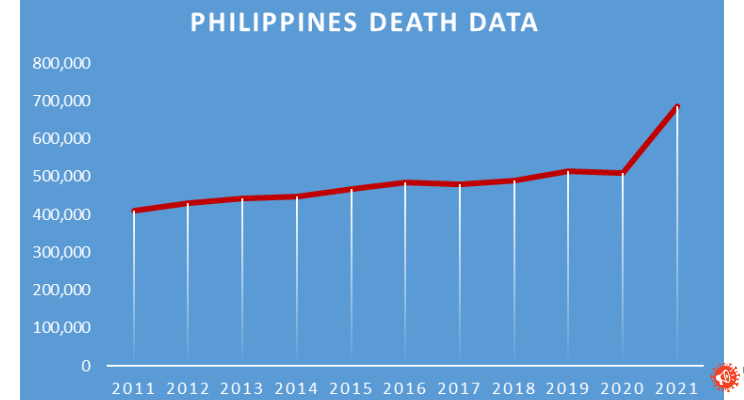 What is happening in the Philippines in the 21 months of the so-called "COVID Pandemic"?
As of January 4, 2022, the Philippines has logged a total of 2,861,119 coronavirus cases and 2,779,706 recoveries. That brings the survival rate to 97.15%. That's a case fatality rate (CFR) of 2.8%. That may seem high, but as you can see in the next sections of this article, there is reason to believe that COVID deaths are overreported and that the real deaths DUE TO COVID are so much lower.
PHILIPPINE DEATH STATISTICS
Table 1 below is aggregated data released by the Philippine Statistics Agency (PSA) indicating the causes of death in the Philippines for the periods January to September 2020 and January to September 2021.
Take note of the two items for COVID-19 related deaths, one is "virus identified" which means that COVID was confirmed by an RT-PCR test. The other is the COVID-19 "virus not identified" which means that COVID was only assumed as the RT-PCR test came back negative or no test was conducted [To understand the issue with this reporting protocol, see PSA data on deaths shows government either manipulating us or covering up their mistake]. See the highlighted data from PSA below: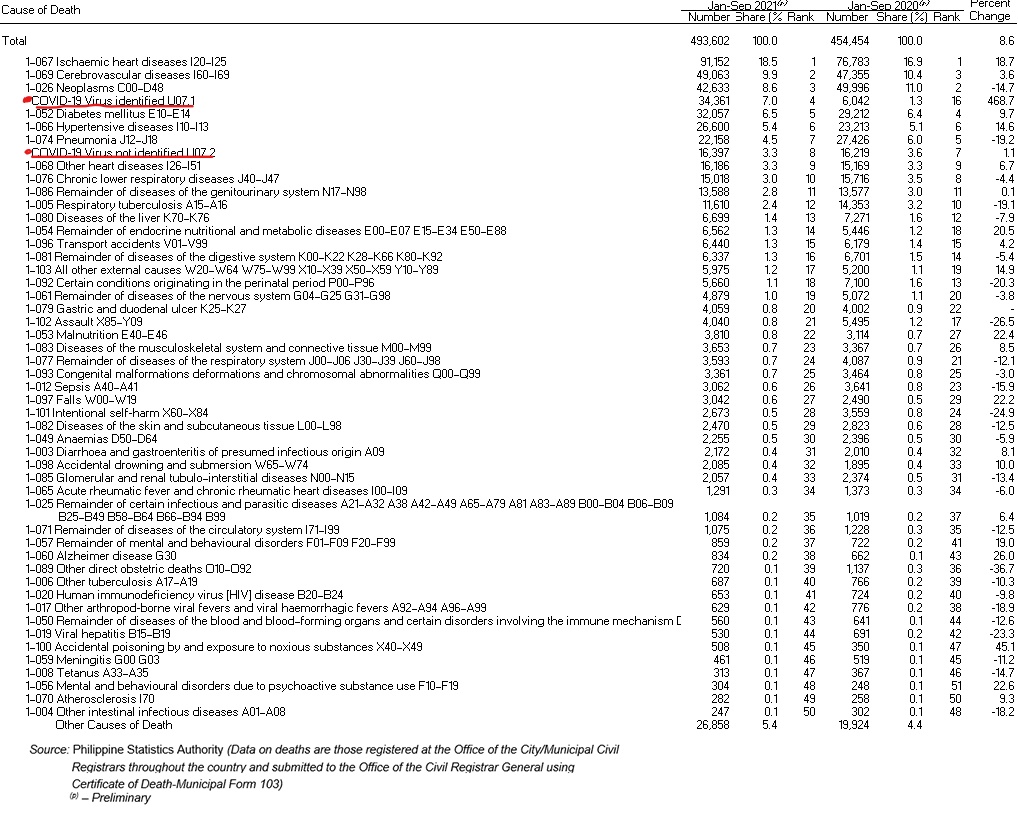 The figures here are not the same as the figures released by the Department of Health (DOH) due to the unique classification implemented by the PSA.
EXCESS DEATHS
Objectively, let us dissect the data from PSA and what the reports convey about deaths in the Philippines. The Philippines 10-year average for January to October 2011 to 2020 is at 468,042.2 deaths.
As of January to October 2021, deaths are already at 685,699. 2021 deaths have not only overtaken deaths in the same period for previous years by a mile, but it has also overtaken the 10-year average by as much as 46.5%! (See image 1 below).
Is COVID to blame for these excess deaths? Based on Table 1 above, COVID "virus identified" is only the fourth highest cause of deaths while COVID virus not identified is only in the top 8. Even with all the manipulation done by hospitals and governments in recording COVID deaths, COVID still didn't end up as the most deadly disease [We will expound on this issue of death manipulation in a future article when the final death data for 2021 has been released by the PSA]. In fact, reports say that only 10% of the total deaths for January to September 2021 was due to COVID.[1]See https://newsinfo.inquirer.net/1530069/covid-19-caused-10-3-of-ph-deaths-as-of-end-sept
If COVID is not the reason for the 46.5% excess deaths, what is it then?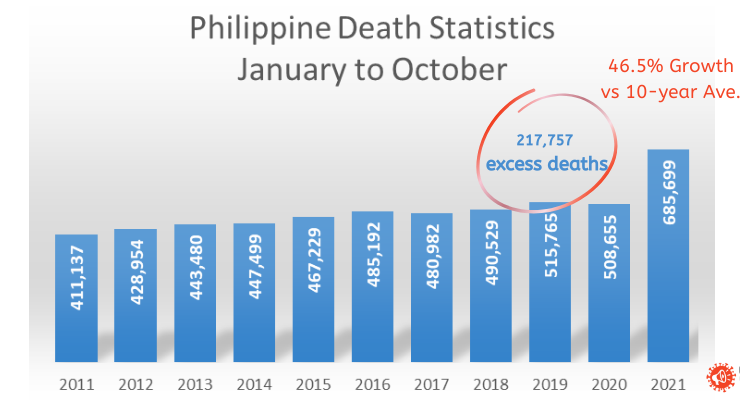 To show you just how problematic 2021 is, we have created Table 2 below. In the table, you will see that we derived the annual change of the January to October period from 2011 to 2021. We report the change in deaths from 2011 to 2012, as the year 2012, and 2012 to 2013 change is reported as 2013, and so forth.
From this table, it is clear that excess deaths in the Philippines were highest in 2019. Was there a pandemic that raged in the Philippines from 2018 to 2019? Why are the excess deaths during this period higher than when the "deadly" COVID was already rampaging in our country?
Some people might claim that the lockdowns of 2020 have prevented deaths. Now let's assume that there was no pandemic, and excess deaths in the Philippines were at 5.1% (the highest rate in the 10 years we are investigating).
If life was normal in 2020, and excess deaths were at 5.1% then total deaths from January to October 2020 would have been 542,069. Now if we compare that to the actual January to October 2021 deaths, excess deaths for this 2021 period still increased by 26.5%! Compared to the actual 9-year average of 2.4% of excess deaths, the 2021 data is still highly anomalous.
| | | |
| --- | --- | --- |
| Year | Years compared | Annual change |
| 2012 | 2011 to 2012 | 4.3% |
| 2013 | 2012 to 2013 | 3.4% |
| 2014 | 2013 to 2014 | 0.9% |
| 2015 | 2014 to 2015 | 4.4% |
| 2016 | 2015 to 2016 | 3.8% |
| 2017 | 2016 to 2017 | (0.87%) |
| 2018 | 2017 to 2018 | 2% |
| 2019 | 2018 to 2019 | 5.1% |
| 2020 | 2019 to 2020 | (1.4%) |
| 2021 | 2020 to 2021 | 34.81% |
| 9-year average | 2011 to 2020 | 2.4% |
TABLE 2: Annual Rate of Excess Deaths, 2011 to 2021

This data on excess deaths is exactly the reason why in 2020, Nicanor Perlas, as well as other internationally known doctors, declared that there was no pandemic. There was no disease that was indiscriminately killing people [Was There Really an Epidemic?, Doctors: No global pandemic, COVID-19 vaccines not safe].
The government should not have locked down and closed schools. The government's continued intrusion into our private lives cannot be attributed to the existence of a deadly virus.
Now given the huge increase in excess deaths in 2021, we must ask, what was it that caused this change? Well, according to some governments, there was Delta, which according to the mainstream narrative was "more contagious and deadly" than the original COVID strain. But as science has shown us, Delta was not as deadly as these manipulators have hoped [see Scientist confirms Delta variant more transmissible, but not more deadly, Delta not causing increase in COVID hospitalizations, Delta variant being used to sell COVID vaccines but no proof the variant is deadly]. What was it then?
Another major change in 2021 was the introduction of experimental vaccines, which, as science has proven has been very dangerous [see Autopsies show irrefutable evidence of deaths due to COVID vaccine, Recent VAERS Data Shows COVID Vaccines Harm Children, Dr. Vernon Coleman: mRNA Jabs are Causing Cardiac Disorders Resulting to Sudden Deaths and Serious Injuries, mRNA Inventor: Toxic Spike Proteins from COVID Jabs Often Cause Permanent Damage in Kids. See more stories at Vaccines].
Could the vaccines have caused these deaths?
Now, we must be clear. The data we are seeing here is not proof that vaccines have killed all these people. But this is proof that COVID is not the biggest health issue that the Philippines is currently experiencing.
If there is a signal showing that there is an anomalous increase in deaths in the country, shouldn't the government already be launching an investigation on this considering we have been under various restrictions precisely to prevent deaths? There is a hidden "pandemic" that is killing people, and the government should strive to know what it is.
Table 3 below shows deaths in the Philippines by month. Take note that the experimental COVID vaccines were introduced in the country in March. See how deaths are increasing in the months following? (October report is not yet complete, we will see how this all turns out when the PSA has released the final report for 2021 in February.)
| | | | | | | | | | | | |
| --- | --- | --- | --- | --- | --- | --- | --- | --- | --- | --- | --- |
| | Total | Jan | Feb | March | April | May | June | July | Aug | Sept | Oct |
| Deaths | 685,699 | 57,457 | 53,031 | 61,484 | 67,727 | 71,143 | 66,611 | 74,485 | 93,805 | 103,322 | 36,634 |
TABLE 3: Deaths in the Philippines, Preliminary 2021, by Month, data from Philippine Statistics Authority
Now, we must reiterate, as regular citizens of the Philippines, it is not our responsibility to prove that these vaccines are harmful. It is the government's responsibility to prove that these vaccines are safe. As the government has chosen to roll out an experimental vaccine with no long-term safety data to the general population, it is their responsibility to ensure that these vaccines are not causing these deaths.
The mantra that these "vaccines are safe and effective" is not enough. Saying that a vaccinated person with comorbidity died not because of the effects of the vaccine, but because of their comorbidity without conducting the appropriate autopsy and other tests, is not enough.
The government MUST show us the empirical evidence of their claims. It is our right as citizens to demand it. And if the government cannot show us the basis of their policies, it is our right as free citizens of this country to condemn the government and to reject and to not conform to their illegal, illogical, and unscientific policies.
That the government cannot arbitrarily suspend our rights is the essence of the 1987 Constitution. The Constitution has been written to protect our rights. Now it is our turn to uphold its provisions.
Co-author ADMIN