70,000 Czechs Take To The Streets To Protest Rising Energy Prices, EU and NATO, and EU Climate Change Plans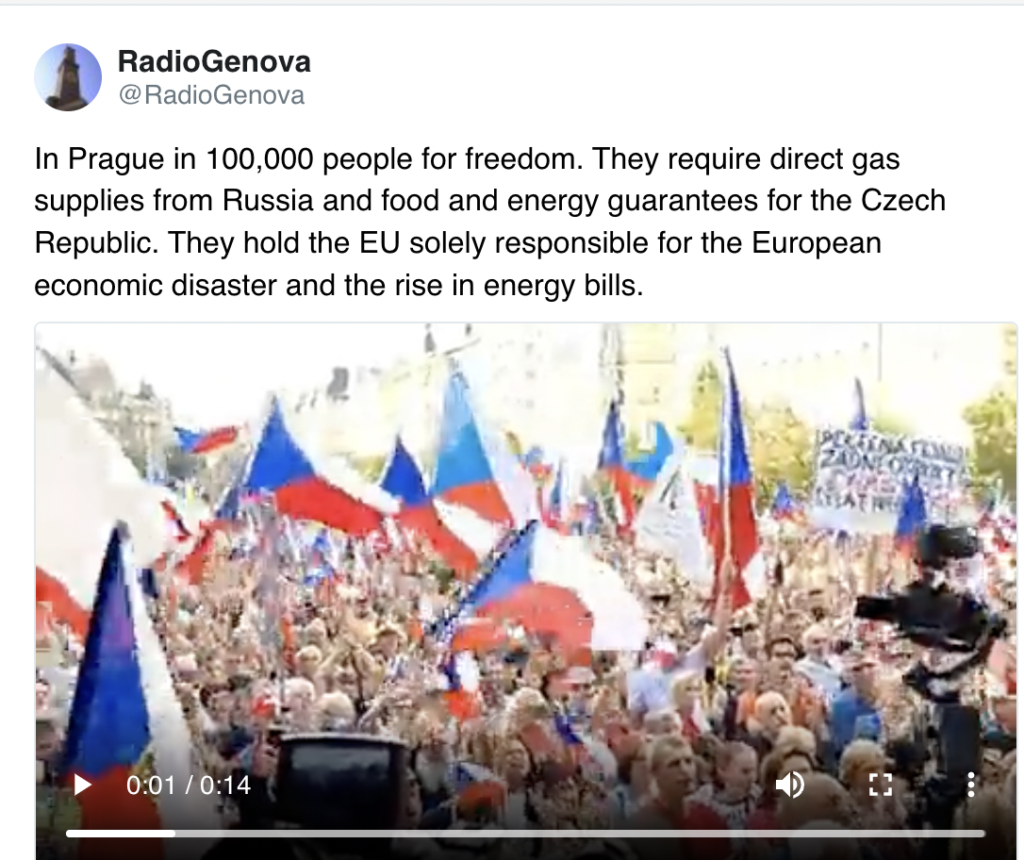 In this September 4, 2022, article, Swedish journalist Peter Imanuelsen reports on the massive protests happening on the streets of Prague.
According to Jiri Havel, co-organizer of the protests, the main aim of the demonstration is to "demand change, mainly in solving the issue of energy prices, especially electricity and gas". Radio Genova says that the protesters are requiring "direct gas supplies from Russia and food and energy guarantees for the Czech Republic. They hold the EU solely responsible for the European economic disaster and the rise in energy bills".
Imanuelsen says that energy prices in Europe have soared. In Norway, electricity prices are $1 per kilowatt hour. Meanwhile, energy rationing is already being implemented in Germany.
Editor's Note: We will remember that in May 2022, the EU imposed economic sanctions on Russia for the war on Ukraine. And despite all the military aid sent to Ukraine, the country is nowhere near winning [see Ukraine is Losing the War, and So is Europe].
Mainstream media has attempted the hide this fact in order to rationalize the continuous financial support from Europe and the United States.[1]https://www.vox.com/world/2022/8/24/23311778/ukraine-war-russia-winning-six-months, https://www.ft.com/content/bc30363e-012f-4357-8746-44bee90b5cde, … Continue reading
As countries pour their resources into Ukraine, their own economies are suffering. Aside from the rising energy prices in Europe, the US is experiencing runaway inflation, and many others are experiencing supply chain disruptions. [The Philippines is experiencing a shortage in sugar, onion, salt, and garlic].
Clearly, the priorities of these governments are not in order. These issues also highlight the reality that our societies are not ready for the planned Great Reset. If governments insist on a major overhaul in how we produce food, travel, and do business, then we can expect that the impact of these changes will be greatest on the already marginalized populations [see Netherlands move to shut down farms to meet climate goals, Canada, Ireland Issue Climate Restrictions Similar To The Netherlands, Peddlers Of Environmental Doom Have Shown Their True Totalitarian Colors].
Read Original Article
Read Online
Click the button below if you wish to read the article on the website where it was originally published.
Read Offline
Click the button below if you wish to read the article offline.