Sign the Petition: Refuse and Reject the WHO Powergrab That Would Lead to Global Medical Martial Law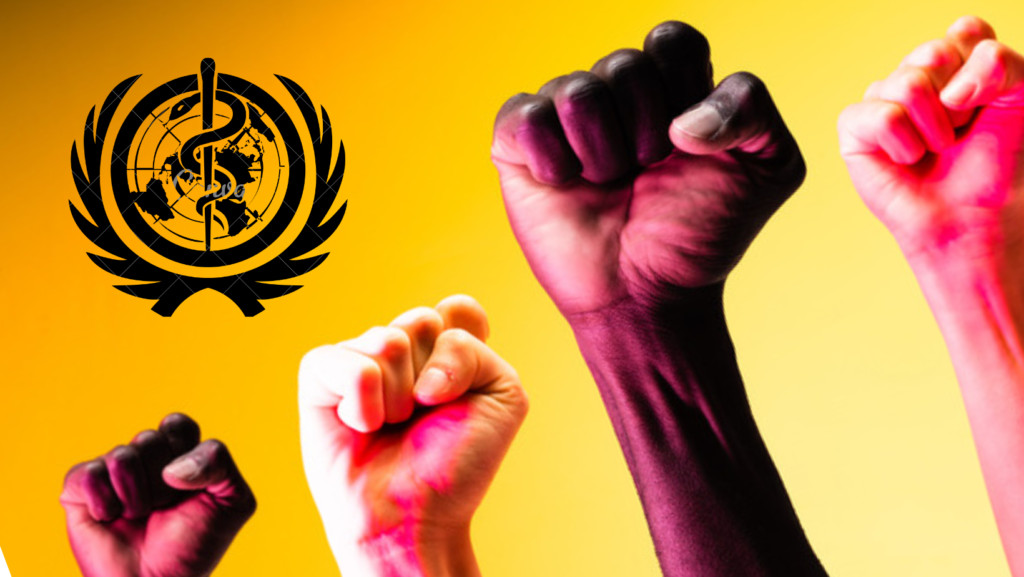 TO:
Mr. Francisco Duque III
Secretary, Department of Health
Chief delegate, World Health Assembly
Mr. Evan P. Garcia
Ambassador, Permanent Representative, Geneva
Deputy chief delegate, World Health Assembly
Dr. Mario C. Villaverde
Undersecretary, Health Policy and Systems Development Team, Department of Health
Delegate, World Health Assembly
CC: The Sovereign People of the Philippines
CC: The WHO and the United Nations
The WHO is making a power grab over our health sovereignty by amending the International Health Regulations
Our country's sovereignty is at risk. Unknown to many citizens of the world, the World Health Organization (WHO) is attempting to pass a Global Pandemic Treaty that would give it total control over the world's health agenda. The beginning stages of this power grab are already underway, with the planned amendment of the International Health Regulations (IHR) during the May 22-28, 2022 World Health Assembly.
The IHR, which was adopted by 194 member states of the WHO in 2005 recognizes the sovereignty of nations and the need for localized action in cases of epidemics and other disease outbreaks. But that is about to change.
Key Issues to Understand
Under the proposed amendments unilateral authority will be given to the WHO Regional Directors to declare a Public Health Emergency of Regional Concern (PHERC), and the Director-General the authority to issue an "Immediate Public Health Alert" (IPHA).
At its core, the proposed amendments are directed toward the establishment of a centralized architecture for worldwide surveillance, reporting, and management. It imposes a top-down view of governance where the public will have no opportunity to provide input or criticisms concerning the amendments.
This, of course, is a direct violation of the basic tenets of democracy and can be compared to the separate new pandemic treaty. [Read this article to find out more about the WHO Global Pandemic Treaty, World Council for Health Sounds Alarms on WHO's pandemic treaty initiative].
Moreover, such centralization is contrary to the fundamental pillars of community-based, locally-organized healthcare and antithetical to the principles of individual rights and autonomy upon which the WHO's constitution is based.
The WHO intends to amend 13 IHR articles: 5, 6, 9, 10, 11, 12, 13, 15, 18, 48, 49, 53, 59
Increased surveillance: Under Article 5, the WHO will develop early warning criteria that will allow it to establish a risk assessment for a member state, which means that it can use the type of modeling, simulation, and predictions that exaggerated the risk of Covid-19 over two years ago. Once the WHO creates its assessment, it will communicate it to inter-governmental organizations and other member states.
48-hour deadline: Under Articles 6, 10, 11, and 13, a member state is given 48 hours to respond to a WHO risk assessment and accept or reject on-site assistance. However, in practice, this timeline can be reduced to hours, forcing it to comply or face international disapproval led by the WHO and potentially unfriendly member states.
Secret sources: Under Article 9, the WHO can rely on undisclosed sources for information leading it to declare a public health emergency. Those sources could include Big Pharma, WHO funders such as the Gates Foundation and the Gates-founded-and-funded GAVI Alliance, as well as others seeking to monopolize power.
Weakened Sovereignty: Under Article 12, when the WHO receives undisclosed information concerning a purported public health threat in a member state, the Director-General may (not must) consult with the WHO Emergency Committee and the member state. However, s/he can unilaterally declare a potential or actual public health emergency of international concern. The Director General's authority replaces national sovereign authority. This can later be used to enforce sanctions on nations.
Rejecting the amendments: Under Article 59, after the amendments are adopted by the World Health Assembly, a member state has six months to reject them. This means November, this year. If the member state fails to act, it will be deemed to have accepted the amendments in full. Any rejection or reservation received by the Director-General after the expiry of that period shall have no force and effect.
Why We Must Take Action Together
Corruption at the WHO is well-known, and it runs deep [In the video 2015 documentary TrustWHO, former WHO Director-General Margaret Chan Fung Fu-Chun reveals how private money has compromised WHO's Mission. Also, read WHO insider blows whistle on Gates and GAVI global health dictatorship]. The Journal of Integrative Medicine & Therapy calls the influence of private money on the WHO the "biggest threat to the world's public health of our time."
And while WHO's own documents highlight the importance of "setting up, fine-tuning, improving, and institutionalizing new or existing participatory health governance mechanisms" to ensure equity and democracy in health coverage, information regarding the decision-making on how the IHR amendments will be processed remain inaccessible. In fact, without the research of the World Council for Health, we would not have information on who will be making decisions for our country.
By now, we already know that censorship, particularly in the case of health, is not only unethical but also dangerous. Any organization claiming that they are the only source of truth must not be trusted.
The WHO has moved away from an institution dedicated to health and has been reduced to a global drug peddler. This is an organization that is heavily conflicted and controlled by various industries. Its interests are no longer aligned with ours.
Our Call
We call on our government to critically re-evaluate the impact of handing over the country's capacity to make sovereign decisions concerning the health of its citizens to unelected technocrats who are not accountable to the Filipino people.
We demand that our representatives to the World Health Assembly, Chief Delegate Mr. Francisco F. Duque III, Deputy Chief Delegate Mr. Evan P. Garcia, and Delegate Dr. Mario C. Villaverde reject the proposed amendments to the IHR. The DOH must consult with the Filipino people first on such matters that can deeply negate our Constitution and impact the democracy of our country.
We call on our fellow Filipinos to speak up against the WHO power grab and to demand the creation of alternative paradigms and models of health and healing which are based on authentic science and ethical guidance that upholds human dignity and respects human rights.
Privacy declaration: Your names and email addresses will not be revealed online. We will submit the results of this signature campaign only to the proper authorities.