Philippine Senator rejects LGU's plan to deny unvaccinated access to certain places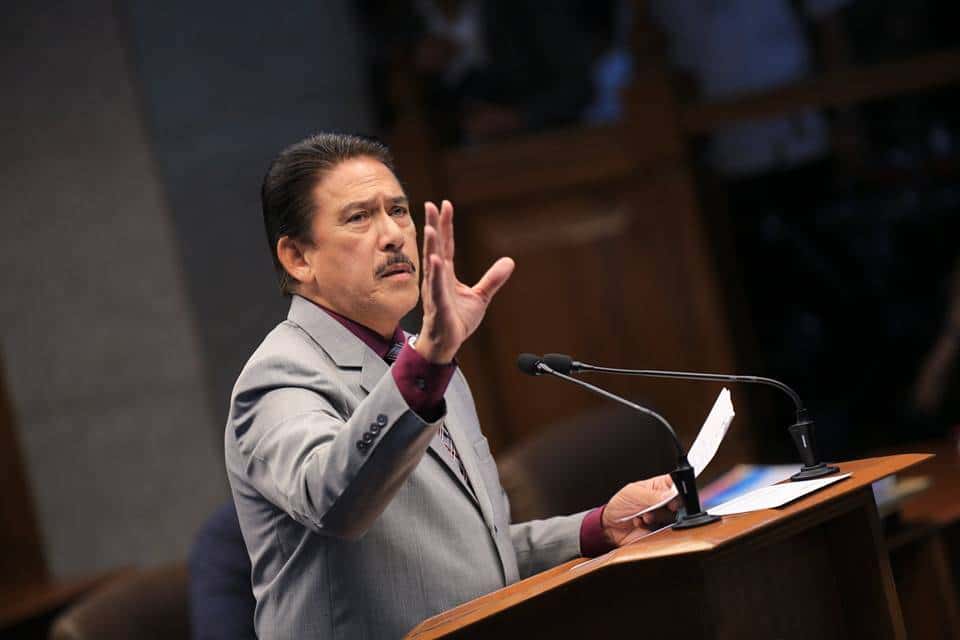 In this August 2, 2021 article for Manila Bulletin, Vanne Elaine Terrazola reports on a recent tweet by Senate President Vicente Sotto III.
In the tweet, Sen. Sotto said, "ITF Proposed sec 4 disallowing unvaxxed to certain places is utterly wrong. What about recovered unvaxxed? Vaxxed can carry virus ah!". He followed this up with another tweet saying, "We should not force our people to be vaccinated if they refuse. Last time I heard this is a free country!"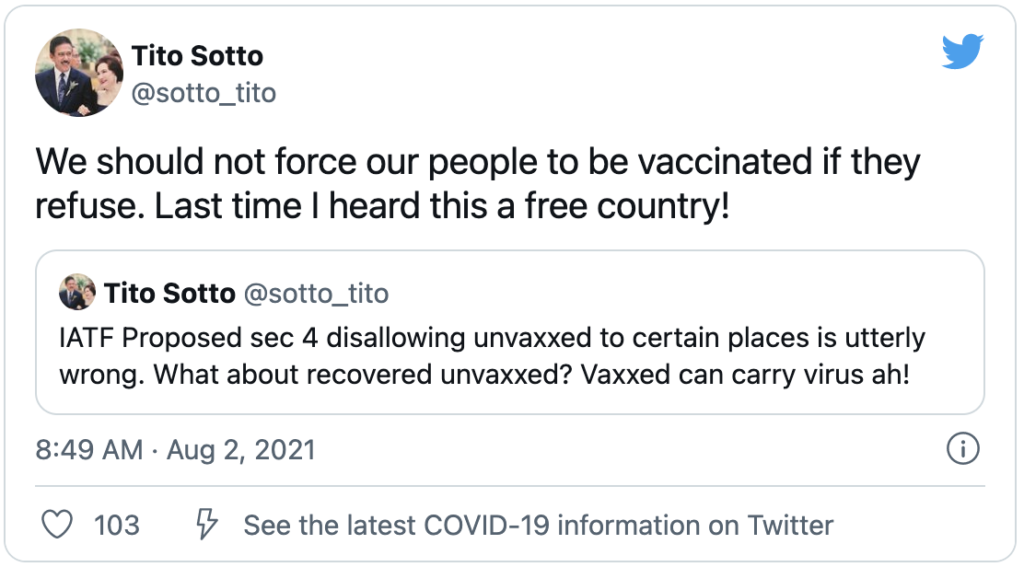 The report also said that the initial tweet could have been written in response to an executive order (EO) issued by Lapu-Lapu City Mayor Junard Chan. Section 4 of that EO states that "only vaccinated persons shall be allowed entry to public and private markets, including supermarkets and convenience stores, in Lapu-Lapu City". The EO was supposed to take effect on August 25, 2021.
The tweet was also timely as Philippine President Rodrigo Duterte has recently stated that he wanted to prohibit unvaccinated individuals from leaving their homes to control the spread of the disease. Duterte also called for a law to penalize the unvaccinated.
Editor's Note: We are thankful to have at least one senator who still understands the value of medical freedom [also read Attention Lawyers! Take Action! We are in the Midst of Medical Martial Law. Our Human Rights Are Being Trampled Upon and Millions Harmed by Illegal lockdowns. Plus Hundreds of Thousands are Killed/Harmed by Illegal Vaccines. Disaster Amidst a Fake Health Emergency in the Philippines. and Delta and Other Variants: Fear Appeal for Permanent Lockdowns, Killer Vaccines. Strengthening Natural Immunity the Way Out.].
We, however, fear that there are too few of them in office, and if people do not stand up for their rights to choose, then the government will ultimately create a law that violates our human rights [see Congress sets deliberation for mandatory COVID vaccination bill and Mandatory vaccination bill passed on second reading by Lower House].
Read Original Article
Read Online
Click the button below if you wish to read the article on the website where it was originally published.
Read Offline
Click the button below if you wish to read the article offline.