Duterte orders DOH to "critique" Cebu's COVID protocols for inbound air travelers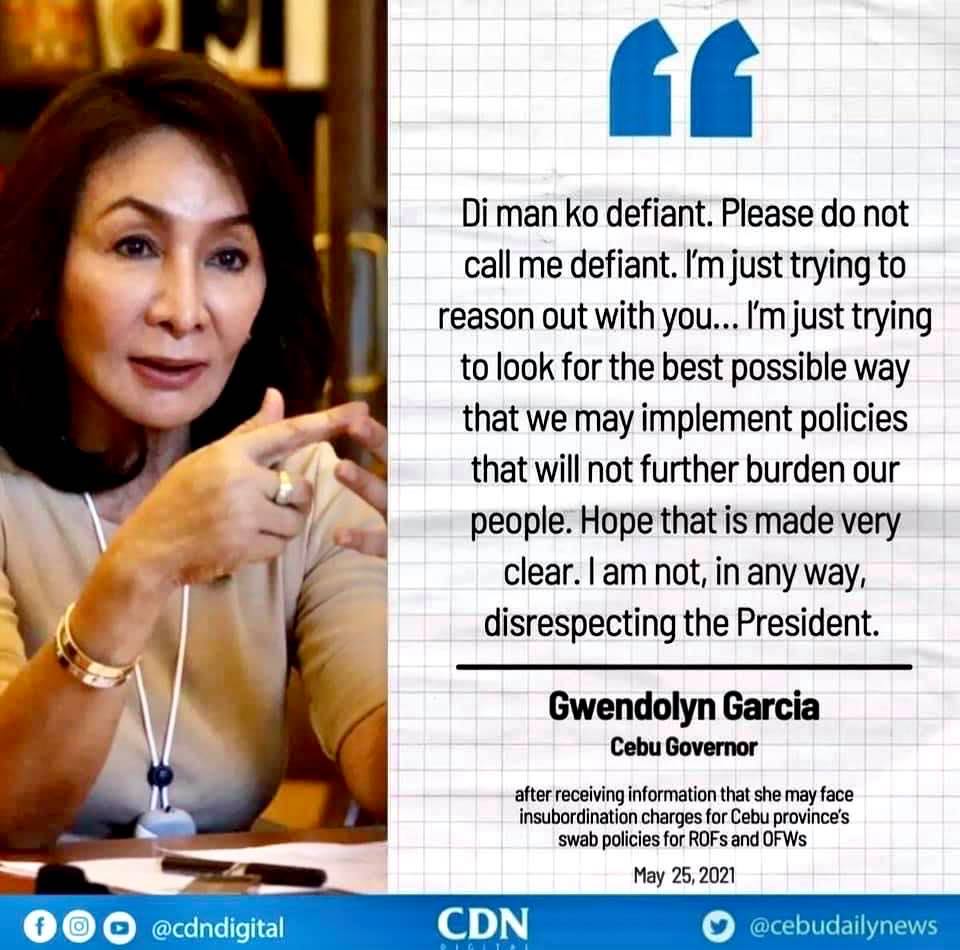 This article features three different news reports covering the same topic: the recent order of Philippine President Rodrigo Duterte for the Department of Health (DOH) to assess the testing and quarantine protocols being implemented in the province of Cebu.
The first of these articles was published by The Philippine Star on June 2, 2021. It was written by Christina Mendez and was entitled "Duterte to DOH: Review Cebu Protocols for OFWs".
The second article in The Manila Bulletin, was written by Genalyn Kabiling and was published with the title "Duterte Orders DOH to 'Critique' Cebu's COVID Protocols For Arriving Air Travelers".
The third is from the state-controlled media, the Philippine News Agency, with the title "PRRD Wants IATF to 'study' Cebu COVID-19 protocols".
Editor's Note: We have attached these three articles on this article to make a point: some media companies intentionally omit information in their coverages.
Take, for example, Philippine Star which made it seem like Duterte had the upper hand. It did not include the statements from Sec. Harry Roque which could have changed the theme of the entire article. Roque said that Duterte gave DOH until Thursday (June 3, 2021) to see if, among others, something can be learned from Cebu. In addition, in a previous statement, Sec. Roque said that the national government had no intention of filing a case for insubordination against Gov. Gwen Garcia for modifying the Inter-Agency Task Force's testing protocols for arriving overseas Filipino workers (OFWs) and returning overseas Filipinos (ROFs).[1]https://ph.news.yahoo.com/talks-charging-gwen-insubordination-fake-145600812.html
Meanwhile, the other two articles added this statement, also from Sec. Roque: "Ang sabi pa rin ng Presidente, ang mga national policies dapat sinusunod ng lahat (The President said national policies must be followed by all)…Pero pagdating po dito sa Cebu, ang naging desisyon ni Presidente, bigyan natin hanggang Huwebes ang Department of Health para mag-critique, 'critique' doon sa revised protocols o ibang protocols na pinapatupad sa Cebu at tingnan natin kung akma ba talaga ito sa Cebu o mayroon ba tayong matututunan (But when it comes to Cebu, the President's decision is to give the Department of Health until Thursday to critique the revised protocols or the different protocols implemented in Cebu and determine if these are appropriate in Cebu or if we can learn something)."
The Philippine Star's coverage of COVID has been consistent – they have not been balanced. We're sure that if you look into the languaging used in several media outfits you will be able to see this too. Feel free to look at various sources of the same news story and determine how they differ in the way they spin the stories.
Now we want to comment on the actual content of the article. It is clear from these articles that:
Sec. Roque is correct. In Section 105 of the Local Government Code, the national government no longer has a right to dictate national policies. Otherwise, a case would have already been filed against Cebu Gov. Garcia. This point has been emphasized in the GUIDEBOOK TO END LOCKDOWNS NOW: An Executive Summary by Nicanor Perlas.
Cebu's protocol for inbound travelers has not caused spikes in the province's COVID cases and deaths, despite the warnings issued by OCTA research [see Cebu Province leads the way, conquers ECQs]. This essentially raises the question: how is OCTA able to make "accurate" predictions for the National Capital Region, but be so wrong when it comes to Cebu? Why should the government continue to trust OCTA? [Also read Open Advisory to the IATF and Media Editors: UP Projections Flawed, Ignore It and Remove Lockdown].
Cebu's low "infection cases" and COVID death statistics make the strategies they implement worth studying, and perhaps emulating. Promising developments like that of Cebu must not be ignored. In contrast, many parts of the country (particularly the National Capital Region) have been on lockdown for over a year and have been relying solely on vaccination. But vaccination cannot bring about herd immunity [see New York Times: Herd immunity will not be achieved with vaccines]. It's time to look at more effective approaches, and here, Cebu offers some hope.
Like the rest of the country, we await the results of this "critique" from the DOH, and given that there is solid science backing up Gov. Gwen's decisions, we expect that the protocols she has started implementing will find their way in more areas in the Philippines.
Read Online
Click the button below if you wish to read the article on the website where it was originally published.
Read Offline
Click the button below if you wish to read the article offline.
Sources

↩

1

https://ph.news.yahoo.com/talks-charging-gwen-insubordination-fake-145600812.html