Bill Gates Thinks His Magic Seeds Will Solve World Hunger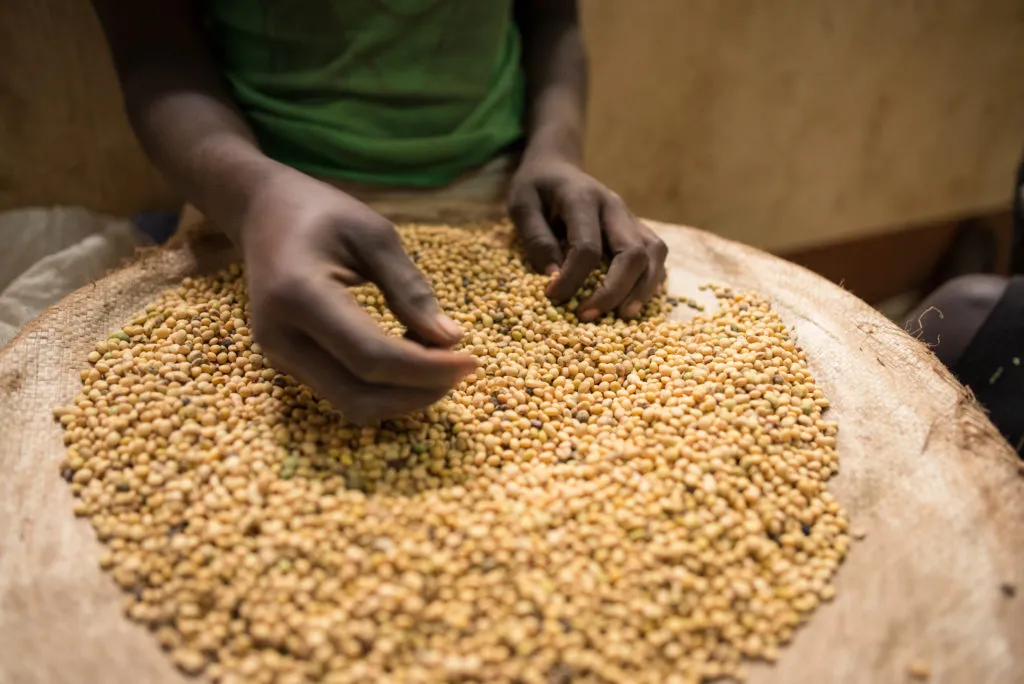 In an essay accompanying the Bill and Melinda Gates Foundation's Goalkeepers 2022 report, Bill Gates says that hunger cannot be solved by giving more food aid. Instead, Gates says that the goal should be "to ensure that no aid is needed in the first place".
Gates tries to trace how the war in Ukraine is causing hunger in Africa, but says, "climate change presents a much, much bigger problem. It's the largest threat to food production since the invention of agriculture, especially in Africa where the environment is deteriorating faster than anywhere on Earth."
According to Gates, the Agriculture Adaptation Atlas, a data visualization tool developed by their foundation has predicted that Africa will have to grow crops in "severe climate stress". This, Gates says, "is the principal reason 32 million people in Africa are projected to be hungry in 2030".
He asserts that "For farmers on small plots of land, there aren't many obvious solutions", and proclaims that there is a solution to lower crop yields – his foundation's "magic seeds".
Gates says that as the climate becomes even more unpredictable, seeds must continuously develop. For this, he proposes the use of "predictive modeling", an "artificial intelligence software that processes the genome sequences of crops along with environmental data…and then conjures up a data-based vision of what farms will need to look like in the future."
Editor's Note: Here is one example where globalists use the language of sustainable development and then spin it to benefit their businesses.
Gates says that a hunger-free Africa is "achievable", and yet, it is now a well-known fact that the Alliance for Green Revolution in Africa (AGRA), a platform funded by his foundation to "double the yields and incomes for 30 million farming households by 2030" failed on all fronts .[efn_note]https://www.iatp.org/blog/202010/agricultural-revolution-gates-foundation-leading-africa-failure, https://usrtk.org/bill-gates-food-tracker/gates-foundation-agriculture-project-in-africa-flunks-review/[/efn_note] These goals were quietly removed from the AGRA website when an independent assessment conducted by Tufts University found no evidence of progress.
You will remember how Gates' network has monopolized the COVID response, and just like AGRA, they have produced dismal results. [Read Health Officials Admit Bill Gates Runs The World].
And then there are the Gates-funded polio vaccines which were "successful" at eradicating wild polio, but have led to an outbreak of vaccine-derived polio strain [Read UN admits polio outbreak in Sudan caused by Gates' funded oral vaccine].
One must wonder why governments still trust Gates when his initiatives are always failing.[1]Perhaps people also forgot how Gates' Microsoft has orchestrated the downfall of its rivals in technology, see … Continue reading
For those who think that the failure of AGRA was forgivable and that there is still time to recalibrate their chosen methods, then we encourage you to read this interview between the Institute of Agriculture and Trade Policy and Tim Wise, author of the Tufts University assessment.
In the interview, Wise said: the "Gates Foundation is leading Africa to failure". Aside from failing to meet its objectives, AGRA has also caused an increase in the number of undernourished people as a result of the decline in genetic diversity and the loss of nutritious and climate-resilient crops. Gates' AGRA has made the situation worse in Africa.
If you read Gates' essay below, you will see so many parallelisms between "his" chosen COVID response and now his response to world hunger.
He is ignoring the fact that plants have the capacity to naturally adapt to a changing climate, in the same way, that our bodies have the capacity to neutralize SARS-CoV2.
Despite having no evidence to support his claim, Gates wants populations around the world to be dependent on products developed by AI. For agriculture, he is selling his "magic seeds". For health, it is the mRNA shots.
Gates is invalidating decades of research by insisting that there is only one solution to world hunger in the same way that he is insisting that "vaccines" are the only solution to COVID.
People must start to realize that the Gates foundation is not philanthropy. It is a biotech company masquerading as a charity. Just like drug lords, they want our societies to become dependent on biotech so that we no longer see its disadvantages and dangers. How do we fight back?
For one, we must learn to acknowledge the unique capacity of nature to self-correct, like it has been doing for eons now.[2]Environmental doomsayers are using this capacity for self-correction to push for climate lockdowns, see these write-ups from the 2020-2021 lockdowns, … Continue reading
Second, we have to realize that Gates is only riding on our addiction to technology and the wrong belief that humans are the next drivers of evolution [Read Our Addiction To Convenience Is Being Weaponized Against Us]. If we learn to use technology appropriately so that it only complements our higher goals as a society, then there is no space for his products that hope to replace the gifts of nature.
For those who want to understand why Gates' magic seeds are not the solution to world hunger, we encourage you to read this article.
Read Original Article
Read Online
Click the button below if you wish to read the article on the website where it was originally published.
Read Offline
Click the button below if you wish to read the article offline.