CCH RELEASES COPY OF SUPREME COURT PETITION FOR USE BY CONCERNED CITIZENS TO STOP MANDATORY VACCINATIONS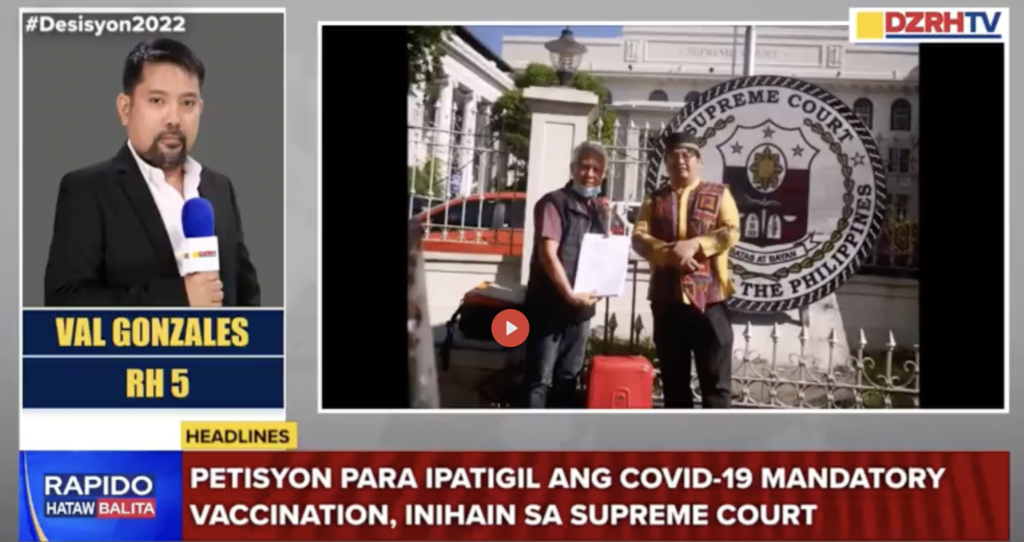 Yesterday, CCH with partners successfully filed the long-awaited Petition at the Supreme Court to stop the continued rollout of mandatory vaccinations in the country. (See the CCH coverage of the event here.) We are happy to report that mainstream and social media, including internet TV and national newspapers, covered the event. (See articles here, here, here, and here.)
But even more important for CCH, the filing of the Petition re-awakened a sense of hope and possibility among the unvaccinated. They are now encouraged to also stop the continued harassment against them by the government, schools, businesses, churches, and other institutions that are forcing de facto vaccinations. We were inundated with messages, comments, and requests for assistance to this effect.
To encourage this legal resistance, CCH is releasing the Supreme Court Petition to the general public. We want all those interested to sue their LGUs, schools, and other institutions to make use of the wide-ranging and thorough scientific and legal arguments versus mandatory vaccinations that are found in the Petition.
For those who want to protect themselves and their loved ones, write a Refusal Letter (find the template here) and/or Grave Coercion letter (find the template here). If these fail, litigation is your next step.
To do this, we encourage you to seek the assistance of local lawyers who are courageous enough to see the evil in these forced vaccinations, which are a form of rape. Try to find at least two or three lawyers to take up the case.
The lawyers can take a look at our Petition and just extract the appropriate scientific and legal arguments that would fit into your situation. There is no need to re-invent the wheel. But, please, definitely tweak the wheel to fit into your concrete situation, the actual challenge you are facing.
As much as we would like to assist all of you in your legal battles, it would be impossible to help you all out due to our limited resources. Even more important, we need to develop the local capacity to put up a legal resistance against this form of Covid tyranny as more and more abuses of this type await us in the very near future. The initiation of local action will become essential as we all try to collectively resist the de facto medical martial law regime that is already upon us.
All the best in your efforts and, if your lawyers need further clarification, please do not hesitate to contact us. Finally, do inform us regarding the final outcome of your efforts. We will be happy to report on it on our CCH website.
Download Copy of Petition to Supreme Court