White House Covid czar says he's 'not overly concerned' about rising BA.2 cases
In this April 12, 2022 article from CNBC, Jade Scipioni reports on the recent statement from Dr. Ashish Jha, the White House's new COVID Czar.
In a statement to the press, Jha said that he is "not overly concerned right now" with the rising BA.2 cases as the data does not indicate the possibility of increased hospitalization.
Editor's Note: Jha's position regarding the BA.2 variant is vastly different from that of Chinese officials. While many areas in the world are enjoying their holidays, citizens in China, particularly those living in Shanghai, are back in lockdowns.[1]https://www.aljazeera.com/economy/2022/4/7/total-disaster-shanghai-lockdown-hammers-small-businesses Hospitals are once again, overwhelmed.[2]https://www.scmp.com/news/people-culture/article/3174025/shanghai-covid-lockdown-chinese-community-officials-feel-strain
How is this possible, when China has a much higher vaccination rate compared to the US?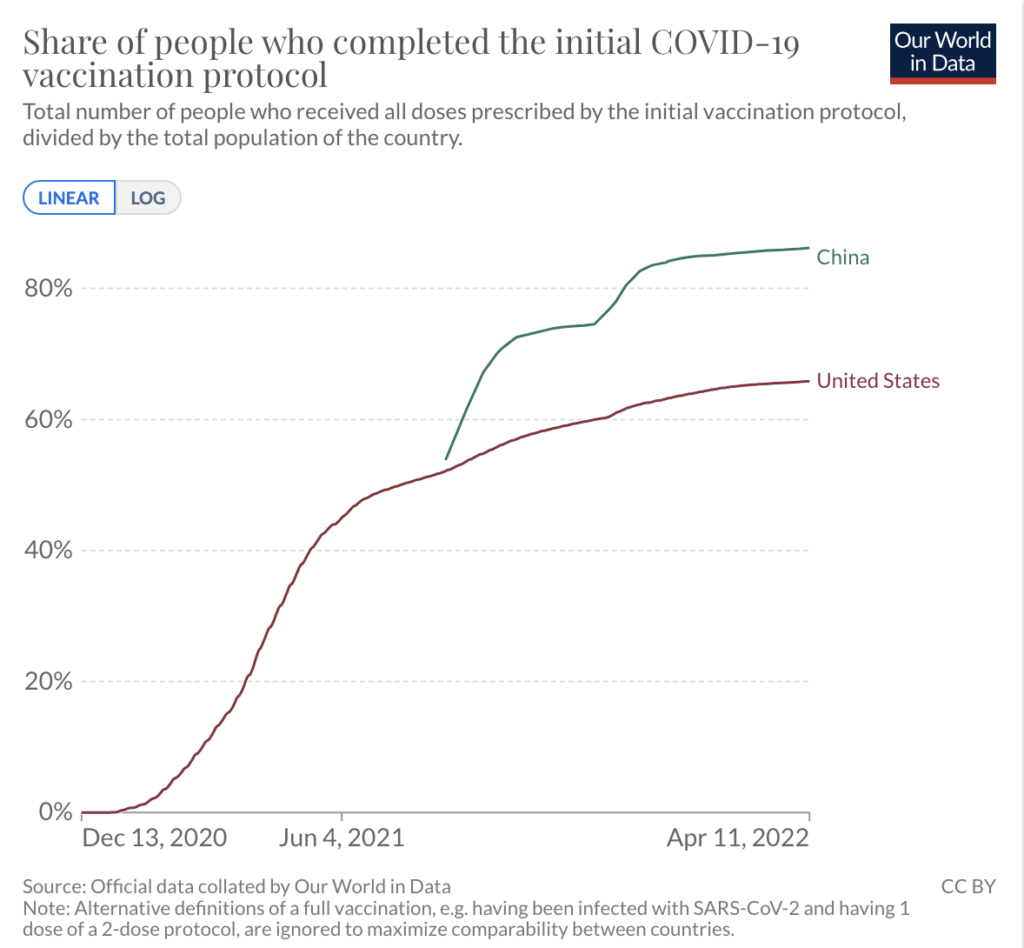 Some people are quick to point to the "less-effective" Chinese COVID vaccines. But this can't be it, considering the fact that "protection" from US-made COVID shots wane in just a few months [see COVID Vaccines Efficacy Wanes Thus Public is Encouraged to Get Booster Shots, Expert Says COVID Vaccines Not Strong Enough for Herd Immunity].
We think that the difference is purely political. While China continues to chase after the mythical Zero-COVID, Western countries like the US are forced to reopen or risk losing their strongholds. [3]https://www.foxnews.com/politics/democrats-scramble-reverse-course-covid-restrictions-midterms
This only confirms for us what we knew from the very beginning of this "pandemic". Politicians, in collusion with several health experts, have not been using evidence-based medicine. They have been manipulating us to agree to their illogical and unscientific policies [see Maajid Nawaz: COVID is a military-grade psychological operation launched by countries on their citizens. Also read African experience proves countries "mishandled" COVID].
Read Original Article
Read Online
Click the button below if you wish to read the article on the website where it was originally published.
Read Offline
Click the button below if you wish to read the article offline.