Despite COVID-19, Philippines registers 3% lower deaths in 2020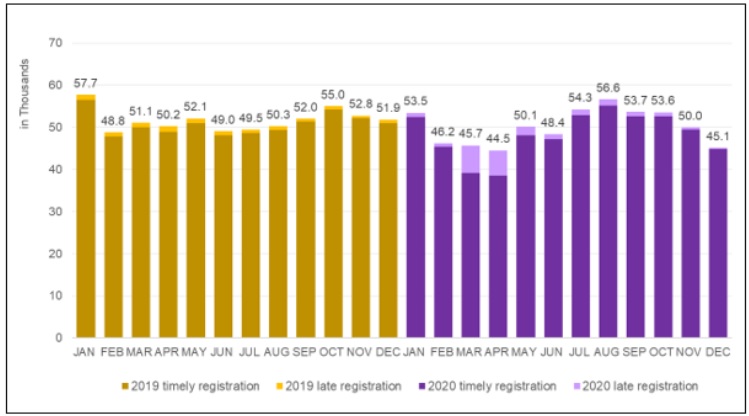 Ben de Vera in this March 8, 2021 article for the Philippine Daily Inquirer looked at the recently published data from the Philippine Statistics Authority (PSA) showing that the number of deaths in the country has decreased by 3% in 2020.
According to the report, registered deaths in 2020 was lower by 18,603 deaths compared to 2019. Only the months of July, August, and September 2020 posted higher deaths year-on-year, while the rest of the months recorded lower registrations compared to 2019. Death registrations in March and April were registered late due to the hard lockdown, but were corrected in December 2020. The registered deaths in these months (March and April 2020) were still relatively lower than the previous year.
According to Acting Socioeconomic Secretary Karl Kendrick Chua, the breakdown of statistics would show fewer deaths due to accidents, drowning, injuries, and communicable diseases.
Read the actual report from the PSA by visiting their website: https://psa.gov.ph/content/updated-philippine-death-statistics-preliminary-january-2019-december-2020
Editor's Note: How much impact did COVID-19 have in our country? Based on recent PSA data, virtually none [we have made a short analysis of this in the article Was There Really an Epidemic? and The truth about excess mortality].
The data of PSA gives the impression that the excess deaths from July to September 2020 were all due to COVID. But when we take a look at the July figures and we compare deaths from all causes in July 2020 and July 2019, for example, we only get 4,800 excess deaths. Meanwhile, recorded cumulative COVID deaths from January 2020 to July 31, 2020 had a total of 2,022. Speaking of July 2020 alone, 1,667 of the deaths for the month were registered as COVID deaths[1]Now remember that the number of COVID deaths are bloated due to errors in death reporting. In the Philippines, there is no distinction between deaths DUE TO COVID and deaths WITH COVID, see the … Continue reading, therefore the much larger number, 3,133 deaths in 2020 was due to other causes. From this we can say that the excess deaths of July 2020 cannot be due to COVID. Where did these other excess deaths come from? Could they be the result of the lockdowns itself? We wish that the government would release complete data on the causes of deaths. They have the data, but they are not releasing it. What are they afraid of?
Of the 601,811 deaths in 2020, 10,622 were registered as COVID-19 deaths.[2]As of today, March 10, 2021, COVID deaths have totalled 12,528, but 1,906 were recorded during January 2021 to present, see https://doh.gov.ph/2019-nCoV Despite this, COVID accounts for roughly 1.8% of the deaths in 2020. Let us now look at this in perspective.
Most of the COVID deaths were registered in mid-June to late August, after which, COVID deaths started declining as COVID cases also decreased. Now we will remember that on May 31, 2020, the enhanced community quarantine ended in Luzon and several localities started easing restrictions. Two weeks later, the "surge" in cases started, as was expected [see Dr. Knut Wittkowski: A second wave of coronavirus infections will come as a direct result of social distancing and self isolation]. The Philippines soon entered a very short rainy season, which according to experts typically coincides with the flu season.[3]https://www.philstar.com/lifestyle/health-and-family/2020/07/14/2027912/rainy-season-flu-season-doctors-warn-neglecting-flu-shots-may-lead-another-outbreak Now if we look at the graphs 1 and 2 below, we will see that even as the country loosened its lockdowns, deaths continued to fall [Nicanor wrote about this in August 2020, see Declining COVID-19 deaths: We need vigilance, not fear]. Why? What changed? There were no vaccines, nor remedies implemented in the country. The treatment protocol was generally the same, though for sure, our health care workers have also learned that some treatments had higher recovery than others. Was herd immunity the explanation? [See Herd immunity may be closer than we think and How can herd immunity stop the spread of the coronavirus?].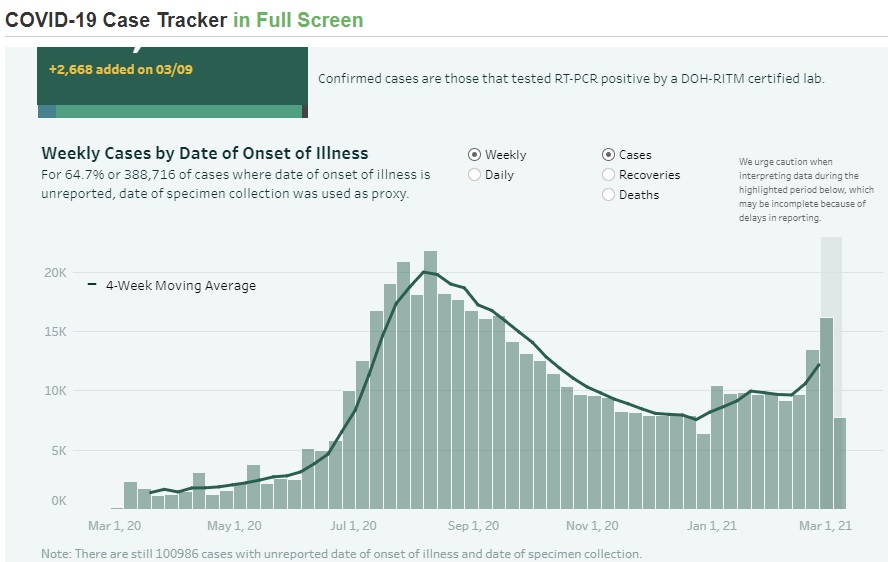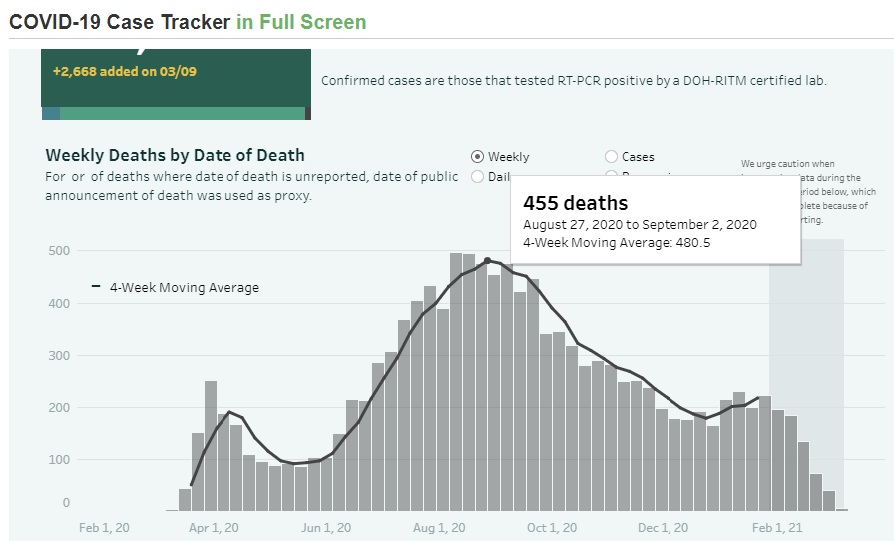 Looking at all these circumstances, can we really say that lockdowns truly saved lives? To truly appreciate the impact of lockdowns in the Philippines, we must look at its unintended consequences. how many died because they did not receive their required treatment? How many suffered from hunger and lost the capacity to provide for their basic needs? How many children have suffered abuses due to school closures? How long will it take for the Philippines to recover from its debts and economic loss?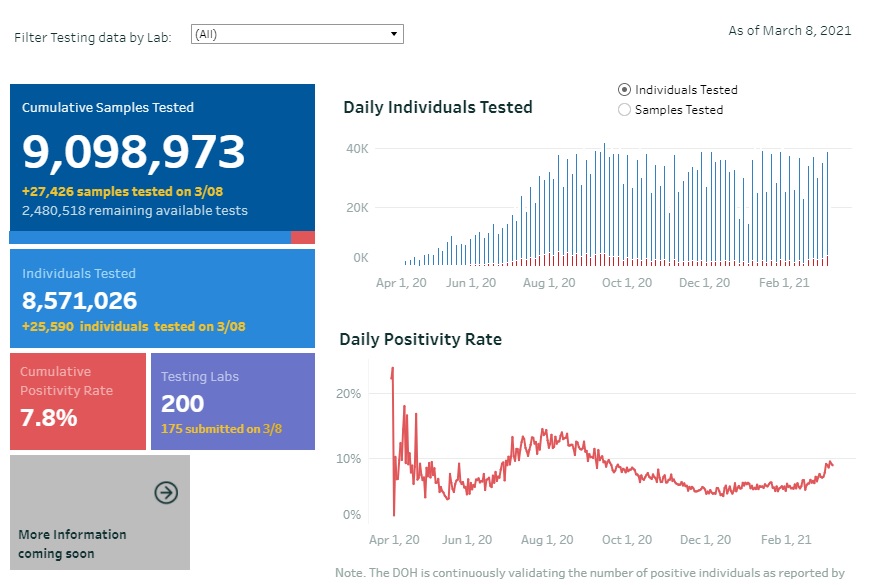 Today, 95.5% of COVID cases in the Philippines are either asymptomatic or are experiencing mild symptoms. Testing continues, but positivity rate does not offer a significant insight into the prevalence of COVID-19 in the country [see Faulty COVID-19 tests: Why prisoners love their jailers and never-ending lockdowns to understand this statement better]. As can be seen in the graph above, the number of SARS-CoV-2 positive individuals rises and falls with the rise and fall of testing. And since deaths are no longer enough to sustain the COVID panic, our own Department of Health (DOH) has changed its focus. Instead of easing the fear, the DOH has remained mum on the science of viruses, and has instead preoccupied itself in genomic testing and finding new variants despite the fact that new variants do not cause significant impact on health outcomes.[4]On January 13, 2021, the DOH confirmed that the UK variant was already in the Philippines, https://www.cnnphilippines.com/news/2021/1/13/new-UK-coronavirus-variant-detected-PH.html, and is doing … Continue reading
One year since the first lockdowns were implemented, and the numerous evidences that can be found by looking at global developments, our government has not learned. Meanwhile, Filipinos have become so complacent that we have just accepted the confusing, conflicting, illogical, and unscientific coronavirus restrictions.
Read Online
Click the button below if you wish to read the article on the website where it was originally published.
Read Offline
Click the button below if you wish to read the article offline.
Sources

↩

1
Now remember that the number of COVID deaths are bloated due to errors in death reporting. In the Philippines, there is no distinction between deaths DUE TO COVID and deaths WITH COVID, see the difference here Lessons we can learn from COVID-19 autopsies. Also, there have been allegations of fraud in COVID-29 claims, see

https://www.pna.gov.ph/articles/1132175

and

https://cebudailynews.inquirer.net/362842/philhealth-chong-hua-deny-accusations-of-fraud

.

↩

2
As of today, March 10, 2021, COVID deaths have totalled 12,528, but 1,906 were recorded during January 2021 to present, see

https://doh.gov.ph/2019-nCoV

↩

3

https://www.philstar.com/lifestyle/health-and-family/2020/07/14/2027912/rainy-season-flu-season-doctors-warn-neglecting-flu-shots-may-lead-another-outbreak

↩

4
On January 13, 2021, the DOH confirmed that the UK variant was already in the Philippines,

https://www.cnnphilippines.com/news/2021/1/13/new-UK-coronavirus-variant-detected-PH.html,

and is doing genomic testing in addition to PCR tests, despite more scientists saying that it is NOT more transmissible nor deadly than the original variant, see

https://www.telegraph.co.uk/news/2021/02/16/covid-variant-found-week-not-transmissible-deadly-says-phe/