Dutch Governing Party Advocates for Pedophilia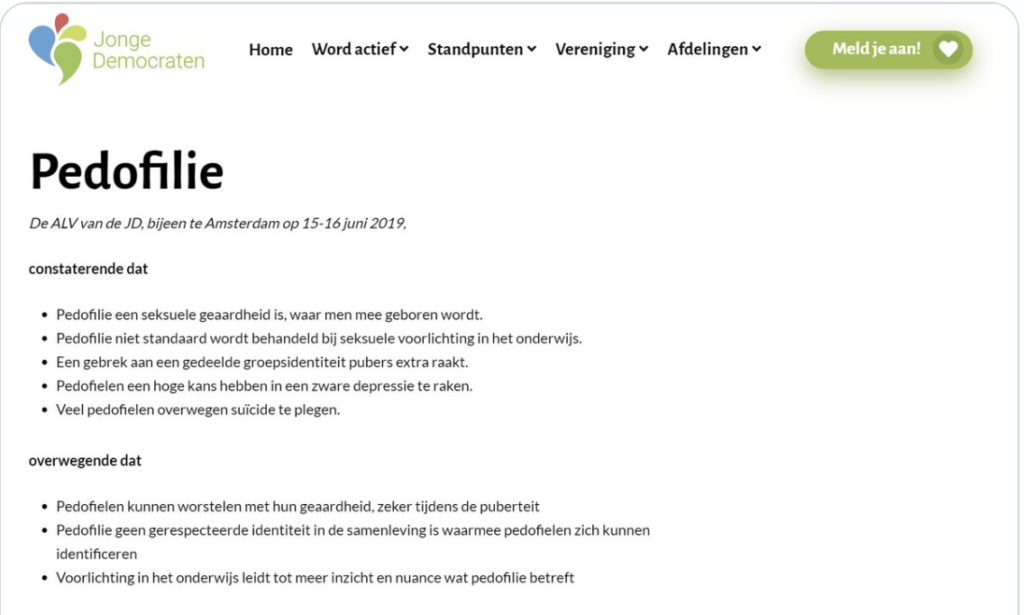 In this February 24, 2023 article for The European Conservative, Tamás Orbán reports on the largely unnoticed statement released by the Young Democrats, the youth wing of the Dutch Democratic Party (D66).
According to the statement, "Pedophilia is a sexual orientation that one is born with". They advocate for the normalization of pedophilia because the current stigma is leading pedophiles into a "higher chance of depression", with many considering "committing suicide".
Aside from advocating for the social acceptance of pedophilia, the statement also offers concrete policy recommendations such as teaching pedophilia as a sexual orientation in the regular sex education curriculum in schools, and research into the effect of "virtual child pornography" in reducing the risk of child abuse.
Editor's Note: Over the last two years, adults have sacrificed the health and development of children in order to protect themselves from a benign virus. Our COVID hysteria has pushed us into unreasonable adults. Instead of prioritizing our children's needs, we have bullied our children into sacrificing themselves to appease our illogical fears [read School Closures and Masking Kids are Irrational, Unscientific, and Child abuse].
But the COVID hysteria was just the beginning. It primed us into ignoring our children and pushed us into self-preservation. The Dutch example may be "unusual" for now, but if it is allowed to continue without resistance from parents, then it will spread around the world, much the same way that school closures and lockdowns have spread.
Are we again, going to become willing participants in this crime against our children?
Read Original Article
Read Online
Click the button below if you wish to read the article on the website where it was originally published.
Read Offline
Click the button below if you wish to read the article offline.