SIGNIFICANT VICTORY FOR FREEDOM FIGHTERS. SENATE FAILS TO PASS SB1869. BUT BATTLE NOT OVER.
PREPARE TO MOBILIZE WITH EVEN GREATER FORCE AND COMMITMENT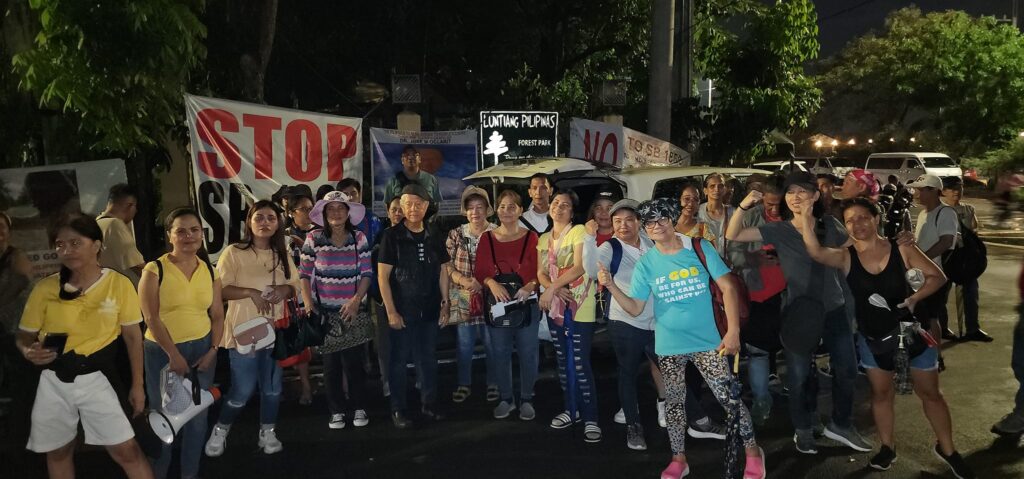 CCH Report on Day-3 of the Senate Protests
Despite mainstream media claims, the Senate failed in its aims to formalize SB 1869 into law. In our second CCH report yesterday (click here), we quoted Senator Chiz Escudero saying that the Senate "aims to approve (SB1869) this week". (Click here to view the video of the SB 1869 segment of the interview at 7:30 to 8:41 minutes.)
Because of the massive disinformation going on, CCH had to verify whether or not the Senate failed in its aim to enact into law SB1869. We viewed, several times, the YouTube upload of the Senate Plenary Hearings for May 10, 2023. There, for all to see and despite rumors to the contrary, the Senate failed to act on SB 1869. 
Before the Senate adjourned the session, it announced that the next plenary hearings will be on Monday, May 15, 2023, at 3PM.  We need to remember that SB 1869 has been passed from the committees to the plenary. So we need to monitor the schedule of the Senate Plenary on SB 1869. (See here for link to the YouTube documentary of the Senate Plenary Session.)
We also double checked our conclusion by looking at the legislative history of SB 1869. Sure, enough, there was little movement on the bill except a May 8, 2023 certification that President Bongbong Marcos (PBBM) wants SB 1869 for "IMMEDIATE enactment".  (See here and click legislative history button.)   
The heavy afternoon rain must have dissuaded other concerned citizens from joining the rally. Undeterred, we started with a small number of protestors. Eventually we numbered around 50 REAL Freedom Warriors who braved the rain and showers to fight for our health, freedoms, democracy and the safety of our children. See the uploaded video documentary of our Day-3 protests here.
To understand how we know that sex maniacs and pedophiles are running both the WHO and the UN, click here to read CCH's 2nd Briefing Paper for Senators. These psychopaths are hell-bent of turning our children into sex addicts who will joyfully accept the deadly and often fatal forcible actions of pedophiles.
The WHO spreads its decadent and bizarre sex education imperative around the world while the UN seeks to de-criminalize pedophilia and make it legal. That, dear friends, is the unhinged perverted WHO that SB 1869 wants the Philippines to surrender its sovereignty to.
Yesterday's Filipino freedom warriors were so effective that two Senate vehicles, with License Plates 3 and 7, avoided the phalanx of protest signs that awaited them. They illegally rushed into the opposite lane of the on-going traffic. We have posted a separate report on this here, where we draw out the implications of this illegal and abusive behavior. This report has an embedded video proof of the callous behavior of these Senate vehicles. 
We had a significant victory yesterday. But the struggle is definitely not over. The Senate is under pressure from the sponsors of SB 1869 and PBBM to enact the bill into law. We therefore expect some unusual maneuvers to take place next week.
We, therefore, once more, repeat our Call to Urgent Action as conveyed in our Day-2 Report of the Senate Protests. (See here.) In addition, we want to add this.
NOW MORE THAN EVER, WE CALL ON ALL WHO LOVE THE PHILIPPINES TO DEFEND OUR FREEDOMS AND RIGHTS. WE NEED TO SAVE OUR DEMOCRACY FROM DESTRUCTION. 
PREPARE TO BE PRESENT AT THE SENATE NEXT WEEK, FROM MONDAY TO WEDNESDAY, MAY 15-17, 2023 TO CONTINUE OUR PROTEST AGAINST SB 1869.
IT IS TIME FOR THOSE, WHOSE LIFE SITUATION ALLOWS THEM, TO BE PERSONALLY PRESENT AT THE SENATE.
INTERNET ACIVISM IS IMPORTANT INCLUDING FLOODING THE INBOXES OF SENATORS AND ALL THEIR FB ACCOUNTS.
BUT WE NEED TO STEP UP OUR ACTIVISM TO THE NEXT LEVEL NO MATTER HOW INCONVENIENT THIS MAY BE FOR OUR LIFE.
IT IS TIME TO SHOW THE SENATE OUR PHYSICAL PRESENCE AND OUR WILL TO RESIST MEDICAL DICTATORSHIP AND THE IMPENDING DEATH OF DEMOCRACY AND OUR FREEDOMS. NOTHING ELSE WILL DO!
WAIT FOR FURTHER FOLLOW UP ANNOUNCEMENTS REGARDING OUR MAY15-17 PROTEST. SEE YOU THERE!