CCH EXCLUSIVE: SENATE VEHICLES RUSH THROUGH THE OPPOSITE LANE TO AVOID PROTESTORS. VIOLATE THEIR OWN TRAFFIC RULES.  REVEAL THEIR TOTALITARIAN TENDENCIES.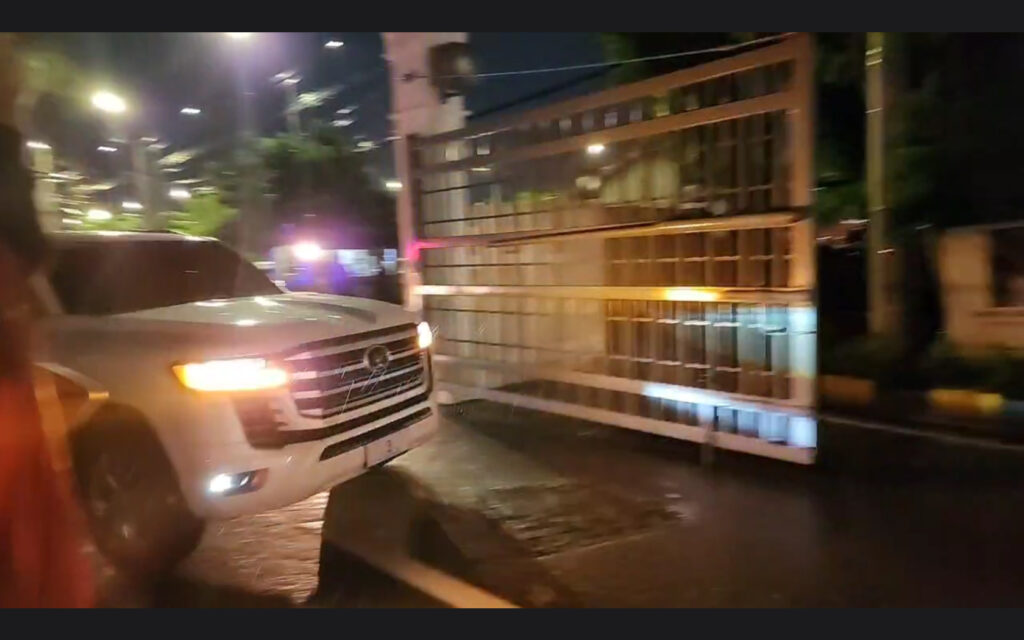 In a surprise maneuver, two Senate Vehicles, with Plate Numbers 3 and 7, accompanied by motorcycle police, sneaked away from protestors and drived through the opposite lane. Another set of police stopped the traffic from entering vehicles to avoid the vehicles from crashing with each other.
Plate #3 and #7 mean President of the Senate Miguel Zubiri and Sen. Loren Legarda who is the Senate President Pro Tempore. It is not clear if both government officials were inside the vehicle.
We have observed the Senate police instructing drivers of incoming and outgoing vehicles to observe the white arrow signs on the road. This traffice rule would ensure orderly entry and exit, in and out of the Senate premises.
The violation of this procedure may seem minor. But it reveals a lot.
First, it says that the Senate creates rules to be followed by mere mortals and another set of unspoken rules that clearly violate their own public rules.
Second, this sends the message that some members of the Senate do not have the inner discipline to follow their own rules. This psychological defect writ large expresses itself in creating laws [like the proposed SB1869] that run totally contrary to existing norms and laws of Philippine society, including our Constitution.
You wonder why our country is in a mess. There is one law for the mere mortal. There is another law for the overlords. See the video proof here. 
Be that as it may, there are many decent Filipinos who will not bow down to these totalitarian leaders. Those lusting for power will be shocked when they become the de facto totalitarian slaves of the very powers they wished to serve.
They will be in a rude awakening when they accomplish their treasonous act of turning over our freedoms and democracy to the WHO, UN, WEF and the larger institutional ecosystem of maniacs of the world. These global mafia want to impose genocide on the planet and turn survivors of this planned holocaust to eternal slaves controlled digitally by increasingly powerful artificial intelligence systems.  THIS CAN ONLY BE A STRUGGLE BETWEEN GOOD AND EVIL. IT WILL ALSO BE A STRUGGLE BETWEEN THE AWAKENED AND THE PERPETUATORS OF EVIL.
Know which side your on !!!