Caravan for Health, Truth, and Freedom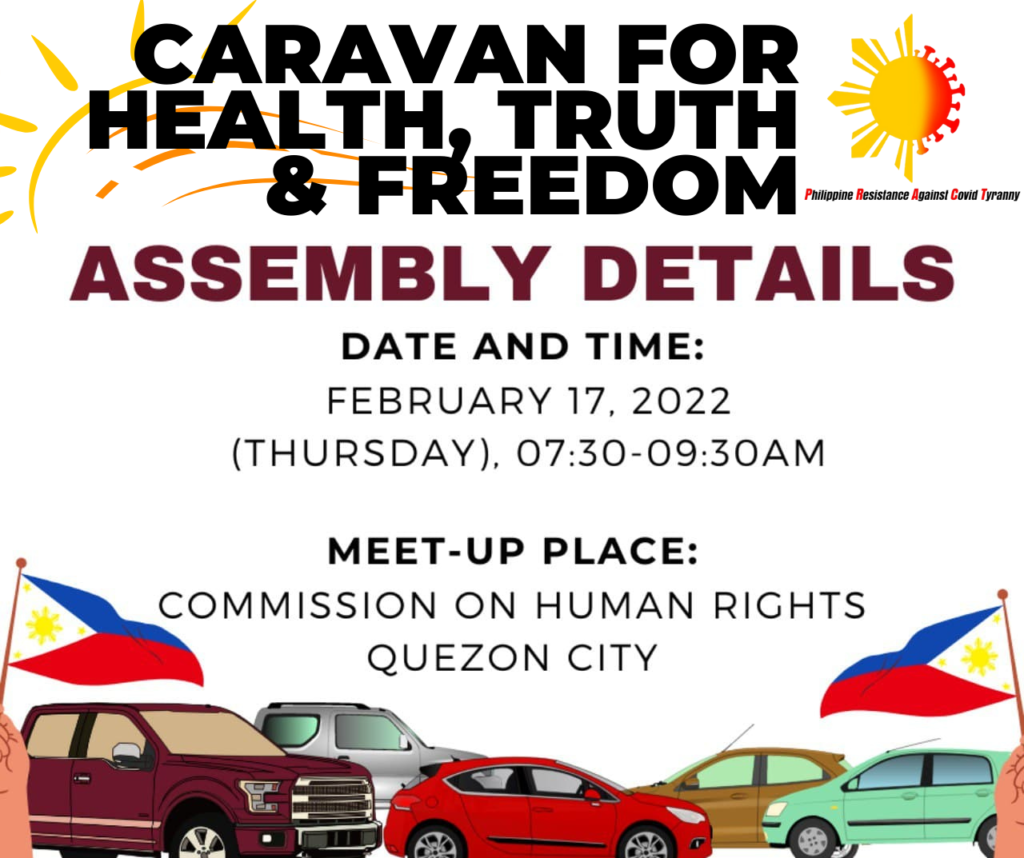 FOR IMMEDIATE RELEASE
February 16, 2022
For more info, contact:
Haresh Tanodra
Contact # 09051607788
Philippine Resistance Against Covid Tyranny (PRACT)[1]https://covidcalltohumanity.org/2021/11/16/manifesto-and-principles-of-unity-of-the-philippine-resistance-against-covid-tyranny-2/ will hold its first Caravan for Health, Truth, and Freedom in protest of all covid-19 vaccinations, especially for teenagers and children, on February 17, 2022. PRACT will convene in the Commission on Human Rights (CHR), depart at 10 am, and have three notable locations to hold a rally.
The Caravan for Health, Truth, and Freedom is united with our fellow brothers and sisters nationwide and worldwide, equally fighting for a similar cause.
The aims of this activity are the following:
1) To hopefully save lives (by educating people about the dangers posed by the COVID jabs and the violation of constitutional rights of the citizenry);
2) To inspire courage and hope in the hearts of people paralyzed by fear and confusion;
3) To make the government and all responsible officials feel that the people are disgruntled and indignant with the abuses and [medical] coercions – and we are fed up with their lies, [constitutional] violations, and tyrannical mandates.