DILG Wants Village Chiefs to Submit List of Unvaccinated Residents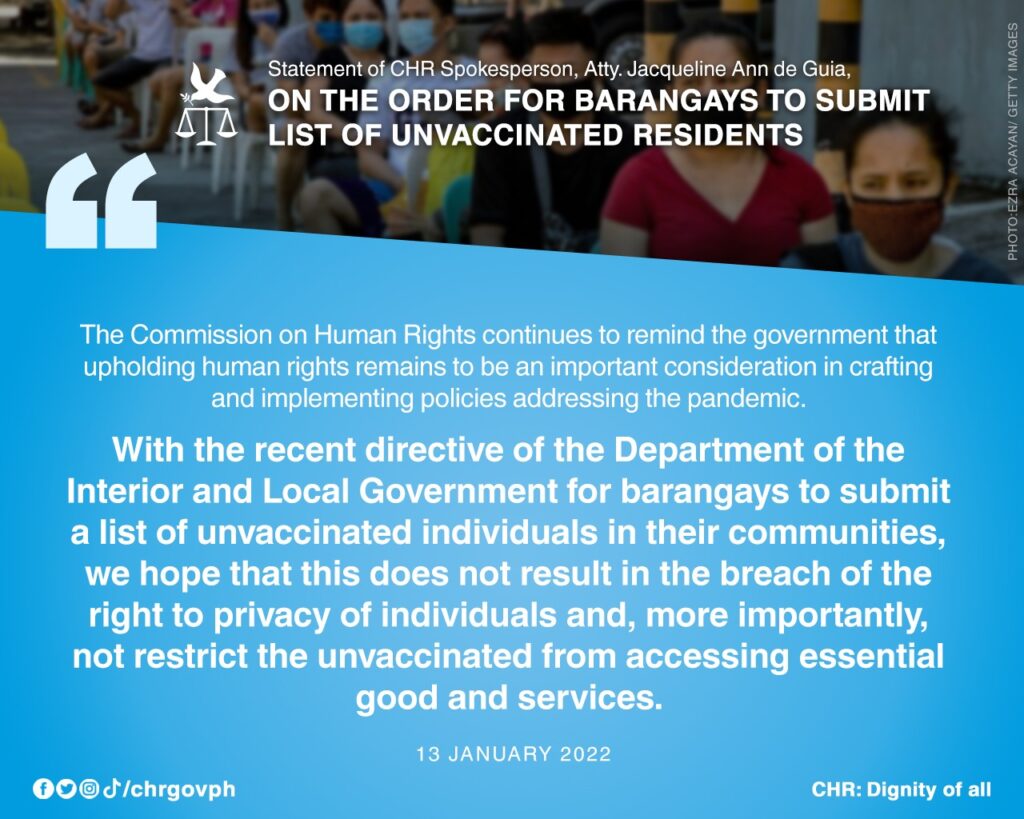 In this January 12, 2022 article from The Philippine Daily Inquirer, Daphne Galvez reports the latest order of the Department of the Interior and Local Government (DILG) for barangay leaders to identify and submit a list of residents who are still unvaccinated against COVID-19.
According to DILG Undersecretary Jonathan Malaya, this is to ensure that the government has accurate data of unvaccinated people.
Editor's Note: This move is once again, proof that the government does not have the right database to monitor who is vaccinated and who is not. How then can we expect the government to monitor the adverse effects of drugs if they do not have this simple listing of recipients of the experimental vaccines when they have been inoculating Filipinos for nine months.
The second point we want to stress is this: If a barangay official comes knocking on your door asking about your vaccination status, you have the right to refuse to answer their question. Remember when your doctors were prohibited from divulging medical information unless otherwise ordered by the court? The reason for this is simple: It doesn't matter whether you are vaccinated or not, only you or your doctor, not the government who has the business to know your medical information!
Note that it is not illegal to refuse to answer the question: Are you vaccinated? In the same way that it is not illegal not to take the vaccine. What is illegal is that the government is trying to intrude in our personal affairs in the guise of a medical crisis! [We recommend you also read this statement from the Commission on Human Rights].
Please Filipinos, wake up. The rest of the world is already edging out of the "pandemic" as citizens have been regularly protesting against the coercive policies being implemented by their governments. Do we really think that the Philippine government still intends to let go of its hold on our lives?
Read Original Article
Read Online
Click the button below if you wish to read the article on the website where it was originally published.
Read Offline
Click the button below if you wish to read the article offline.