Israel Health Minister Admits Green Passport Has No Medical Purpose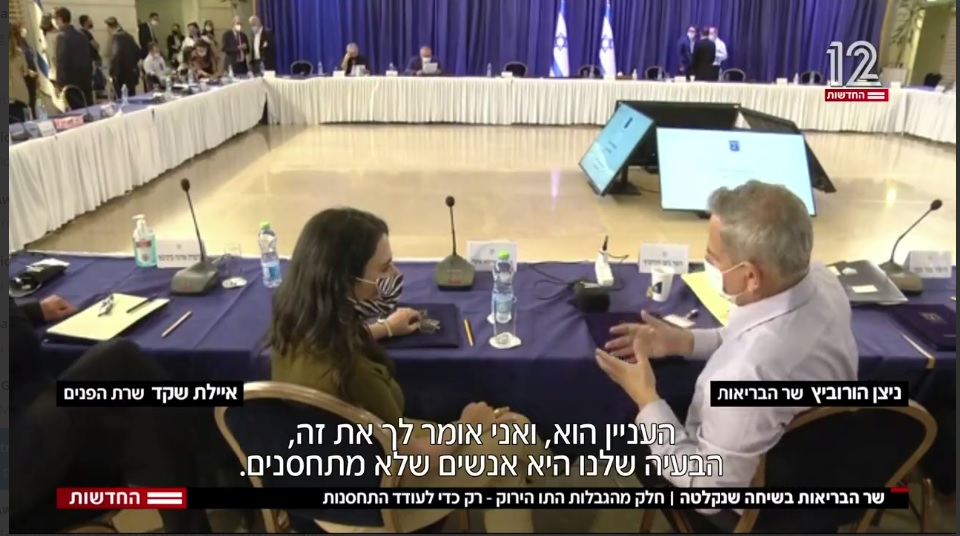 In this September 13, 2021 article published in America's Frontline Doctors, Mordechai Sones posted a video recording of the Israel Health Minister caught on live mic admitting that the Green Passport has no medical justification.
In the recording initially released by Israel's Channel 12 News, Israel Health Minister Nitzan Horowitz was caught in a private conversation with Interior Minister Ayelet Shaked discussing Green Passport restrictions. Both ministers were not aware that the microphones picked up everything they said. Channel 12 reported: "The Health Minister explained to the Interior Minister that the Green Pass is needed in some places only to pressure the unvaccinated to vaccinate, and not because of medical reasons."
The Health Minister continued in the recording: "The thing is… I'm telling you, our problem is people who don't get vaccinated. We need to influence them a bit, otherwise, we won't get out of this [pandemic situation]."
Editor's Note: This video speaks volumes and a relentless truth that some dishonorable and undignified individuals are in authority. We are indeed amid a scamdemic, and citizens are but mere objects to experiments fueled by power and gain. No wonder covid policies are confusing, and goalposts for post-pandemic recovery keep on moving. [We know of one country whose policies on COVID have remained consistent and coherent. Now they are reaping the results of their strategy, see Mask-free, lockdown-free Sweden is close to ZERO daily COVID deaths].
The goal was never to ease out of the pandemic environment, but to keep populations in control [see Vaccine passports prolong lockdowns; Laura Dodsworth: Vaccine passports will not contain a virus, they will contain people].
This fact is further supported by another leaked video[1]https://bestnewshere.com/holocaust-in-israel-leaked-call-with-pfizer-scientist-admits-israelis-are-lab-rats-for-covid-shots/ concerning Israel, where a Pfizer scientist admitted that Israelis are Pfizer's lab rats. If this is happening in a highly intelligent country like Israel, how much more in developing countries?
Where is Israel heading from here? [See Israel's vaccine pass will expire 6 months after second dose, people will need booster shots to enter non-essential businesses.] The same question goes for all of us, where are we heading when we allow these orchestrators to usurp our rights to live freely and happily?
Read Original Article
Read Online
Click the button below if you wish to read the article on the website where it was originally published.
Read Offline
Click the button below if you wish to read the article offline.