New York Supreme Court rules: Project Veritas against New York Times will continue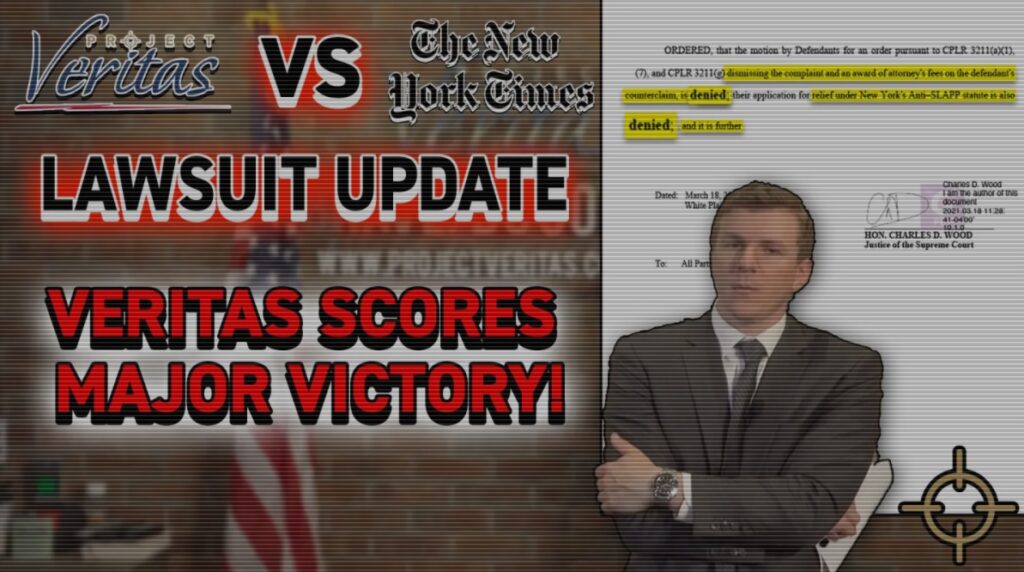 In this 18-minute video published on April 5, 2021, Project Veritas founder James O'Keefe breaks down the importance of his organization's win against New York Times.
In a ruling from the New York Supreme Court, Justice Charles D. Wood found that there is a "substantial basis in law" for the lawsuit to the suit to proceed. Wood adds, "taking into account the 'total context and tone of the stories' that the actions of The New York Times could cause 'harm' to Veritas' 'reputation as a media source – because the reader may read the news Articles, expecting facts, not opinion, and conclude that Veritas is a partisan zealot group'".
According to O'Keefe, this win will be a game-changer as it will allow the Veritas' team to question New York Times reporters under oath.
In July 2020, Project Veritas released a series of videos showing ballot-harvesting in a Minneapolis.[1]https://nypost.com/2020/09/27/project-veritas-uncovers-ballot-harvesting-fraud-in-minnesota/ O'Keefe filed a defamation case against New York Times after the news organization published a piece against Project Veritas entitled "'Project Veritas Video Was A Coordinated Disinformation Campaign', Researchers Say", written by Maggie Astor. Veritas alleges that the article was part of a disinformation campaign by US conservatives.[2]https://www.nytimes.com/2020/09/29/us/politics/project-veritas-ilhan-omar.html
Editor's Note: This lawsuit has important implications as it will uncover the corrupt practices in mainstream media, and "raise the bar" of journalism and truth telling. For many decades now, mainstream media has acted with impunity, and with little regard for the ethics of journalism. They have weaponized their institution, to the detriment of "little people" who are unable to push back.
Read Online
Click the button below if you wish to read the article on the website where it was originally published.