Ivermectin not illegal, PNP and Malacañang agree to stop going after legit ivermectin sellers
In this April 14, 2021 article for The Philippine Daily Inquirer, Gabriel Pabico Lalu reports on the latest developments about ivermectin in the Philippines.
The author says that House Deputy Speaker Bernadette Herrera-Dy has been able to meet with Executive Secretary Salvador Medialdea, Presidential Management Staff (PMS) chief Ferdinand Cui Jr., PNP chief General Debold Sinas, and Food and Drug Administration (FDA) Director-General Eric Domingo to explain that there should be no arrest on individuals who wish to purchase ivermectin from authorized sellers, "because it is not an illegal drug in the first place".
Dy adds, "Secretary Cui agreed and promised that, in the coming days, they will amend the memorandum. We stressed that there is a human-grade ivermectin medication and we should make it available and accessible to the public".
Editor's Note: This article should make it clear: Ivermectin, both human-grade and veterinary grade, is not an illegal drug. What is illegal is the peddling of veterinary-grade ivermectin for human use. It is also illegal for non-authorized sellers to sell any forms of ivermectin.
In addition, a new memo from FDA Deputy Director General Dr. Oscar Gutierrez, Jr. clearly states that it is not illegal for doctors to prescribe ivermectin, but requires patient consent (which, in essence, requires doctors to explain to patients why they think the drug works, a condition that should be required with all drugs, including remdesevir and tociluzimab).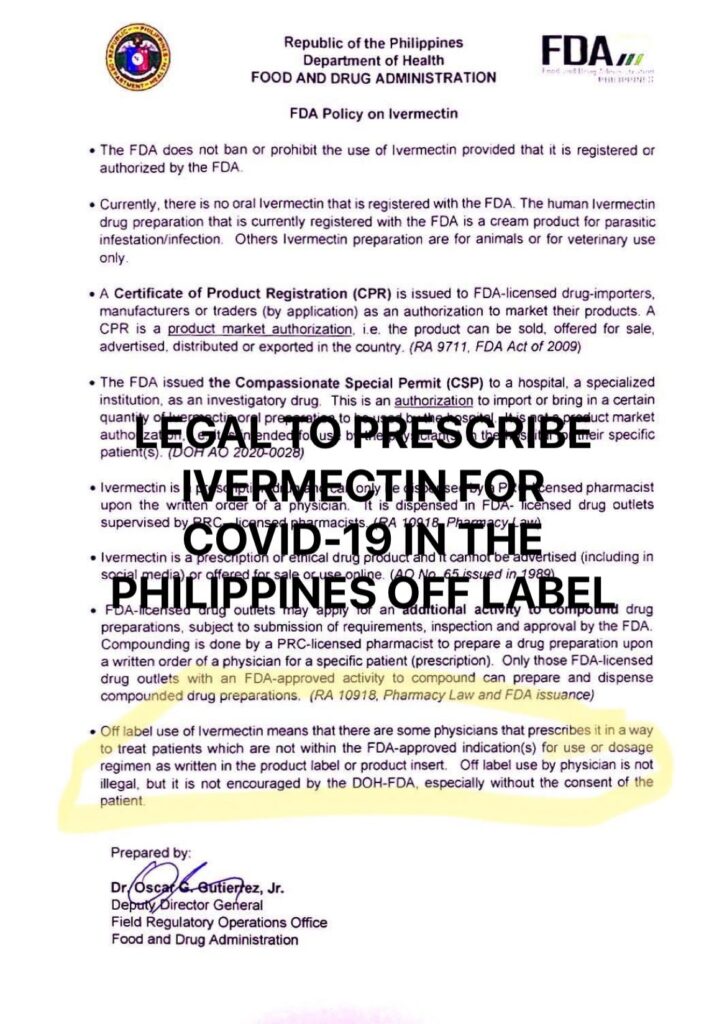 Though this move from the PNP and Malacañang is a welcome change from the weeks of non-response to the massive smear campaign against Ivermectin, it is not enough. The Palace should use its emergency powers to commandeer compounding labs to produce Ivermectin in massive scale so that those patients who would like to access the human-grade version can do it safely. By doing this, the government can assure that all products being sold in the market for human comsumption have passed the quality standards, and unscrupulous people selling the wrong kind will not have financial incentives to continue their activities.
Read Online
Click the button below if you wish to read the article on the website where it was originally published.
Read Offline
Click the button below if you wish to read the article offline.