The global economic impact of lockdowns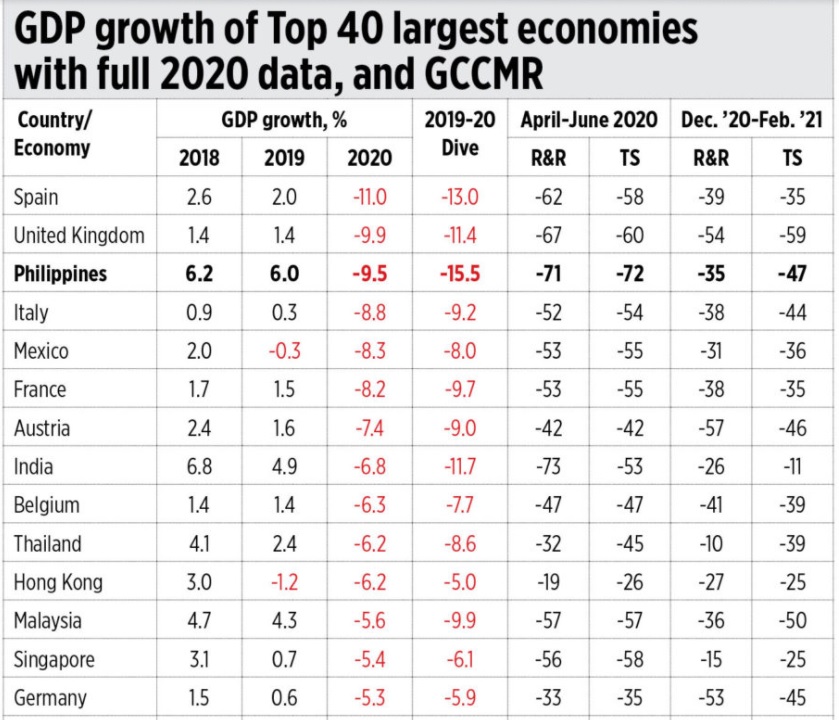 In this March 1, 2021 article for Business World Online, author Bienvenido Oplas Jr. looks at the economic impact of lockdowns in countries around the world. For the Philippines, Oplas says that two important results have emerged. First is that when it comes to the 2020 GDP performance, the Philippines was the third worst performing country in the world, and the worst performing country among major Asian economies. The second finding is that the Philippines had the worst economic dive from 2019-2020, recording -15.5 percentage points.
Oplas also offers a brief discussion of the GDP growth of the top 40 largest economies in the world. He also offers some recommendations on how to safely reopen the economy through the use of preventive prophylaxis and early treatment protocols, a position that has been initiated by the Concerned Doctors and Citizens in the Philippines (CDC PH).
Editor's Note: The Philippines' current economic data is worrying as it shows us a worsening condition for the already marginalized sectors in the country. Keeping our economy closed is impossible, we simply cannot afford to make people suffer longer. This article shows us that we do not have to choose between health and economy because there are solutions that considers both, if only leaders in the country are willing to listen.
Read Online
Click the button below if you wish to read the article on the website where it was originally published.
Read Offline
Click the button below if you wish to read the article offline.