Canadian Prime Minister flees as 50,000 truckers arrive at Ottawa for Freedom Convoy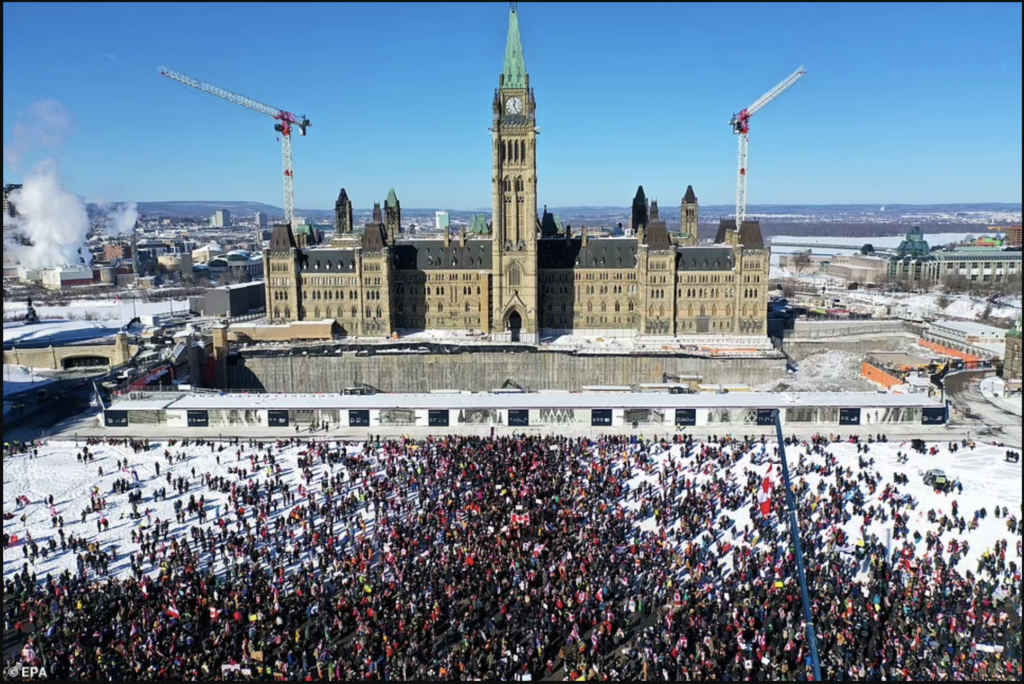 Canadian Prime Minister Justin Trudeau and his family have left their home in Ottawa as 50,000 truckers arrive to protest against the country's vaccine mandate and other COVID restrictions.
According to the report, Trudeau and his family are in a secret location, just a few days after calling the truckers "a small fringe minority" with "unacceptable views".
The Freedom Convoy included not only the truckers but also thousands of other protesters who are "angered not only by Covid-19 restrictions but by broader discontent with the government".
The protest originated last week in western Canada, where dozens of truckers organized a convoy to drive from Vancouver to Ottawa to demonstrate against Covid-related restrictions, particularly a vaccination requirement for truck drivers. It has been largely ignored by mainstream media until just this weekend when videos of the very long line of trucks and huge crowds came to support the Freedom Convoy.
The report on the Freedom Convoy has been written by Gina Martinez and published by The Daily Mail last January 30, 2022.
Editor's Note: Mainstream media has been ignoring the almost weekly protests against vaccine mandates, but this is one protest they can no longer ignore. The Freedom Convoy has now empowered truckers from other countries to organize.[1]https://www.newswars.com/more-freedom-convoys-launch-in-europe-australia-to-shut-down-covid-tyranny/
Despite the heavy coverage currently being received by the Freedom Convoy these days, we must not forget the challenges they had to go through, and how, they were able to overcome by standing their ground. Here are a few of those challenges:
On January 22, 2022 CBC News published reports saying that the convoy was organized "in hopes of bringing awareness to the icy and dangerous road conditions truckers say they'd had to deal with this winter season".[2]

https://www.cbc.ca/amp/1.6324447

After receiving flak on social media for wrong reporting, the CBS News editors were forced to clarify that there are "two separate convoys in protest of separate issues".
On January 26, 2022, GoFundMe has prevented organizers of the Freedom Convoy to access the $4.5 million they raised, with representatives of the company saying, "We require that fundraisers be transparent about the flow of funds and have a clear plan for how those funds will be spent." According to the Daily Wire, the fundraiser page clearly outlines its purpose, which was to help fund some of the fuel costs, food, and perhaps lodging for the truckers. Following the GoFundMe's suspension, several citizens have started preparing supplies and food they can offer to the truckers.[3]

https://mobile.twitter.com/TrueNorthCentre/status/1487455369567821824

On January 28, 2022, Trudeau came to a press conference to address the issues related to Canada's COVID strategy. He addressed the Freedom Convoy, which at the time, was still travelling from British Columbia to Ottawa. He said, "The small fringe minority of people who are on their way to Ottawa who are holding unacceptable views that they are expressing do not represent the views of Canadians who have been there for each other, who know that following the science and stepping up to protect each other is the best way to continue to ensure our freedoms, our rights, our values, as a country".[4]

https://www.yahoo.com/lifestyle/trudeau-blasts-fringe-minority-behind-010232650.html

Following this statement, thousands of Canadians took to Twitter to throw their support for the Freedom Convoy through the hashtags #TruckersforFreedom2022 #FreedomConvoy2022 and #TruckersForFreedom.[5]

https://www.dailywire.com/news/canadians-furious-after-trudeaus-fringe-minority-comment-as-thousands-of-truckers-head-to-capital

In the same day that his interview trended, Truduea said that he had to quarantine due to exposure to a covid-positive individual. This, despite receiving a negative RT-PCR result. Now, it has become apparent that Trudeau is afraid of the Freedom Convoy and has decided to flee their home.
The Freedom Convoy represents for us how powerful we are as citizens. Trudeau thought that by undermining the convoy, other citizens who believed him, would stand down and go back to the holes where they came from. What he didn't realize was the huge discontent that was already proliferating within Canada. The truckers standing up for their rights have in fact allowed people who shared their beliefs to speak out. The Convoy has also led more people to start questioning government policies, with many awakening to the many inconsistencies in the governments' narrative.
Indeed, this is the very reason we continue with this work (despite being ignored and discriminated against in 2020, when this "scamdemic" was still in its beginning stages). We knew that there were people like us, who were only waiting for the right time to stand up and speak out. Like the truckers who vowed not to leave Ottawa until the vaccine mandates and COVID restrictions were lifted for everyone, we too, have promised to continue on this fight until the COVID tyranny is ended in our country.
Now the battle between the Canadian government and the Freedom Convoy has commenced. The government will try to hold on to their false beliefs, hoping that the truckers will burn out first. This is now a test of wills. Who will surrender first: the tyrannical government, or the freedom fighters? Will the desire for truth and freedom prevail? Will freedom be restored? We sure hope so.
Read Original Article
Read Online
Click the button below if you wish to read the article on the website where it was originally published.
Read Offline
Click the button below if you wish to read the article offline.