At this time, the number of infections, while important, is not the overriding indicator to base policy decisions on. There are significant uncertainties surrounding the accuracy of testing and the establishment of infection numbers. These issues lead to problematic media reporting, misguided policy decisions, and a confused, fearful public.
IATF, DOH, UP, media and others are forgetting an important law in epidemiology, the science of epidemics: Farr's Law. It states: 'The death rate is a fact; anything beyond this is an inference'.1 The real crucial indicator to watch is the death rate or Case Fatality Rate (CFR), not infection numbers that are inferences from faulty tests.
Since 15 May 2020, with very minor variations due to erratic reporting, our death rate has been declining for over two months.2 We should be hopeful, not fearful.
Figure 1. Case Fatality Rate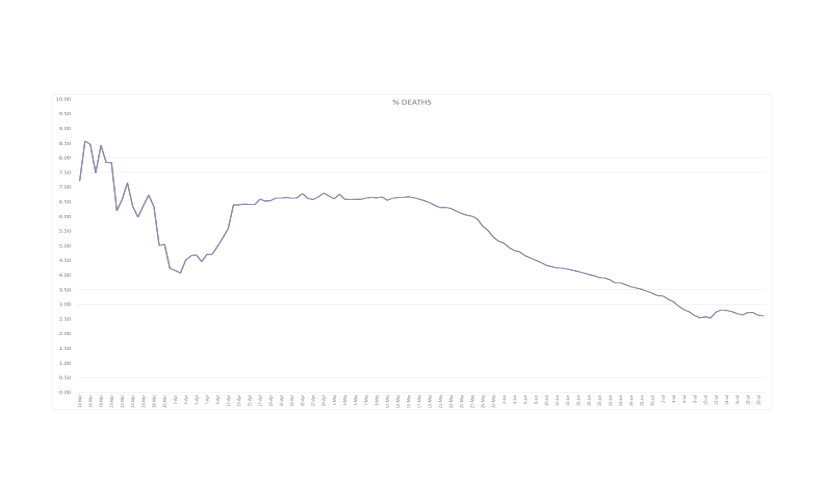 The seeming rise of the death rate near the end of the chart is due to late reporting of deaths that took place weeks and even months before. Here are some examples.3
On July 13, 2020, 65 deaths were reported. But only 9 deaths occurred in July. Two deaths happened in May and 54 deaths in June. On July 17, of the 17 deaths reported, only 9 deaths occurred in July. Six (6) deaths happened in June, one (1) in May, and one (1) in April. Similarly, on July 19, 2020, of 58 new deaths reported, only 25 were from July and 33 deaths were from June.
Vast Majority of New Infections Not Serious; Many Recoveries
On July 18, 2020 the Department of Health (DOH) reported 2,357 new cases placing the nationwide total of cases to 65,304. However 90% of these active cases had "mild symptoms" and 9% had no symptoms. In short, 99% of new cases were really nothing to get overly excited about.
This reinforces an earlier report by DOH when the new active cases reported were 39,593. Of this number, those with mild symptoms constituted 90.3% of the cases and 8.8% had no symptoms. Around 0.4 percent were severe cases and another 0.4 percent were in critical condition. In short, again 99% of the new cases were not serious at all.
Furthermore, by July 20, the DOH reported that 23,072 patients have recovered and only four (4) additional deaths occurred. And, on July 21, the DOH reported 1,951 new cases, bringing the total cases to 70,764. Yet only two deaths occurred and recoveries were up by another 209, bringing total recoveries to 23,281.
In short, the vast majority or 99% of new infections are not serious. Also, most of these cases eventually recover, constituting 32.89% (23,281) of the total cases of 70,764.
We should be deducting these recoveries as well as the deaths that have occurred from total cases. In future reports, DOH and media should also be reporting on NET total active cases and CFR. This will give a more realistic picture of the crisis.
While more accurate reporting can calm the fears of the public somewhat, it is not enough. Our analysis is not yet complete. There is a proverbial white elephant sitting in the room: defective testing which is giving us all these inflated numbers.
Low CFR and many recoveries point to a structural defect in the testing method.
The low death rates are emphasizing that the daily ritual count of infections is a case of misplaced concreteness. Whether through ignorance and hard-headedness, focusing solely on numbers of infections without a balancing context, is a masochistic way to scare the nation endlessly.
Existing tests are notoriously defective. This is the reason for so many false positives. Asymptomatic individuals are another indication of this. This is worsened by the reality that a) doctors and scientists have no consensus on what constitutes the symptoms of the COVID-19 disease and, b) scientists, until now, have not isolated the causative virus. And worst of all, Nobel Prize winner Kary Mullis, the inventor of the PCR, the core basis of the RT-PCR tests used all over, warned repeatedly that his invention should not be used for diagnosis of viral diseases. It is prone to large mistakes.4
In addition, positive test results do not automatically mean that someone is truly infected with the virus. Yet, once someone is test-positive, almost everyone believes that the test-positive individual is infected, and then subjected to all kinds of quarantine procedures. Test-positive does not mean infected. The declining CFR reflects this.
Figure 2. Test Rates and Positive Rates5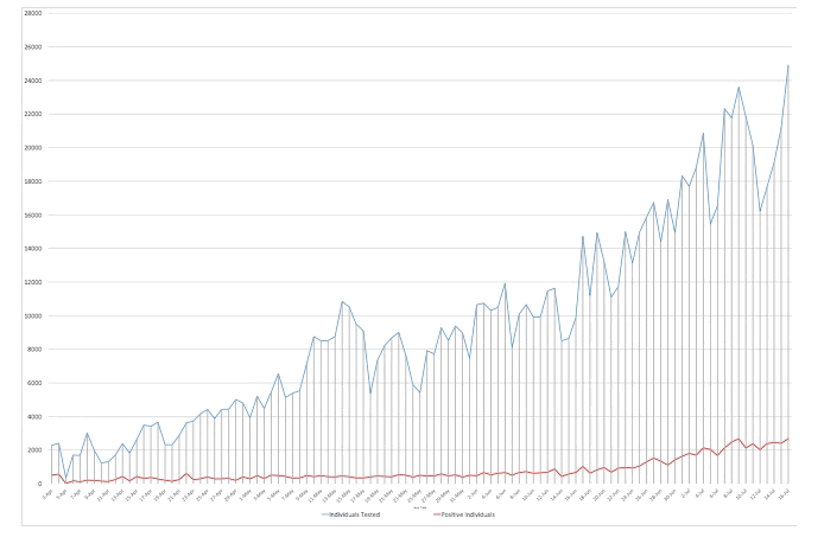 Figure 2 points to the scientific uncertainty of the tests. The increasing infection numbers may be due more to the increasing numbers of defective tests. Starting from 02 June to 16 July 2020, when the government started testing anywhere from 10.000 to around 25,000 tests per day, the percent of test-positive individuals per batch of total tests for the day varies within a specific narrow range of 4 to 14%.
Assuming, for the moment, the government data is accurate, you will note the very interesting association between the increase in tests and the increase in test-positive individuals. When the number of tests increases or decreases per day, the number of test-positive individuals also increases or decreases per day, respectively. This is true for an overwhelming number of days.
The ratio between test-positive individuals and the number of tests should vary more widely and erratically, reflecting the variability and randomness in the characteristics of the general population. For example, young people are mostly not affected by the disease. Yet they are testing positive and then nothing really happens to them.6 Furthermore, as more tests are done and assuming there is a real epidemic happening, then the percentage of test-positive persons should be increasing.
One way to determine the accuracy of this testing process is to subject it to randomized sampling. When Iceland did these nation wide randomized tests, the results showed only 0.3%-0.8% of its population is infected with the COVID-19. And equally revealing, of those who were test-positive, around 50% were asymptomatic.7 These results hold stark lessons for the Philippines.
Vast Majority of Test-Positives Coming From Safer Age Groups
To further ease concerns about high infection rates in the Philippines, take a look at the demographic profile of Test-Positives in Table 1 and Table 2 below.8 These are based on the SARS-CoV-2 tracker of the Department of Health (DOH). The figures are for July 20, 2020 when cases reached 68,898.9
Table 1 shows that 78.1% of the new cases are from individuals aged 20-59 years old. The senior citizens, or those above 60, together constitute only 13.6 % of the new cases. This is very encouraging news because the cases from ages 20-59, which compose most of the cases, have a high probability of being safe. We can see this clearly in Table 2.
Table 1. Demographics of COVID-19 Cases by Age Group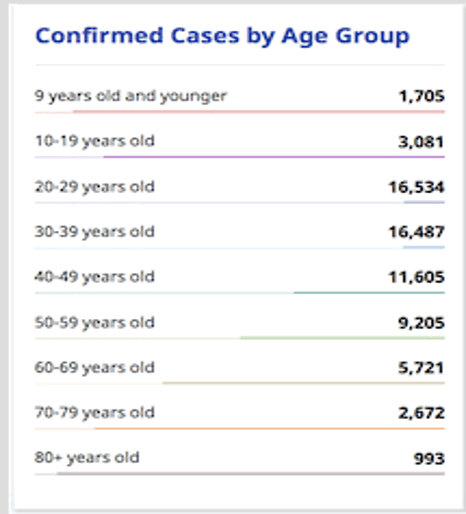 Table 2. Demographics of COVID-19 Fatality by Age Group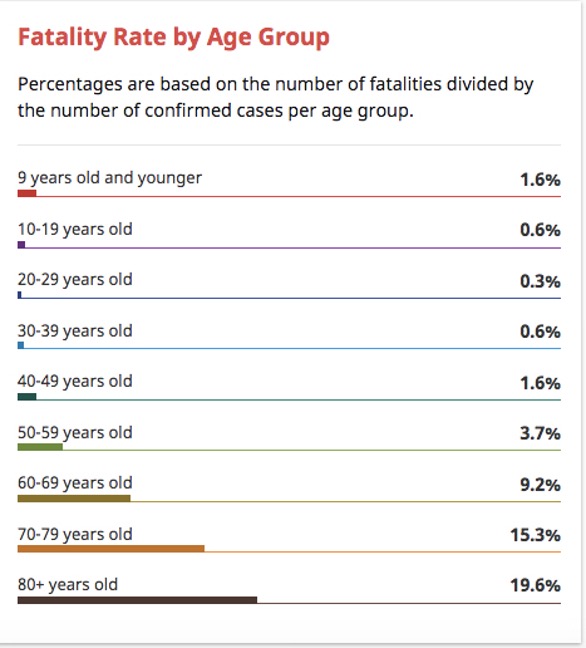 This is not to say that it is fine for elder people to die. The real message here is to focus on the elderly and the more vulnerable segments of the population. And then we have nothing to fear from the perfect storm of the use of defective tests, automatic assumption that test-positive equals infection, and the mistaken belief that infection means high chance of dying.
The Philippine susceptibility by age group converges with the global experience10 as can be seen from this study by Dr. John Ioannidis, head of disease prevention at Stanford University.
'0.05% to 1% is a reasonable range for what the data tell us now for the infection fatality rate, with a median of about 0.25% … The death rate in a given country depends a lot on the age-structure, who are the people infected, and how they are managed. For people younger than 45, the infection fatality rate is almost 0%. For 45 to 70, it is probably about 0.05-0.3%. …. For those above 70, it escalates substantially, to 1% or higher for those over 85. For frail, debilitated elderly people with multiple health problems who are infected in nursing homes, it can go up to 25% during major outbreaks in these facilities.'11
Avoiding Panic and Wrong Strategies based on Illusory Infection Numbers
Gerd Bosbach is professor emeritus of statistics, mathematics and empirical economic and social research. He is also the author of the book, Lying With Numbers. His view on this false picture of infections is particularly instructive.
'The tripling of the tests resulted in a little more than tripling the number of those who tested positive. This tripling was presented to the citizens as a tripling of the infected …. Far-reaching decisions require secure foundations. This is exactly what has been neglected so far. The repeated equation of the number of positively tested people with the number of infected clouded the view'. [Emphasis added.]
The propensity of government to use the numbers of infections to decide whether to lift the lockdown or not 'has nothing to do with reality. [We] keep talking about infected people instead of [test-] positive people. The high numbers remain in memory … And that creates fear …'
'We should ensure that the media do not use the power of images to generate emotions that influence our judgment. If you get pictures of coffins and death departments from Italy or pictures of completely empty shelves, then their effects exceed the facts mentioned.'12
Epidemic Coming to an End?
The figures above indicate that the epidemic may be coming to an end and normality is around the corner despite all the noise around high test-positive results. If government and media do not have the courage to face the facts and insist on their harmful sensationalistic coverage and science-deficit decision-making, they will continue misleading and harming the public.
We all need to resist falling into this trap for hope is clearly on the horizon. Instead we should demand better data and precise care management, transparency and facilitating the emergence of collective intelligence in the nation. We should call on government to desist on intimidation and scare tactics that are totally out of character given the current status of soon-to-be non-epidemic nature of COVID-19.
From media, we should demand that it upholds its real mission: Uphold objective truth and engage in fearless investigation to discover this truth. It should not mesmerize itself and the general public on constant fear mongering with news stories that need to be carefully balanced by ensuring that a diversity of constructive perspectives are reported.
Sources