Clarification On the Presence of Gising Maharlika Leaders at PRACT Rally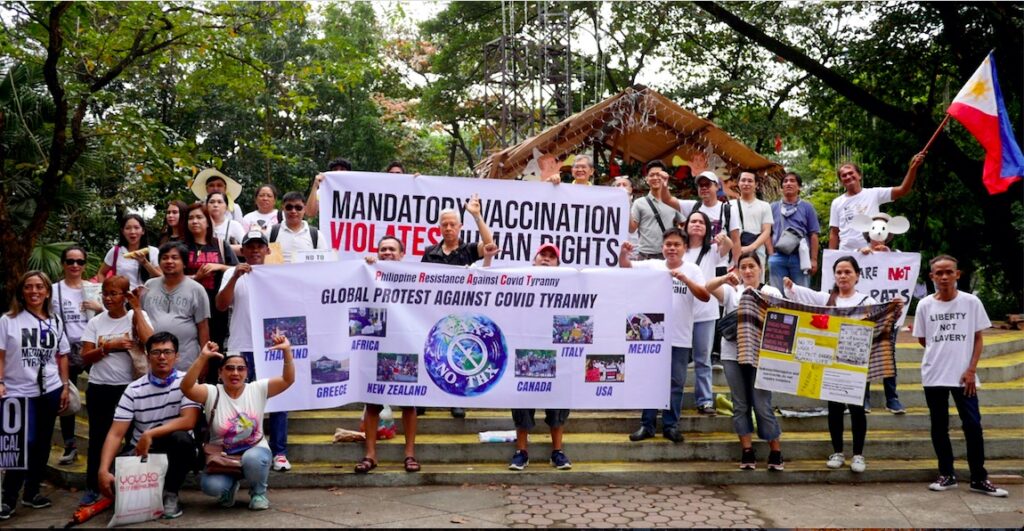 By Nicanor Perlas
28 November 2021
A number of PRACT members expressed concern regarding the presence of several core group members of Gising Maharlika at the PRACT Rally. This is the occasion to clarify the issues that surfaced.
Earlier PRACT issued an article clarifying the differing priorities of PRACT and Gising Maharlika (GM)[1]https://covidcalltohumanity.org/2021/11/09/why-stopping-covid-tyranny-is-the-unifying-issue-for-filipinos-today/. The two movements still have differing priorities as explained in that article. This has not changed. There is no change in this regard. This is no formal alliance between the two movements.
What is new, however, is that core leaders of GM, out of their own individual decision decided to throw their unconditional support for one specific PRACT rally that just happened at QMC. They asked permission to do so. PRACT clarified that item #7 in the Manifesto and Point of Unity of PRACT allows individuals to support PRACT activities as long as they support the point of unity of PRACT[2]https://covidcalltohumanity.org/2021/11/08/manifesto-and-principles-of-unity-of-the-philippine-resistance-against-covid-tyranny/.
This means the resistance to Covid Tyranny is the point of unity and no other issues are to be brought forward at the PRACT rallies. Also, PRACT will not allow group placards of GM as the site of protest since there is no formal recognition and formation of alliance between the two movements but simply a show of support at the individual level by some members of GM. So such a request was welcomed, as it did not violate the Principles of Unity of PRACT.
The second issue of concern is that PRACT had an agreement that only the spokesperson of PRACT would be dealing with the police. But then they observed that a prominent leader of GM was also talking with the police.
This is a valid concern. However, the GM leader was not privy to the PRACT agreement. He did not know there was this protocol. In addition, he is not from PRACT and could not be therefore held accountable to PRACT protocols. Furthermore, he genuinely wanted to help with the situation as a third party. And there was another such third-party individual who showed up also wanting to help. They both saw the stalemate.
But, truth to tell, the PRACT spokesperson continually consulted with PRACT members and took his cue from them, not the GM leader. In the end, the advice of the GM leader and the other uninvited individual did not prevail. PRACT independently decided on the appropriate solution as described above.
There is the final concern that GM live-streamed the PRACT event at the GM channel. A few saw this as GM taking advantage of PRACT's activity. After the rally, I personally watched the live stream of GM. I do not agree with this concern. The GM's live coverage of the PRACT event was mostly objective and fair. In fact, the GM leader emphasized several times his support for the PRACT event and did not add any comment, as agreed, on his own primary advocacy.
In effect, the GM live coverage could, for all practical purposes, be considered as just another media coverage of the event. In effect, it meant that the PRACT event reached even more people in addition to the 10,000 plus viewers at PRACT's FB channel, viewers who were listening to the live stream of the PRACT event.
There was however one thing that was not accurate. A GM core member, not the leader, claimed that he provided the solution to the crisis. That is totally false, as his point had already been addressed very much earlier. He made his suggestion to the spokesperson when that suggestion just echoed a statement that the spokesperson had already told the police. That suggestion had something to do with litigation, which the spokesperson already emphasized to the police as detailed above.
In effect, that person, who also signed as a member of PRACT, violated PRACT's agreement on how to deal with the police. Only one person should be doing this task to avoid mixed messages and confusion. PRACT will have a meeting soon with this person concerned as to why he made that false claim.
It is true that GM attacked PRACT, especially its Lead Co-Convener, in recent weeks. But PRACT's position was clearly stated and there was no need for a tit for tat exchange. PRACT simply focused on what it had to do to stop Covid tyranny. So if some GM leaders eventually saw the importance of what PRACT is doing, that already speaks volumes about the worth of their previous statements. In effect, their presence nullified some of the key criticisms they made against PRACT.
I personally believe that the motives of GM individuals who attended the PRACT event were not designed for manipulation, publicity, or advantage. It was just unconditional support for the PRACT activity. And I personally think we should be accepting such gestures especially since PRACT is seeking unity in diversity.
We are facing a huge battle for the future of our country. We at PRACT have to be totally grounded in the ethics and principles of our movement. Where support is genuine and is in line with PRACT's Principles of Unity, which includes how we can properly unite with others, then we should all be open to these possibilities.
However, if at any moment, other motives clearly surface, then that would instantly cut off any cordial informal relationship between GM and PRACT.
In conclusion, there is no formal unity between the two movements, PRACT and GM. But we have not cut off all communications between specific members of PRACT and GM. Multiple lines of communications on the individual level are ongoing and are happening. That should be encouraged not naively but under the deeper understanding of PRACT's essence of engagement with the public and other groups and movements.
Dear PRACT members, thank you for your concern. Even if this concern is coming from a minority of the members, the concerns have to be answered thoughtfully and thoroughly. These concerns can only help clarify the resistance terrain we are on. Then, on the basis of this clarity, the resistance to Covid tyranny can only grow and flourish around us as more and more Filipinos are waking up to the totalitarian intent behind unscientific, irrational, and fraudulent Covid policies and mandates[3]https://covidcalltohumanity.org/2021/09/27/nicanor-perlas-covid-mandates-unscientific-irrational-and-fraudulent-dozens-of-reasons-to-stop-them-now/.