World Doctors' Alliance: Another group of internationally-renowned medical experts call for end of all coronavirus restrictions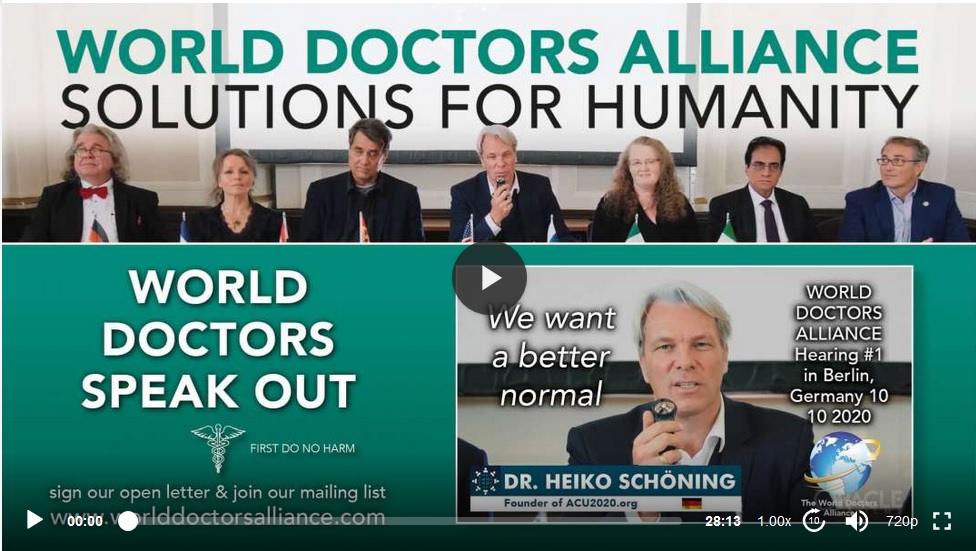 On October 10, 2020, the World Doctors' Alliance (WDA) was interviewed by the Corona Extra-Parliamentary Inquiry Committee or Außerparlamentarischer Corona Untersuchungsausschuss (ACU) as a part of the hearings that ACU is conducting [to learn about the world of the ACU, read 500 German doctors and scientists form organization to investigate global coronavirus response]. The published 28-minute video features medical experts from various countries who are calling out governments for their oppressive policies for dealing with the pandemic. The WDA is a non-profit composed of doctors, nurses, and other health professionals from Europe and the United States. We have attached the video below for those who wish to view it.
Aside from the video, the group also published an open letter addressed to citizens and governments around the world. In the open letter, the WDA addresses some issues including the use of lockdowns, fraudulent death certificates, economic ruin (as a result of lockdowns), false positives, hydroxychloroquine, vaccines, and the preventive protocol. They also included some resources to support their position.
The open letter was originally signed by Dr. Mohammad Adil, Professor Dolores Cahill, Dr. R. Zac Cox, Dr. Heiko Schoning, Dr. Andrew Kaufman, and Dr. Scott Jensen. To date, it has received more than 28,000 signatories from individuals, both of the general public and health professionals. The open letter has been attached below.
Editor's Note: More doctors are speaking out against the illogical coronavirus measures being implemented today. How loudly must they speak before we begin to pay attention? How much destruction in our societies must we experience before we begin to see that the so-called new normal is senseless and useless?
Read Original Article
Click the button below if you wish to read the article on the website where it was originally published.
View Original Video
Click the button below if you wish to watch the video on the website where it was originally published.