Cebu Province leads the way, conquers ECQs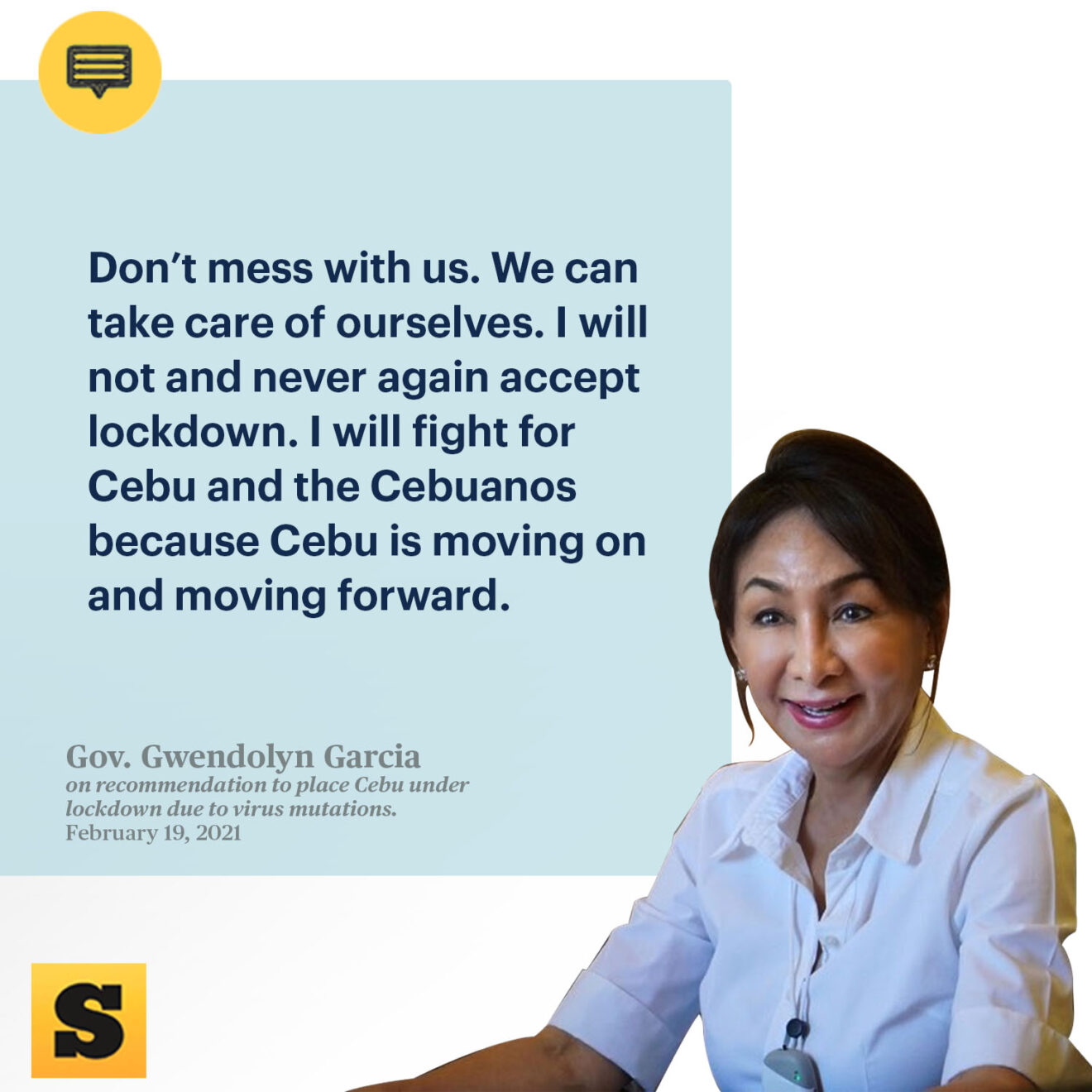 On January 30, 2021, with
Sunstar Cebu
, Cebu Governor Gwen Garcia said that Cebu province is "moving on and forward in an imperfect world where diseases exist". This was a response to a warning from the privately-funded, pro-lockdown group of scientists from UP.
Cebu City learns its lessons, no more ECQs
In this March 28, 2021 report for the Cebu Daily News, Delta Dyrecka Letigio reports on the latest coronavirus strategies being implemented by Cebu City. According to the report, Mayor Edgardo Labella has refused to place the city under another ECQ even when average daily cases were at 180 to 200 in mid-January and end of February 2021. Mayor Labella …


In the US, states with longest lockdown suffered most economic harm
In this April 9, 2021 editorial by the Wall Street Journal, we discover the empirical data showing that lockdowns have devastated economies, with those states with longer lockdown policies most affected. According to the authors, the data from the Bureau of Economic Analysis (BEA) showed that "states that allowed businesses to reopen sooner, and maintained fewer restrictions for the rest …


University College London: Britain to achieve COVID herd immunity threshold soon
Britain is set to achieve COVID immunity this coming Monday, says a dynamic modelling system developed by experts at the University College of London (UCL). The model says that people who are protected against COVID-19, either because they are naturally immune or have received a vaccine, will hit 73.4% by April 12, 2021. The projection is based on the results …


EMA confirms: AstraZeneca vaccine linked to rare blood clots
The European Medicines Agency (EMA) has come to a conclusion regarding AstraZenca's experimental vaccine and the rare cases of serious blood clots reported among some recipients. In a statement to the released last April 7, 2021, the agency said, "EMA's safety committee (PRAC) has concluded today that unusual blood clots with low blood platelets should be listed as very rare …


Phil governors call for use of Ivermectin
In this April 7, 2021 article for the Manila Bulletin, writer Chito Chavez covers on a recent statement from the League of Provinces of the Philippines (LPP). LPP President and Marinduque governor Presbitero Velasco Jr. said that the country's Food and Drug Administration (FDA) should run extensive studies to determine the possibility of using Ivermectin, especially since the country is …


Filipino cop dies after receiving first dose of vaccine
A police sergeant assigned at the Manila Police district died eight (8) days after receiving the first dose of the COVID vaccine. Reports in the media says that he died of COVID-19. This April 10, 2021 article from Aaron Recuenco for the Manila Bulletin covers this story. Editor's Note: While mainstream media does not want to reveal information about the …


Just how powerful is Big Pharma?
The following article was written and published by Dr. Joseph Mercola on his website last April 6, 2021. In order to determine the power that Big Pharma exerts on governments, Mercola looks at the amount of money that the pharmaceutical industries have poured on lobbying. In this article, we learn that pharma spending on lobbying reached record-high levels in 2020, …


EMA reviews Johnson & Johnson clot link, widens AstraZeneca probe
In this April 9, 2021 news published by Reuters, authors Pushkala Aripaka and Manas Mishra reports on a new probe initiated by the European Medicines Agency (EMA) to determine whether there is a connection between Johnson & Johnson shots and four serious cases of clotting and low platelets which occurred in the US. According to reports, one case of the …


UK limits AstraZeneca experimental vaccine to over 30s
Following Germany's decision to prohibit the use of AstraZeneca to individuals below 60 years, UK follows with its own version: individuals below 30 may not take the shot following concerns of a potentially deadly blood clot being discovered in a small percentage of vaccine recipients. According to UK's deputy chief medical officer Jonathan Van-Tam says according to their calculations, the …


German Neurologist: Oxygen deprivation due to face masks cause permanent neurological damage
The following is a transcript of a banned YouTube video of Dr. Margarite Griesz-Brisson, one of Europe's leading neurologists, who explains the damage that face masks can do to our bodies. Griesz- Brisson says that chronic oxygen deprivation due to the wearing of face masks can lead to neurodegenerative diseases which will take years to develop. She adds that at …


Our immune system evolves to fight coronavirus variants
This article by Monuique Brouillete was published by the Scientific American on March 31, 2021. It features a new study conducted by Michel Nussenzweig, an immunologist at the Rockefeller University, which showed that the human immune system can evolve to more effectively handle variants. The article clarifies the different kinds of immune cells that have the capacity to create different …


Do you need a vaccine if you already had COVID?
The following article was written by Paul Alexander, Howard Tenenbaum, and Dr. Parnez Dara for the American Institute for Economic Research. It was published on April 6, 2021. As the title implies, the article centers on the question: do people who have been infected by SARS-CoV-2 still need the vaccine? The authors say that it is important that a debate …


Debunking the CDC study on mask mandates
In February 2021, the US Centers for Disease Control and Prevention (CDC) published a study entitled Decline in COVID-19 Hospitalizations Growth Rates Associated with Statewide Mask Mandates. In response to this study, Paul Alexander, Howard Tenenbaum, Dr. Ramin Oskoui, and Dr. Parvez published a rebuttal last March 4, 2021 at the American Institute for Economic Research. In their article, Alexander …